The new Cranbrook community in East Devon, has the capacity to deliver 6,000 new homes between 2012 to 2026.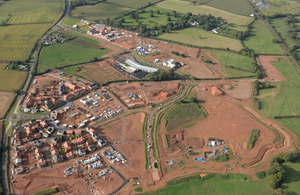 The new Cranbrook community in East Devon, has the capacity to deliver some 6,000 new homes over the period 2012 to 2026. Almost a third of all housing required in the wider Exeter area is directly dependent on the successful delivery of the site.
Phase 1 of the development is already underway, funded by a £12 million repayable grant from a revolving infrastructure fund managed by the Homes and Communities Agency and being repaid on a roof tax basis. Using this funding the developer (the Cranbrook New Community Consortium) can build 1,120 homes by 2015, along with building the main access route into Cranbrook, the Clyst Honiton Bypass and a primary school.
Investment
Government investment of £20 million will provide:
£10 million for a new secondary school
£4 million for a second primary school
£6 million for infrastructure and services to create a new high street for the town centre and commercial areas
This investment will ensure continuity of the scheme, securing the delivery of phase 2, while putting in place the capacity for up to 6,000 homes on this site.
Impact
Government's investment, subject to due diligence, will directly unlock phase 2 and provide the infrastructure and school facilities that will give local partners the confidence to build an additional 2,380 homes by 2019. It will also enable the developer to put in place enough infrastructure to support 6,000 homes.
In addition to the housing, government investment will help create the confidence to bring forward the new town centre and support the realisation of the full ambition for the scheme. It will also provide employment (1,500 jobs) and retail space.
Published 17 December 2012