Case study
Community managed libraries: Mitcheldean library, Gloucestershire, South West
Case study to support the research report: Exploring the service effectiveness and sustainability of community managed libraries in England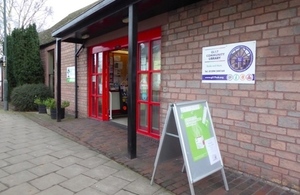 Background
With a population of just under 3,000, Mitcheldean is a small town based in the east of Gloucestershire. In 2012, in order to make savings, Gloucestershire County Council's (GCC) library service announced that it would be 'restricting' the main library service network, either by closing a number of libraries or offering them to be run by the community. For Mitcheldean library, public meetings were held in the area and it became apparent that there was considerable support in the community to keep the library open. GL17 Community Hub Ltd (GL17), a cooperative set up as a Community Interest Company (CIC), took over the running of the library in December 2012.
Finance
GL17 is a member organisation comprising 80 members paying a subscription. It is operated by a board of 6 members voted in by the membership. Each board member has an area of focus - for example, commercial activity, human resources, and finances - but most decisions are made collectively at board meetings. The library also receives an annual grant of £10,000 from GCC towards running costs.
Other support
GCC provided Mitcheldean library with a 15 year lease on its building. The library does not currently pay business rates, but it is responsible for the building maintenance. It remains part of the GCC network of libraries and offers the same services as any other public library under GCC; however it is run entirely by volunteers.
Relationship with stakeholders
The library considers it has a good working relationship with GCC. This is facilitated by a board member who is a county councillor and has access to GCC that other community libraries may not. It believes that GCC is eager for the library to succeed so it can continue saving money.
I think the relationship is good. The local authority wanted to make sure the community library succeeded. They needed to reduce funding, whilst sustaining the library service they provided, as they didn't have the funds to continue the way they were. To give you a ball park, I think the running costs of this library were about £80,000 or £90,000 in staff costs and clearly if you reduce that to a £10,000 contribution and pass on the maintenance and other expenses such as heating, they are saving probably something in the 90% range.
(Mitcheldean community library representative)
GCC provides the support of a specialist / paid librarian who acts as the conduit between the council and community libraries. This librarian visits the library at least every fortnight, which it finds particularly useful. Public library staff are also very supportive. For example, when volunteers have technical problems, they contact the main library service and receive helpful advice. GCC maintain the public computers in the library, which are still part of the county council network, and having this support is of great importance to the library.
When first opened, Mitcheldean library requested support for property maintenance, as although it understood its responsibilities around delivering library services, it was unaware of the amount of health and safety, fire security and other obligations that needed to be undertaken in a public building. As a result, GCC is now more engaged and understands the different types of support it needs to provide.
The library envisages the relationship with GCC will continue working well. The council has committed to funding it for the next 4 years to 2021 at least. However, the library does anticipate further resourcing pressures within the council, which means it could face challenges in the future. Therefore, it is trying to get itself into a position where it can become more independent if required.
User profile
As Mitcheldean library is part of the GCC library network, the number of users at the library cannot be separated from those who use other libraries within the network. The library is able to join up new members directly and reports that, due to an influx of additional housing in the area, new user numbers have increased.
Signing up new users has been quite healthy, the area has seen additional housing, and people are moving to the area and many of those people are coming to the library and joining it. Many of them have children, and we're a community that has a good primary and secondary school, so in that sense it's attractive to people who have children and therefore they seek out the library.
(Mitcheldean community library representative)
Mitcheldean library attracts a range of users; most are children up to the age of 11, with their parents and grandparents. It has a good relationship with the local primary school and organisations such as the Scouts, where it encourages periodic visits. In addition events such as children's poetry competitions, which the library has been running for around 4 years, bring in users from further afield.
The library tends not to attract many users of secondary school age, perhaps due to a combination of good libraries within secondary schools and young people of that age being more engaged with social media and technology rather than books.
Although it reports that more women borrow adult fiction books, it maintains that it attracts "quite a few" men, most over the age of 50. The library believes older users are attracted to it because of the social connections people make through groups run by the library, for example the gardening and chess clubs.
To maintain user satisfaction, Mitcheldean library ensures that existing visitors are able to access new resources on a continuous basis.
For users we've already got, they're looking for a refreshed experience, they want to see new books, new things for sale, they want the latest type of coffee, the most interesting newspapers. If you don't do that, you're tired, out of date and nobody wants you. If you're able to get these things everywhere, why shouldn't you in the library? The fact it doesn't cost you anything doesn't come into it, you just don't want something that doesn't hit that standard.
(Mitcheldean community library representative)
Library volunteers and staff
The library currently has 34 registered volunteers, most over the age of 60. Over the last 3 years, the number of volunteers has increased slightly, which the library believes is because it has made volunteering a pleasant activity, which encourages volunteers to join. The library comments on how it always needs new volunteers to sustain the current level of support, however, having a much larger volunteer group could be difficult to manage and sustain, and volunteers may "slide away because they feel they're not part of it".
The library provides a comprehensive training package which covers:
health and safety
information/ database control
use of internet resources
data protection
security
training on the Library Management System
However, it feels that providing opportunities such as a qualification in library management would be of greatest interest to volunteers.
A route to enable people to do a qualification in library management would sustain volunteers because they would feel attached to us and might feel confident enough in taking on specific roles. For some that would be a way of growing their voluntary role into something more. They might want to do some study which would allow them to be proficient and a professional in it, so why shouldn't we allow people to develop their expertise just because it's voluntary?
(Mitcheldean community library representative)
The library feels its greatest challenge relates to managing volunteer personalities, with clashes sometimes occurring that increases the risk of volunteers leaving. However, it believes that the "tug of doing it for a good purpose will bring people back". Furthermore, in order to maintain volunteer satisfaction, it tries to ensure that volunteers feel that what they are doing is worthwhile and valued.
The one thing you have with a volunteer is if you don't like it you can just walk away, there's no consequence so you do have a sense of having to keep the team happy; they like to think that what they are doing is worthwhile and valued.
(Mitcheldean community library representative)
Service delivery
Mitcheldean library offer the following range of core services:
book loans
newspapers / magazines available in library
inter-library loan service
national programmes for example the Summer Reading Challenge, Quick Reads and Books on Prescription
DVD / CD loans
photocopying / printing
wifi
computer access
Additionally, the library offer the following enhanced services:
laptop or tablet loan
digital skills classes / training
health groups such as Macmillan cancer support or dementia / carers
creative groups
reading groups
parent and baby groups for example rhyme time
e-book loans
e-magazines / newspapers
local history archive
community events
café
shop
document laminating
meeting room / work space hire
exhibition areas
community noticeboard
author and poet events
chess club
1-2-1 IT support
book sale
greeting card / stationery sale
The library perceives the wide range of up-to-date adult fiction books it offers to be the most successful aspect of the services it delivers. Moreover, it is particularly proud of simply keeping the library open every day. To improve its current service, the library would like to expand its reach into the community. The library notes that a "professional campaign to encourage people to use libraries" would be particularly helpful as it believes library resources are not fully known about and understood.
A less tangible benefit of running a community managed library highlighted by the library is the development of community leaders amongst the volunteers.
I think one of the benefits of having 30 volunteers, is that they become community leaders in their own right. I think we've raised the bar because a lot of those volunteers don't just volunteer in the library, they go off and do other things such as raising funds for other charities, running concerts and putting on quiz nights. They're the same group. The library is a core community asset in terms of providing a sense of community to the village.
(Mitcheldean community library representative)
Sustainability
Mitcheldean library receives an annual grant from GCC of £10,000. Over the last 3 years, the library reports that income received through direct trading and retail has generally increased. The library sells greetings cards, office stationery, and refreshments. One of the library's most profitable lines has been the sale of USB sticks. It hires out space to groups and organisations, and although revenue through this has remained largely static over the last 3 years, it does see it as an area which it wants to develop.
The only area that does well is hiring out space which is growing because more groups tend to like it for a venue for doing things and we also [hire out space] to an estate agent as it's just the right size for him to bring his staff in for a staff meeting – so that's an opportunity we see for growing income.
(Mitcheldean community library representative)
It also receives some income through donations. When initially started, it received a one-off contribution of £500; however the majority of current donations are small and from members of the community who want to see the library remain open. Events such as Christmas markets (where the library charges for the use of tables and stalls), computer clubs, and author evenings also contribute to income generation.
The library has plans to increase the number of income generating activities. For instance, it has submitted a bid for funding to set up a business hub to provide office space and video conferencing facilities for small businesses requiring appropriate premises.
The library perceives the barrier to securing such income lies in the availability of volunteers to deliver income generating activities - it believes that some volunteers may see other volunteering opportunities, such as social care, as more important than supporting library services.
The library rates alternative sources of income and support, other than that provided by the council, as "very important". Although it receives the majority of its funding from GCC, it is continually looking for ways to ensure it remains sustainable if funding sources were to change.
One of the things we're trying to do as a community library is get ourselves in a position where we can become more independent if we need to. I think a bigger challenge facing everybody is whether there is a need for libraries down the road if everything's gone digital? It isn't just about books, people come into the library to socialise, to read newspapers, to do community activities and they may also come in to use computers. So if we can keep our purpose, we'll always get our funding.
(Mitcheldean community library representative)
It also believes that if it maintains a mix of sources, "if something goes wrong with one, [we] will still have others" to fall back on. As such, it is "reasonably comfortable" with developing enterprising activities. However, successfully developing these is dependent on having volunteers who are interested in generating income, and the library reports that around two thirds of its volunteers would prefer to focus on the general running of the library rather than generating income.
Future direction and support
The library is currently 4 years into its 15 year lease, and so certainty over its location is secure. Over the next 4 years, until 2021, the £10,000 annual grant from GCC will remain the same; however after this point the library believes this figure could potentially change and that support would only be available for specific needs.
The library perceives the main barriers to growth to be funding opportunities and volunteer availability and capability to undertake income generating activities. To tackle these barriers, it is developing plans to increase the number of income generating activities. However, it notes that most volunteers prefer to take part in activities which have already been established, rather than developing new opportunities. It sees this as an area for potential training, and highlights that support is perhaps needed for volunteers to become more creative in developing new services. To support income generation further, it also highlights the need for volunteers with business expertise and other similar skillsets.
Overall, Mitcheldean library is very confident in its future sustainability.
I don't see any threat. At the moment I think we're growing in our ability, so unless something was to come along and hit us sideways I don't see anything stopping us.
(Mitcheldean community library representative)
The views and opinions expressed in these case studies are those of the community libraries and do not represent those of SERIO, the Libraries Taskforce or DCMS.
Published 5 September 2017