Case study
Community managed libraries: Jesmond library, Newcastle, North East
Case study to support the research report: Exploring the service effectiveness and sustainability of community managed libraries in England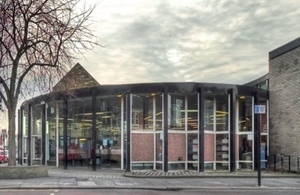 Background
Based in North East England, Jesmond is a residential suburb in Newcastle upon Tyne. Newcastle City Council (NCC) undertook a budget review in 2013, and consequently decided to reduce the number of libraries in the city. Library service provision was assessed, and subsequently Jesmond library was among a number of libraries the council considered unnecessary to sustain a 'comprehensive and efficient' library service. The Friends of Jesmond Library (FOJL) was initially formed to oppose the closure, but also, as a contingency plan, drew up plans to take over the library, if closure went ahead. Jesmond library closed as a local authority run library on 29 July 2013, and was reopened by FOJL as a community-managed library on 21 September 2013.
Finance
Although NCC does not provide the library with any financial support, it owns the library building. Initially, the library had an informal agreement regarding the lease of the premises. However, an official agreement in the form of a 20 year lease with NCC was signed on 1 July 2016. In addition, NCC funded roof repairs before finalising the lease, and local Ward Committees of the council have provided relatively small one-off grants to FOJL.
Other support
NCC provides a small amount of informal advice, for example regarding building maintenance issues and general library service provision advice. In addition, NCC carries out some maintenance on the building, which FOJL pays for. NCC also provides and maintains the public access computers, which are part of a city wide network called the People's Network. When Jesmond library first opened, NCC donated the majority of books, furniture and fittings that were then in place at the library. However, NCC has not provided continued access to the council's Library Management System. As such, FOJL have purchased an independent management system.
Relationships with stakeholders
Although the library does not have any legal obligation to NCC, it does have an informal relationship whereby NCC provides advice regarding building maintenance and general library guidance, which it finds helpful. However, it would appreciate a closer relationship regarding the statutory library service. Jesmond library is not part of the statutory library network, so feels that its hard work is not recognised when official government statistics are released.
They have a statutory library network and we're not part of it, but we would like to have associate status. If the government are collecting statistics on the number of people borrowing books in Newcastle, or anything like that, then our library is always excluded so none of the official information on usage includes our library.
(Jesmond library representative)
The library would like to change its status with NCC and has requested further discussions with the council. However, it understands that the potential for further library closures may be the priority for NCC at the current time.
User profile
As of 31 March 2016, the library had 2,339 registered users. However, this figure only accounts for registered users borrowing books. It is also heavily used by non-registered users for events and room bookings. The majority of visitors to the library are from the surrounding area, including regular visits from the nearby West Jesmond Primary School. The library also has links with a number of private schools located in Jesmond, including a nursery, preparatory school and specialist school. Moreover, the library attracts a number of students who reside in the area. However, due to universities having their own libraries on campus, this only accounts for a small proportion of users.
Over the last year, the number of users has increased slightly due to the increasing profile of the library. When it originally closed as a local authority run library, residents were unaware that it had been taken over and reopened by the community. Increased advertising, book stock, community events and group activities also encourage more people to visit the library and take out books. The library believes that the greatest factor in maintaining user satisfaction is having a friendly atmosphere, which outweighs any occasional difficulties with operating the technical systems in the library.
Most people who come into library are aware that we're being run by volunteers. We have a big notice to say we're a volunteer run library and I think the users understand that we're volunteers and they might have to wait longer or sometimes things go wrong, but on the whole they are very appreciative the library is still there. Most of them know the place would be closed if it wasn't for the volunteers.
(Jesmond library representative)
Library volunteers
Over the last year, the number of library volunteers based in Jesmond library has gradually increased from around 60 active volunteers to just under 90. It believes this is due to it creating an enjoyable place to work. Over the coming years the library hopes to slightly increase the number of volunteers through the involvement of more students and a general growth in diversity amongst volunteers. It plans to do this through promoting the library and volunteering opportunities in local school sixth forms, and also through the Volunteer Centre in Newcastle who advertise volunteer opportunities throughout the city.
Jesmond library feels that having a positive, flexible and inclusive attitude towards volunteers, and valuing all levels of contribution, are the most important factors in maintaining volunteer satisfaction.
At the moment people come in and enjoy it. We appreciate we can't survive without our volunteers, so we have a positive attitude towards them. If volunteers feel in a subsidiary position and are asked to do menial tasks, it's not the best way to get volunteers to make a contribution. They need to know their full contribution is valued. We're flexible and make the most of every volunteer's enthusiasm.
(Jesmond library representative)
Due to encouraging a flexible system, it does however, find organising volunteer rotas the most demanding element to volunteer management. Although some volunteers cover the same shifts each week, many often volunteer on an ad hoc basis which can lead to last minute appeals for volunteers. However, it has never closed the library due to a lack of volunteers.
Jesmond library operates a peer to peer training system where volunteers provide a range of training to other volunteers, including health and safety, basic IT, customer care, information and database control, use of internet resources, and training on the library management system.
Library volunteers come from a range of different backgrounds, including former librarians, academics, and council staff who have experience that they can contribute to the volunteer training programme. Going forward, the library would appreciate a better relationship with NCC regarding sharing training opportunities with its volunteers, which they believe could be mutually beneficial.
The council might be holding training sessions for their own staff and they could tell us and we could send a couple of people along. One feels that these sorts of links could be helpful. It could be helpful the other way too – our events programme is far better than anything going on in the city council libraries, so they might like to know how we do it.
(Jesmond library representative)
Service delivery
Currently, Jesmond library provides the following core services:
book loans
newspapers/magazines available in library
library service for schools including hosting class visits
DVD/CD loans
photocopying/printing
wifi
computer access
The following enhanced services are also provided by the library:
health groups, including dementia/carers and wellbeing
play reading, poetry appreciation and photography groups
parent and pre-school age children's groups for example story time, craft activities and a small children's play area
language / conversation classes
lectures and discussion groups
occasional concerts, performances and dance
local history archive
camera club
drop in IT support
craft sales
tea and coffee
sales of library-branded items, greetings cards, surplus books
meeting room
exhibition areas
organised trips
The programme of events is considered to be one of the most successful aspects of the services provided in the library, attracting a wide variety of users, of all ages and interests. Besides meetings and events organised by outside organisations (who pay a room hire fee) many of the events are organised by library volunteers. There is no charge for room hire for volunteer-run events, however people attending the event pay a fee of around £2 to £5, or make a donation. If relatively few people attend a volunteer-run event, there is no risk to the organiser, however the library benefits substantially if the event is successful.
The volunteer who sets up and organises the club has no financial risk because if nobody turned up they wouldn't be out of pocket. But if they do get lots of people turning up, we get the money but they also get a lot of satisfaction out of it.
(Jesmond library representative)
In addition to core and enhanced library services, Jesmond library feels that running a community-managed library strengthens community cohesion and encourages people to become more active in their community.
A lot of people in the modern age feel helpless and that there are a lot of things being done to them that they can't do anything about. The fact that the council closed Jesmond library and now it's being run by local people helps persuade people to get involved and make things happen.
(Jesmond library representative)
Jesmond library would like to have a more formal link to NCC in the future, specifically regarding inter-library loans. This would enable current library users to access books from the central library, yet not be obliged to travel in order to do so. In exchange, the library feels that some of its book stock may be of interest to local libraries elsewhere in the city.
Sustainability
Jesmond library receives a small amount of in-kind support from NCC in the form of ad-hoc advice on building maintenance issues, general library services and the supply and maintenance of the public access computers. This support has remained constant over the last 3 years and Jesmond library does not envisage it changing in the future, although accepts that issues may arise that it is currently unaware of.
The library reports a continuous increase in income from direct trading and retail, albeit by small amounts. This is generally in line with increased usage at the library. Gradual increases in the number of people borrowing books has led to increases in the purchase of other services, such as coffee or using the photocopying facilities.
The library's main regular sources of income are voluntary donations from library users, many of whom have set up monthly or annual Standing Orders, and the community events which it hosts. Income from both Standing Orders and volunteer-run events has gradually increased over the last 3 years, which it believes is due to the efforts of the local volunteers being better appreciated in the community.
On occasion, the library also makes one-off applications for grant funding, which is used to support particular projects rather than contribute to core running costs. For example, the library has recently been awarded a substantial grant to refurbish the stairs and first floor of the building, so that it can be used for additional public meetings and events. However, it does not consider grant funding to provide a reliable contribution to its ongoing financial sustainability.
Initially the library received several one-off donations, which enabled it to commence operations with appreciable reserve funds, but it was aware that these contributions were not sufficient to make it sustainable in the long term. Although the library does not charge users to borrow books, it now operates a supporters scheme by which regular donations are made to the library by Standing Order. Through increased communication with potential supporters regarding the importance of donations, it has been able to grow subscription income. At present the library has about 150 regular donors, who have provided over £8,000 in 2016/17, compared with Standing Order income of £7,800 in 2015/16.
The library considers that running well-supported community events is fundamental to its financial sustainability. It feels that traditional library services, even when popular with users, tend not to generate substantial income. The library perceives that the combination of library services, friendly volunteers and a busy events calendar encourages people to visit the library and support its running. Consequently, it is very comfortable with the notion of enhancing sustainability through enterprising activity and is open to all opportunities.
We appear to lend out less books than when the library was run by the council, but in terms of the events programme, the place is enormously more busy than when the library was run by the council. Just in terms of the number of events going on, there is no resemblance.
(Jesmond library representative)
Future direction and support
Jesmond library is very confident in the future sustainability of the library and that funding will continue. Although its standing order scheme is currently its main source of income, it has been gradually looking at other methods to increase fundraising capabilities, for example, it has now registered on www.justgiving.com and www.easyfundraising.org.uk which will allow people to fundraise on its behalf, for example by running a marathon.
We had someone last year who wanted to run a marathon in support of the library, but couldn't because we weren't on justgiving.com, so hopefully this will make it easier for us to have special events to raise money for us.
(Jesmond library representative)
However, securing such income is considered dependent on the continued involvement of volunteers. The library acknowledges that if the number of volunteers falls, it would have a substantial effect on the sustainability of the library. In order to maintain volunteer numbers, the library is continually advertising and promoting itself through word of mouth, emphasising how enjoyable it is for the volunteers.
I think one of the things that we would try to stress is that volunteers are not doing it through a sense of duty, they enjoy their involvement in the library and it's very much a social thing. People enjoy meeting others with similar interests, and enjoy chatting to customers and vice versa.
(Jesmond library representative)
Jesmond library would like additional support to gain stronger acknowledgment of the role community libraries play and have a recognised place within the local authority library network. It would also appreciate more guidance published on the various software programmes that can be used to enhance income generating activity.
I think a Which? Magazine for community libraries would be very good so new community libraries could immediately see which packages were good and could have independent advice on which would be appropriate for different circumstances.
(Jesmond library representative)
It also feels that more formal links with NCC could help bridge the gap in library service knowledge and expertise. It currently has a volunteer who is a former member of the council library staff, and as such still has a relationship with NCC. However, if and when this volunteer chooses to leave, it could prove difficult to maintain that relationship.
The views and opinions expressed in these case studies are those of the community libraries and do not represent those of SERIO, the Libraries Taskforce or DCMS.
Published 5 September 2017