Case study
Community library: Wendover, Buckinghamshire
Overview of a community supported library from the perspective of the community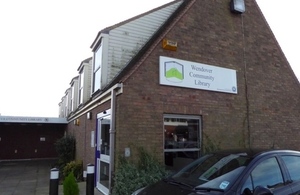 Wendover community library was established on 1 December 2012 and is one of 19 community partnership libraries in Buckinghamshire that are supported by 10 larger county libraries.
Agreement with the local authority / funding
The Wendover Community Library Trust is a registered charity and committee members run the organisation in accordance with charitable objectives. This is a community supported library, within this partnership, the council manages the building with a reduced level of staff and the community provides volunteers and fundraises to provide the identified savings. Being a charity means that the Friends membership subscription can be treated as a gift aid donation.
Volunteers
The staff are assisted by a team of 26 volunteers. The volunteer roles could include:
counter duties
assisting with events eg for children, the monthly Tea and Talk sessions and the film club
gardening
fundraising
publicity
The plan is that volunteers will enable the library to be recognised as a hub for local activities. The volunteer rota is worked out by the Three Rings system and volunteers book themselves into sessions and contact the staff member if they cannot attend. Three Rings can be used on PCs (including Macs), tablets and mobile phones.
Events and activities
The library runs a range of events including Knit and Knatter, writer groups, author talks and Learn my Way sessions to acquire computer skills. The Friends have established a film club "On Screen Film" which is held on the third Friday of each month at 7.30pm in the library meeting room. Through donations, they have been able to install a 65 inch screen, Dolby 5.1 surround sound system and blackout blinds. A selection of drinks and snacks are available and there is no membership fee just "pay as you go" booking at the library counter. Popular and classic films for adults and children are screened.
Opening hours
The library is open for 30.5 hours per week.
Visitors average over 3000 per month, issues about 44,000 a year and the performance trend is broadly in line with the rest of the county.
Lessons learnt / outcomes
The volunteers feel that supporting paid staff is the best operating model for them and that they would not have the capacity to operate without staff. As a group, they have made improvements to the service, such as creating a garden for library users.
Challenges / future plans
Future plans include painting a mural on the walkway to the library, converting a staff area into a small meeting room and piloting a local police presence in the library.
Published 23 March 2016