Case study
Community library: Mitcheldean, Gloucestershire
Overview of a community library from the perspective of the community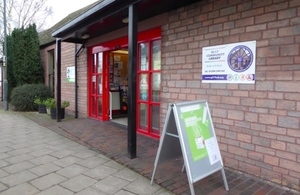 Community library model and governance
Mitcheldean became a community run library on 1 November 2012. They have set up a co-operative for community benefit, called "GL17 Community Hub Ltd" and see their facility as "being more than a library". The co-operative provides a legal basis for managing the library. It has exempt charity status and is registered for VAT. Membership of the library is free but co-operative membership involves buying a £1 share. Perks of co-operative membership include:
regular updates by newsletter
invitation to library social events
a voice in how the library is run
free advertising space in the library foyer
Agreement with the local authority / funding
Mitcheldean community library is run by volunteers who under the terms of the Service Level Agreement receive a grant of £10,000 a year for 5 years from the county council. The co-operative has taken on a 15 year lease as it was felt that the freehold would be too onerous.
Under the Service Level Agreement the local authority provides:
premises at a peppercorn rent and is responsible for external building maintenance
on-going support for volunteers from a Community Libraries Support Officer
support from Gloucestershire's Rural Communities Council to give communities independent advice and support during the planning period
existing book shelving and library furniture
an initial collection of library books
access to and support of the Library Management System (LMS) for the purpose of:

administering the community library
issuing and returning books
maintaining the library membership of its users
managing reservations for customers

the use and support of People's Network PCs to provide users with access to the internet and Gloucestershire County Council's virtual library
Role of the community
The co-operative is responsible for maintenance, fire and safety costs and along with the accounts and management is described as being akin to running a business.
Using some of the allocated grant, they have chosen to buy their own books either online or from high street shops and feel that this enables them to get the books that their community wishes to read. After an initial loan period these books are usually made available for other county customers to reserve.
Volunteers
There are 32 volunteers who are maintaining and developing the library service.
Opening hours
Mitcheldean is open for 23 hours per week.
Annual visits and issues figures
| | | |
| --- | --- | --- |
|   | visits | issues |
| 2011/12 | 28,047 | 27,633 |
| 2012/13 | 24,746 | 19,278 |
| 2013/14 | 16,530 | 12,433 |
| 2014/15 | 18,749 | 11,623 |
| 2015/16 | 18,354 (to end of Feb 2016) | 8,484 (to end of Jan 2016) |
Events and activities
Programmes include a computer club with IT taster sessions on a one to one basis and there are plans to purchase tablets, which can be used in the library or perhaps make available for borrowing. There is a weekly chess club and knit and natter group and a gardening club once per month. Class visits are offered for year 6 primary school children who visit the library, borrow books, listen to stories, play games such as chess and use the computers. The plan is to extend class visits to year 5 pupils. The volunteers have also launched a very successful poetry competition for young people which ties in with the Mitcheldean Fete and Folk Festival and also encourages young poets to consider taking part in the Junior Forest Bard. There have been successful 'author evenings' and more are planned.
Lessons learnt / outcomes
In order to generate income, the service offers stationery and cards for sale as well as refreshments of tea, coffee and soft drinks. Additional income is generated from leasing space to Barnardo's for a children's centre service and local organisations like the chess club, gardening and craft club pay for using the community space. They have also cut costs by investing in a cable-less vacuum cleaner and by doing their own cleaning.
Challenges / future plans
The community library is keen to develop volunteering opportunities for young people and they have teenage volunteers who are undertaking their Duke of Edinburgh awards.
The community is keen that the current Service Level Agreement will be renewed in 2017 as this support is critical to long term financial viability.
For further information see the Mitcheldean community library website
Published 1 April 2016