Case study
Community learning helps Neil use his artistic skills to improve his career prospects
Neil describes how a Community Learning painting course helped him overcome feelings of social isolation, build his self-esteem and use his artistic skills.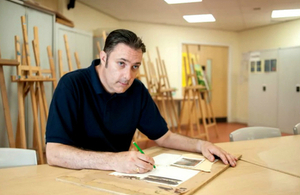 He has used these new-found skills to undertake voluntary work in his local community, which has been highly motivating. He now has real confidence in his own ability to learn.
It's got the educational (aspect), as in you're keeping your mind active, you're keeping your body active, you're leading things. You've also got, when you do have to go for work, you've got a CV that (shows) you've done something.
Neil developing his artistic skills
This video is from the research report 'Community learning: learner survey - after 2 years'
Community Learning
Community Learning (CL) describes classes and other learning activities delivered by Local Authority adult education services, further education colleges and other learning providers. To be supported by public funding, they must meet national objectives.
These courses bring together adults of different ages and backgrounds to develop a skill, pursue an interest, prepare for progression to other courses or learn how to support their children more confidently. The learning often benefits families & the wider community, as well as the individual people who take part.
In 2014 to 2015, the Department for Business, Innovation and Skills (BIS) is supporting community learning with a contribution of £210 million through the Community Learning budget.
Published 6 June 2014