Case study
Code clubs for children in Croydon, Ealing, Harrow, and Hounslow
Code clubs contributing to education and learning, the development of digital skills and community cohesion.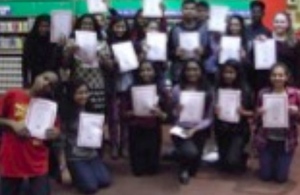 Contribution to corporate priorities
Code clubs:
increase community participation
contribute to education and learning
develop digital skills
support community cohesion
Description of the work
Cultural Community Solutions Ltd (CCS Ltd) represent the London Boroughs of Croydon, Ealing, Harrow, and Hounslow and are developing coding skills with children via two partnerships.
Firstly through partnership with Code Club UK using their website to find volunteers to run code clubs and promote the clubs to parents in all boroughs where CCS Ltd manage library services. The clubs are run weekly by volunteers and are all well attended (15 – 20 people per session). The People's Network PCs are used but children also bring their own laptops and sometime use Raspberry Pi's. A web based program called Scratch is used so there is no need to download special software. CCS Ltd receive the Code Club newsletter and Code Club assist if we have any problems or issues we cannot resolve.
The second partnership linked to coding is with LEGO Education. The LEGO programs use Scratch to instruct LEGO models to complete tasks. The LEGO Education workshops are run by library staff and supported, in some cases, by volunteers. LEGO Education provide training for staff as part of the purchase of resources.
Outcomes achieved
The Code Clubs are attracting between 15 and 20 children each week. The Croydon club has been running for over two years and has 50 registrations. CCS Ltd receive a new request to join the clubs every week so demand is high.
The LEGO Education launches were extremely well attended with 100 children attending each launch. The libraries are now running weekly workshops during term time delivering to 8 children in each workshop which are delivered after school.
Quotes from code club volunteers or parents
"The club has brought a lot of children to the library. But crucially, from the point of view of the staff I have spoken to, we have brought in a lot of boys that are normally under-represented in the library."
"Emily, 13, helped the other children at the code club as an assistant volunteer for her Duke of Edinburgh award."
Jake, 8, won a prize in the Animation 14 competition. "Hi GREAT NEWS. I won a prize at animation 14 for my Cyber bullying project. But I don't know what it is yet. I couldn't have done it without your help and teaching me scratch. You are a fantastic teacher!"
"Dear Paul, Thanks for all your support and encouragement of Ben this year (and to Marc and the lady volunteer). He loves coding club and our Saturdays would not be the same without it!"
"Hi Paul, My children Emily and Georgia no longer attend Code Club. They thoroughly enjoyed the sessions and have gone on to programme using their Raspberry Pi computers. Thanks for sparking their interest and running the club which has impacted positively on their learning."
Example from one of the CCS Ltd boroughs, Harrow
After a fantastic launch event at Wealdstone and Lego taster at Pinner in July 2015, the Lego programme continued throughout the summer holidays with Lego Taster sessions at Stanmore, Kenton, Gayton, and Roxeth Libraries. 40 children attended the sessions and enjoyed their experiences of Lego Education WeDo and Storystarter.
Leo, an 8 year old boy was brought to the session at Kenton by his mum. He was reluctant to even enter the library as he associates it with books and reading. However, he was eventually persuaded to start "building a person" and eventually a story board. He then agreed to join the library and take out some books with the help of Sara. He has also now signed up for the reading programme for the summer scheme. Leo is dyslexic and does not like reading or joining in activities as he is afraid he will fail. Mum was thrilled that he enjoyed the session, made a Lego story board and read aloud the blurb from the back covers of the books he had chosen. The Lego session had changed 2 people's perspectives of libraries forever - in just one afternoon!
Lessons learnt
Croydon's code club was one of the first to be run in libraries, starting over two years ago. The volunteer has remained with us for all that time and the initial idea came from him. This volunteer has helped support our volunteers in our other boroughs.
Croydon's volunteer is exceptional, however we have experienced a higher level of volunteer turnover in the other boroughs. By using the Code Club website, we have managed to recruit new volunteers.
There is a demand for code clubs and it is an activity that encourages children into libraries and it can be linked to using books and materials for programming.
LEGO education resources inspire and excite children and encourage them to perceive libraries as places where they want to go.
Future plans
CCS Ltd will continue with regular LEGO Education workshops and develop stronger links with schools for LEGO Education provision. They are also hosting Expos for the Junior First LEGO League in 2016. With the demand for code clubs, they would like to develop more of these in more of their libraries. CCS Ltd are working with Croydon Tech City to develop a Tech Den in the Central Children's Library which will build on the success of the code club.
Additional resources
Published 16 December 2015