Cloud Imperium Games invests £15 million in its UK studio
The US-based video game company is increasing its investment in Foundry 42, a UK games studio it set up with support from UK government.
This case study was withdrawn on
This page has been withdrawn because it is out of date. For information on exporting visit great.gov.uk.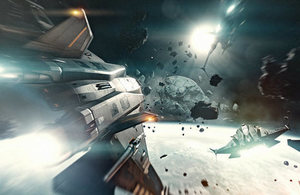 This company was assisted by UK Trade & Investment, which has since moved to the Department for International Trade.
Foundry 42 games studio was set up in Cheshire by Los Angeles based Cloud Imperium Games, with help and advice from UK Trade and Investment (UKTI).
It is now the largest of Cloud Imperium's 4 offices, with over 160 employees and growing, taking on more of the company's work than originally intended.
UK investment
UKTI's team in Los Angeles met with the Cloud Imperium team in December 2013 to discuss the company's plans for expanding into the UK. A range of UKTI support followed, including:
advice on how to structure the new UK business
acting as a broker to other UK agencies, including HM Revenue and Customs) (HMRC) for early advice about generous government tax credits before the guidance had actually been published
introductions to MIDAS, the Manchester region's inward investment agency, for specific information about setting up in the North West of England
arranging meetings with important public officials at HMRC and the British Film Institute (BFI) regarding whether a multi-million pound performance capture shoot would qualify for UK video games tax relief
visa support to help get a sub-contractor from Serbia into the UK in time to attend a critical week-long summit
Erin Roberts, Studio Director at Foundry 42 said:
The UK has got a huge amount of history in high quality games development and there's excellent support for the industry.

UKTI have helped us greatly. In particular, they have allowed us to maximise the benefit of tax credits, which has further brought down our costs and encouraged us to invest more in the UK than we had originally planned.
Continued growth
Cloud Imperium has invested around £15 million in its UK business so far. Having started out with one floor of an office building, in 2015 the company took on a second floor and is already planning to expand to a third.
The majority of its development work and all QA testing is now taking place at Foundry 42. Once development is finished on Squadron 42, the UK team will be kept busy expanding the Star Citizen universe with battles and new campaigns.
Ortwin Freyermuth, co-founder of Cloud Imperium, said:
UKTI has been very proactive in the support they have given us, willing and able to help us with any issue that has arisen.

UKTI is interested to make sure that our business in the UK can progress as uninhibited as possible. It wasn't our original intention for the UK to become our biggest hub, but given the price structure and the government support, that is what's happened.
About Cloud Imperium Games
The company set up in Los Angeles by Chris Roberts and Ortwin Freyermuth in 2012, the company now has over 200 employees based there and at additional offices in Austin, Texas; Wilmslow, England; and Frankfurt, Germany.
Cloud Imperium Games is 100% crowdfunded and has raised a record-breaking USD100 million from over a million backers in more than 70 countries, to finance the development of its first product, Star Citizen.
Star Citizen is a massively multiplayer online (MMO) space simulator game is being developed in a uniquely modular way, enabling its fans to be a part of the process. It will feature the likes of Gary Oldman, Mark Hamill, and Gillian Anderson.
Fast facts
| | |
| --- | --- |
| Company | Cloud Imperium |
| Sector | Creative – video gaming |
| Country of origin | USA |
| Investment location | Manchester |
| Website | cloudimperiumgames.com |
Published 15 January 2016