Case study
Claims management service saves Ministry of Defence £1.6 million
The CCS Insurance Services framework has helped the Ministry of Defence achieve big savings and commercial benefits.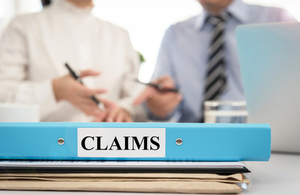 Background
The Crown Commercial Service's (CCS) Insurance Services framework (RM3731) includes a standalone lot for claims management. This was developed to support government departments and public sector organisations that have a requirement for services to manage common law compensation claims brought against them. For example, claims following road traffic collisions with department vehicles or claims from employees injured whilst carrying out their official duties.
The customer requirement
Following a stringent procurement exercise under the framework in 2016, the Ministry of Defence (MOD) selected Topmark Claims Management Ltd and entered into a 4-year call-off agreement with them.
Topmark was appointed to manage a high volume of third party motor liability claims involving MOD vehicles and employer's liability claims directed at MOD from MOD employees, both civilian and military personnel, injured in the course of their duties.
Topmark had 2 months in which to prepare for implementation of the service, including training staff and setting up an IT system and claims processes. A seamless transition was successfully achieved when the contract went live.
The results
Thanks to the framework's competitive fee structure, the MOD is expected to save approximately £1.6 million over the 4 year contract. There is also the potential for further savings by developing efficiencies in the claims process and improving current procedures.
A representative from MOD said:
"The MOD moved from an established third party claims administrator with 9 years' experience of working with the department to a new supplier. As with the appointment of any new supplier there is an element of the unknown until services begin to be delivered, and it was recognised that a transition period would be required. Topmark was unfamiliar with MOD and needed to understand very quickly the complex construct of the department and how it works, in order to support its investigations into claims.
Communication lines were quickly established between key stakeholders and the supplier, leading to the development of strong working relationships. Since the contract was awarded Topmark has demonstrated a high level of competence in claims management and the MOD has been very impressed at the supplier's ability to quickly learn about departmental processes and deliver.
In particular, Topmark has been proactive in their approach to customer/stakeholder engagement and the team is professional and responsive. There is a real appetite to support the customer and the MOD is also working closely with Topmark to improve departmental claims management processes and introduce efficiencies, which will further drive down costs.
One year on from contract award and the claims management function is operating very well. MOD will continue to work closely with Topmark to support the delivery of the core claims function and build on the work to enhance business processes."
Find out more
View the Insurance Services framework online
Call 0345 410 2222
Published 9 August 2017