Case study
CellCentric: trialling a new drug for late-stage prostate cancer
Biotechnology company supported by Innovate UK has developed a promising treatment that could prolong lives and capture share of multi-billion dollar market.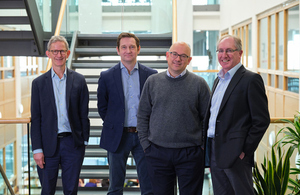 Biotechnology company CellCentric has transformed from a research business into a drug development company with a highly promising new treatment that could prolong thousands of lives and grab a large slice of a multi-billion dollar global market.
Prostate cancer is the second biggest cause of death among men. Late stage treatments for the aggressive form of the disease focus on anti-hormonal drugs to stop the cancer cells growing.
However, the cancer cells become resistant to these treatments over time. CellCentric's drug CCS1477 has the potential to counter resistance to anti-hormonal drugs and help to prolong thousands of lives.
Clinical trials show early success
The drug entered human clinical trials led by Johann de Bono, Regius Professor of Cancer Research at The Institute of Cancer Research, London, and The Royal Marsden NHS Foundation Trust, in July 2018.
The first phase of the trials are to assess safety and appropriate dosage of the drug. Patient testing is extending to other hospitals later this year.
CellCentric chief executive Will West said:
From years of basic research, it is hugely exciting to now have a product in patients. So far it has been a very encouraging start.
CellCentric is also seeking regulatory approval for the drug's potential use in blood cancers such as myeloma, leukaemia and lymphoma.
Drug attracts strong commercial interest
The drug is already attracting strong interest from pharmaceutical companies. CellCentric expects to license the drug to a pharmaceutical company before reaching large scale final clinical trials. Such deals can be worth hundreds of millions of pounds dependant on future milestones.
CellCentric won a £2.2 million award from the Biomedical Catalyst in 2013 to help it to fund proof-of-concept studies into CCS1477.
The Biomedical Catalyst is a partnership programme between Innovate UK and the Medical Research Council that aims to support the best life science opportunities in the UK.
Will added:
At the time we were sitting on a huge pool of research knowledge in epigenetics that we were trying to sell to development partners. But the field rapidly evolved, as did pharmaceutical companies researching the area, so our business had to radically change to be successful.

We re-orientated the business plan and picked out a few prospects we really felt were more likely to work. We applied for an Innovate UK grant, won the funding and got 50% matched funding from venture capitalists.

Pivoting in this way was a bold strategy, enabled by Innovate UK's support and flexibility.

From over 50 prospects, we were ultimately able to cherry pick the best and develop a potentially life-saving treatment with high commercial value.
Having delivered promising pre-clinical data on CCS1477, CellCentric attracted $26 million in private finance to fund clinical testing.
Funding important for specialist companies
CellCentric is a small business of 6 people based in Cambridge. It carries out its research through multiple contract research organisations (CROs) across the UK, including those working in the fields of biology and medicinal chemistry research, manufacturing and safety testing.
Will added:
We are an asset-centric business. We rely on and support many specialist CROs in healthcare. This is becoming a very familiar model in the biotechnology industry; our specialist CRO community is a real strength of the UK.

The Biomedical Catalyst started as shifts were happening in the industry. It has made a huge difference. A lot of people were leaving the pharma companies to start their own specialist contract research organisations.

As more biotechnology companies emerged, many benefiting from grant awards, more work was passed through to those new CROs, building the present, strong ecosystem. Early-stage drug discovery and development has really evolved.
Published 7 March 2019