Case study
Catfish food tablets: referee analysis
Results of a referee case to analyse a sample of catfish food tablets under the Government Chemist statutory function.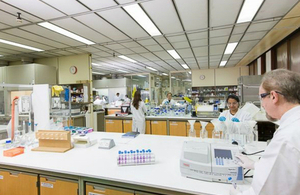 Animal feed, including pet food, must be accompanied by a statutory statement that specifies various compositional parameters.
Analysts from the Government Chemist laboratories received a request to analyse a referee sample under our statutory role as Government Chemist to provide independent and impartial expert evidence to resolve disputes.
They were asked to analyse a sample of plecostomus (catfish) food tablets for protein, oil and ash to determine whether the levels matched those stated on the statutory statement.
The analysts applied the British Standard and ISO gravimetric methods. The protein and oil content were found to be much lower than declared, whilst the ash content was almost three times the value declared on the statutory statement.
The results from the Government Chemist analysis agreed closely with those of the public analyst. The company admitted offences relating to false particulars on the statutory statement, and was officially cautioned by the Home Office.
Published 1 July 2014