Case study
Building furniture and a future in Afghanistan
How UK aid is helping small businesses succeed and grow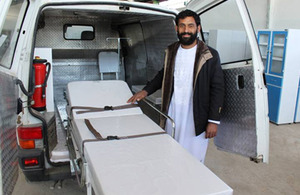 Local businesses are enjoying a boom in the city of Herat in Afghanistan. Among the businesses that are thriving is the Asia Pharma Company Ltd, which makes hospital furniture, including specially adapted beds for ambulances.
This growing family business now provides employment for 140 people. And the factory owners have ambitious plans for expansion - they hope to build up the workforce to around 500 in the future.
Engineer Naser Ahmad Saber set up the company with his brother and another colleague in 2004.
"It hasn't always been easy," he says. "But I get great satisfaction knowing I'm training and employing people in Afghanistan. I hope the business will continue to grow, and employ more people."!
The male factory workers are involved in the heavier work, including the painting, soldering, and metal shaping.
Among the workforce are 30 women, who sew and stitch uniforms and hospital gowns.
The idea for the business came after the owners gained experience in importing medical supplies from abroad, and spotted a niche in the market for well-made hospital furniture.
They now sell to a wide range of non-governmental organisations, to the Afghan government, and to private hospitals and clinics.
Workers who start without the relevant skills or experience are trained on the job. Twenty-five-year-old Mohammed Mawdood has been with the company for 4 years. His wages support himself, his wife and his 3 year-old daughter.
"This is a good place to work - the training has been useful, and the people I work with are very friendly. People should know that business is good in Afghanistan," he says.
Surprise and success
Just up the road on the same industrial park, the new shift is getting into their work at a tissue factory, Mobarak Ltd.
Factory owner Faiz Ahmad Nabizada thinks people in the UK would be surprised to know that there are ordinary businesses successfully operating in Afghanistan.
"Afghans have a long history of working in business," he says. "They know how to work hard to overcome obstacles, even when the working environment isn't easy.
"I was importing tissues from Iran and I thought, why should all this money be flowing out of Afghanistan, when we can create a business and employ people here?"
The factory employs 35 workers, including 20 women.
Mechanical engineer and dad-of-three Sayed Jawad has been working in the factory for 5 years.
"It's been a good place to work," he says. "Over the past 5 years I've made some good friends here, and there's a good family atmosphere. I hope to work here for a long time."
Long-lasting economic boost
While local businesses like these are not receiving UK aid directly, they, and many others like them, are benefitting from the British government's work to make it easier for businesses to thrive. 
Strengthening the business environment is at the heart of the UK's development strategy for Afghanistan. More than 1 in 3 Afghans cite unemployment as the principle challenge to the country.
DFID's recent bilateral aid review set out some of the ways we will continue to support the economy in Afghanistan. We will create 200,000 more jobs in the country, and start vocational training for 45,000 young people - providing Afghan men and women with increased job opportunities and a boost to the economy.
UK aid is also funding the Bost Agri-Business Park, which will help economic development in the region. Through tackling poverty, British aid will help address many of the causes of conflict and help to achieve a lasting end to the insurgency.
Published 17 May 2011