Case study
Brock Carmichael wins £500,000 in new business with UKTI help
UK Trade and Investment (UKTI) helped Brock Carmichael Architects establish an export presence in China and the Far East.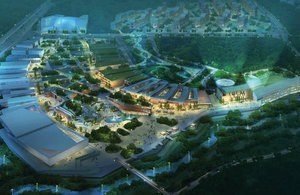 With UKTI's support Brock Carmichael Architects have won new export contracts worth £470,000 in China and the Far East. This currently represents 20% of its overall business. The company is now looking to explore opportunities in Singapore and the Middle East.
Brock Carmichael were invited to join a delegation of public bodies and private companies to the World Expo in Shanghai, China in 2010. UKTI's Market Visit Support programme helped them to make the most of the event.
To capitalise on its visit to China, the company commissioned an Overseas Market Introduction Service (OMIS) report from UKTI. The report identified additional opportunities and meetings were set up in Shanghai and Chengdu, which lead to invitations to submit bids for major projects in China.
Michael Cosser, Equity Partner at Brock Carmichael, says:
UKTI showed us that export was not reserved solely for manufacturers and big business
Sustainable development is a very important part of our approach to master planning, conservation and urban design, UKTI opened our eyes to the potential in China and Hong Kong for us as a RIBA certified architecture practice focused on sustainability.
New partnership
UKTI also advised Brock Carmichael to consider who in the local market it could connect with from its own existing networks, with on-the-ground knowledge and experience. The obvious choice was Alfred Yeung, a former associate who had relocated to Hong Kong on leaving the company.
Alfred introduced Brock Carmichael to Oval Partnership, a Chinese firm with offices in Shanghai, Chengdu, Hong Kong and London. Working together:
they secured a project for a new development on reclaimed land in the coastal city of Tianjin, Northeast China

the companies set up Octagon Partnership, a joint venture of equal ownership
Michael says:
UKTI's guidance and support has been influential in our success in China and Hong Kong, UKTI has also included us on two high-profile visits to China, one with Prime Minister David Cameron and a delegation of 130 UK businesses. We look forward to continuing our relationship with UKTI as we explore new overseas markets.
Background
Brock Carmichael offers architecture and master planning services that blend artistic style with a sustainable outlook. It is certified as a Chartered Practice by the Royal Institute of British Architects (RIBA), works with private and public sector clients on projects throughout the North West of England and specialises in the re-use, conversion and extension of existing buildings.
Fast Facts
Company: Brock Carmichael
Industry: Architecture and Master Planning
Target Market: China and Hong Kong
UKTI Services: Advice and Guidance; Market Visit Support; Overseas Market Introduction Service
Website: www.brockcarmichael.co.uk
Published 25 June 2014