Case study
Bowalds Energy explores new export opportunities in Nigeria
UKTI's hightlight of Nigerian oil and gas opportunities brings UK consulting company close to some of the biggest oil and gas firms.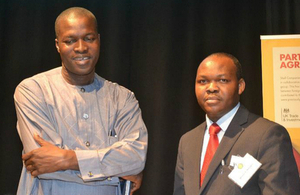 In 2013 at the Global Nigerian-Aberdeen Forum, UK Trade and Investment (UKTI) and Royal Dutch Shell described the demand for experienced oil and gas engineering and consultancy firms. This encouraged 3 oil and gas experts originally from Nigeria, to set up Bowalds Energy UK Ltd in Aberdeen, Scotland.
Prospective High Value Opportunities (HVO)
In June 2014 the Trade Envoy to Nigeria and Angola, David Heath, led a Shell-UKTI Supply Chain Engagement Programme in Lagos, Nigeria. The team at Bowalds Energy were invited to attend and speak at the conference. In preparation for the event, UKTI helped Bowalds put together marketing materials, which was sent out to prospective clients.
The Bowalds Energy team was introduced to the UK High Commissioner to Nigeria and to oil and gas companies with operations in the UK and Nigeria. These included GE Oil and Gas, Orando PLC, Seplat Petroleum and Wood Group. Several of these companies subsequently visited Bowalds Energy and discussed potential future collaborations. In preparation for the future contracts, UKTI encouraged Bowalds Energy to register as a vendor with some of the companies.
Wilson Balogun, Chief Operating Officer and Executive Director of Bowalds Energy said:
Our attendance at the UKTI HVO event was a turning point for our company.

UKTI's backing of our company gave the participating companies the confidence to see us as a trusted future partner. In addition, thanks to UKTI's introductions, we are expected to have a working agreement with several oil and gas companies in the coming months.
The initiative was part of the UKTI High Value Opportunities Programme, which helps UK businesses win large scale overseas procurement projects.
African expansion
The company had advanced discussions with ExxonMobil, Addax Petroleum and Afren PLC. As it ramps up its business in Nigeria, Bowalds Energy plans to expand its operations into Ghana, Uganda and Angola, using Nigeria as its regional hub.
Furthermore, one of Bowalds Energy's priorities is to train young engineers in Nigeria to work on oil and gas projects. Following the introduction to GE Oil and Gas, the 2 businesses have gone on to work closely together. Bowalds Energy's young engineers are now receiving hands-on training at GE's facilities in Lagos.
Nigeria is Africa's largest oil and gas producer, and it is set to further grow its oil sector in the coming years. By 2020, it aims to increase its oil production capacity to 4 million barrels a day and expand its crude reserves to over 40 billion barrels. UKTI has been making UK businesses aware of the new opportunities that these plans will present.
Bowalds Energy
Bowalds executive team spent the early part of 2014 drawing on their connections in both the UK and Nigeria to gather a team of experts, including engineers, legal advisers and consultants. The company now has a team of 8 employees, divided between its Aberdeen headquarters and its office in Lagos.
Fast Facts
Company: Bowalds Energy
Industries: Energy, Oil and Gas
Target Markets: Nigeria and West Africa
UKTI Services: Advice, Guidance and Introductions
Website: www.bowaldsenergy.com
Published 5 December 2014