Case study
Birmingham City Council saves £1.7 million on managed print
The Crown Commercial Service framework for managed print has saved Birmingham City Council over £1.7 million.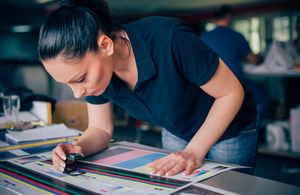 The requirement
Birmingham City Council, one of the UK's largest local authorities, required a fully managed end-to-end print service which would deliver minimum guaranteed savings of 15%. The council also wanted to use a Birmingham based supply chain to boost the local economy and comply with the council's Business Charter for Social Responsibility.
The council did not have a formal print contract in place and their existing solution was fragmented, attracting high transactional costs with no opportunity to obtain volume discounts.
The solution
CDS, a print and digital agency, was appointed via further competition to manage the marketing and communications print spend for Birmingham City Council under the Crown Commercial Service Wider Public Sector Print Services agreement (RM1687),
CDS provided an experienced project manager during contract implementation to engage with the local print market to ensure the council's Business Charter for Social Responsibility was met. This meant that where local capability existed, CDS delivered 100% of the print spend via suppliers within 30 miles of the Birmingham Council House.
The results
By working in close partnership with the council and the local supplier base, CDS helped achieve efficiencies and transform the way the organisation thinks about print – from print by exception to increasing use of digital channels. This approach has helped the council in the development of a strategy for moving away from tactical print to digital solutions.
In the first 13 months of the contract, the partnership delivered savings of 57% against annual budget. In year 2, it delivered additional savings of 33% against year 1 spend – a combined saving of over £1.7 million over 2 years. The partnership also included a commitment to the local economy and the principles of the Business Charter for Social Responsibility, including embracing local employment, Buy Birmingham First and Partners in Communities.
92% of external print jobs were placed within the local economy (KPI 90%) and CDS actively promoted the Birmingham supply chain to other CDS contracts, leading to a net influx of £255,000 of additional revenue into the local economy.
"We felt from the outset that CDS was committed to Birmingham City Council's CSR objectives and they have delivered on this commitment with positive outcomes for local SME suppliers to develop the Birmingham economy."
Andrea Webster Strategic Contracts Manager, Birmingham City Council
"Once the contract had been awarded CDS was up and running really quickly, in a matter of weeks we had moved from complete in-house delivery of print commissioning to an entirely new model. Throughout this transition period business continuity was maintained. They have brought to the table ideas on how we can save money by standardising as much as possible and cutting down on bespoke printing."
Steve Arnold, Head of Marketing, Birmingham City Council
Get involved
If you are interested in buying managed print services you can do this through our Managed Print and Digital Solutions (RM3785) framework, which CDS is a supplier on. To find out more about the framework and how you can make significant savings:
Visit the managed print and digital solutions framework web page
Call us on 0345 410 2222
Published 22 August 2017