Case study
BIPC supporting small businesses: Ruk-Bug
Russell Clifton gives a users perspective on the support provided by Manchester's Business & IP Centre.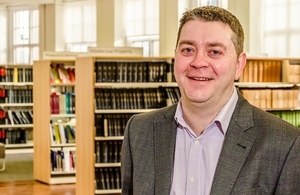 "The IP support helped me complete a worldwide search on my product to ensure I wasn't wasting my time, money and energy. It saved me thousands."
Russell Clifton is the founder of Ruk-Bug, a new type of children's pushchair that is designed, engineered and manufactured in the UK. Russell did all his research at Business & IP Centre Manchester, attended the free monthly Patent Clinic, and used the resources to help him develop his idea. The library completed a worldwide patent search for similar products and, combined with Russell's own searches and focus groups, the business began to take shape. He's attracted major investment, registered patents in the UK and USA, and launched his product in March 2015.
At the beginning, I accessed as much information as I could as the library was a full jug and I was an empty glass. I used the information in the library to fill my knowledge in terms of the market, how to go about taking things to market, but mostly for making contacts with people through Manchester Inventors Group.
I was looking for anything and everything depending on what I needed at the time; marketing, market research, books on manufacturing, trade magazines on PR's, literally anything I could get my hands on.
Russell said: "The Business & IP Centre saved me thousands. The market research reports would have easily cost £1,000 each to buy. You can read them in the centre for free. You can also meet other entrepreneurs, make new connections
 and network."
Russell is now the Business & IP Centre's Innovator in Residence, giving support to other entrepreneurs offering monthly one-to-one appointments.
Published 16 December 2015