Case study
BIPC supporting small businesses: Candle and Bell
Maria Caruana Galizia gives a users perspective on the support provided by Newcastle's Business & IP Centre.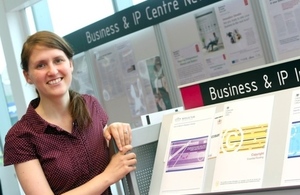 Established by founder Maria Caruana Galizia in June 2013, Candle and Bell creates beautiful moving images, specialising in video and animation production for national brands including Sony.
Passionate about portraying how dynamic film can be in delivering a message, Candle and Bell prides itself on creating ambitious, effective and original work.
After launching her agency, Maria felt that while her years of television industry experience had set her in good stead for managing the day job, she was in unfamiliar waters with some other areas of business management. Eager to learn more about managing a team and keen to network with more like-minded businesses in the region, Maria enrolled onto the Business & IP Centre's Innovation Elevator programme.
The Innovation Elevator, which ran over eight weeks, provided Maria with practical training across a range of subject matters including finance, intellectual property and marketing. Led by expert guest speakers, Maria used what she learnt at each free session to plug the gaps in her knowledge.
Maria found the leadership session particularly useful and used the tools and techniques outlined for managing a team successfully, when employing and appraising staff.
When you start your own business, there are many operational elements that you may be unsure of. I knew how to do the day job successfully, but aspects such as leadership and people management were particularly daunting.
I felt the Innovation Elevator was worth a try because it was a free resource that I could tap into, and it covered some of the grey areas for me. I found the whole experience really rewarding.
Not only did I take on board some of the experts' advice, which I continue to draw upon today when I find myself in unfamiliar territory, but the networking has also been invaluable.
Published 16 December 2015