Case study
BIPC supporting small businesses: Bugbrush
Rowena Johnson gives a users perspective on the support provided by Leeds' Business & IP Centre.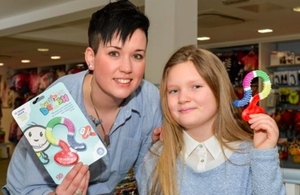 Rowena Johnson is the inventor of Bugbrush, a new children's toothbrush. Like many parents, Rowena struggled to clean her toddler's teeth and spent hours trawling the internet and going around shops to find a product that her daughter could use to clean her teeth herself, safely and effectively. Despite the problem being a very common one, there didn't seem to be anything on the market that could solve it.
Rowena set about designing one herself and, while attending a business event, received a recommendation to visit the Business & IP Centre in Leeds to carry out patent searches.
These things are normally quite expensive if you were to go to a professional but the library offer these services for free. You're on a shoestring when you're starting out and that's why I went to the Business & IP Centre.
Staff at the centre helped Rowena to conduct patent searches and to find out what was already on the market. She also used Mintel to gain access to a vital Oral Hygiene report that she wouldn't have been able to get hold of elsewhere.
Mintel market research reports are extremely expensive to buy, in the thousands, but contain critical pieces of information which are important for new start ups. It really is invaluable that you can access these in the library for free.
The product is now on the market and has secured distribution in 7 countries. The first retailer in England was JoJo Maman Bébé; a leading retailer of maternity clothes, baby clothes and nursery products, and Rowena is currently in talks with Boots. Over the next 3 years, she hopes to have secured distribution in at least another 15 countries and to establish Bugbrush as the market leader in pre-school oral health.
In terms of setting up a new business, in particular inventions, the Business & IP Centre is a great place to start because you have access to a wealth of information and services such as patent searches, which are excellent and would be so expensive ordinarily.
Published 16 December 2015