Case study
Better Healthcare for the People of Jalalabad
UK has helped to establish the Baidara Hospital which is providing better healthcare facilities to the residents of Nangarhar province.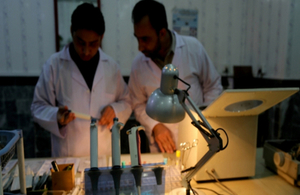 Due to a lack of medical facilities, people from Eastern Nangarhar often travel to Pakistan in search of medical treatment; However, this was not ideal due to the extra costs and time involved to travel across the border.
To address this issue, the UK, through its support to the World Bank's Afghanistan New Market Development Project (ANMDP) has helped to establish theBaidara Hospital in Jalalabad. Through this project and the new hospital, much needed medical assistance is now being offered to the local population.
Kalamuddin is 24 years old. He suffers from a stomach illness and has been going to Pakistan for medical check-ups regularly over the last few years. Thanks to the new hospital he is now able to get treatment in his home city of Jalalabad.
Dr. Kamran Khan works in Baidara hospital and believes that Afghans travel to Pakistan because they believe the treatment will be better. He adds: "It is important for Afghans to find out that such capacity is also now available in their own country."
Dr. Ahmad Zahid Sadaat is the hospital's Deputy Head Physician. He said "Since the ANMDP training, the number of daily patients has increased from below 50 to more than 150 patients".As a direct result of the project, the hospital now has the capacity to handle even more patients.
According to Dr. Sadaat, 30 of the hospital's staff have now received specialist training from the project, including an intensive two-week course on the use of ultrasound and neonatal care and nursing.The hospital also has plans to send one of its top physicians overseas for training this year, to further improve their range of healthcare.
The UK is a key donor of the Afghanistan Reconstruction Trust Fund (ARTF), which fundsthe Afghanistan New Market Development Project (ANMDP), managed by the World Bank.
Published 9 November 2015