Case study
Bentley Motors: Solar PV rooftop array
The Bentley Motors Factory has the UK's largest rooftop solar PV array with 20,000 solar PV panels generating enough electricity to power 1,200 households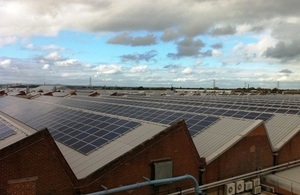 The Bentley Factory in Crewe built in the 1940s is ideally situated to generate solar power as the "saw tooth" factory roofs are south facing at an angle of 20 degrees. It is the UK's largest rooftop solar PV array, owned and operated by solar power generator, Lightsource Renewable Energy and was installed in March 2013.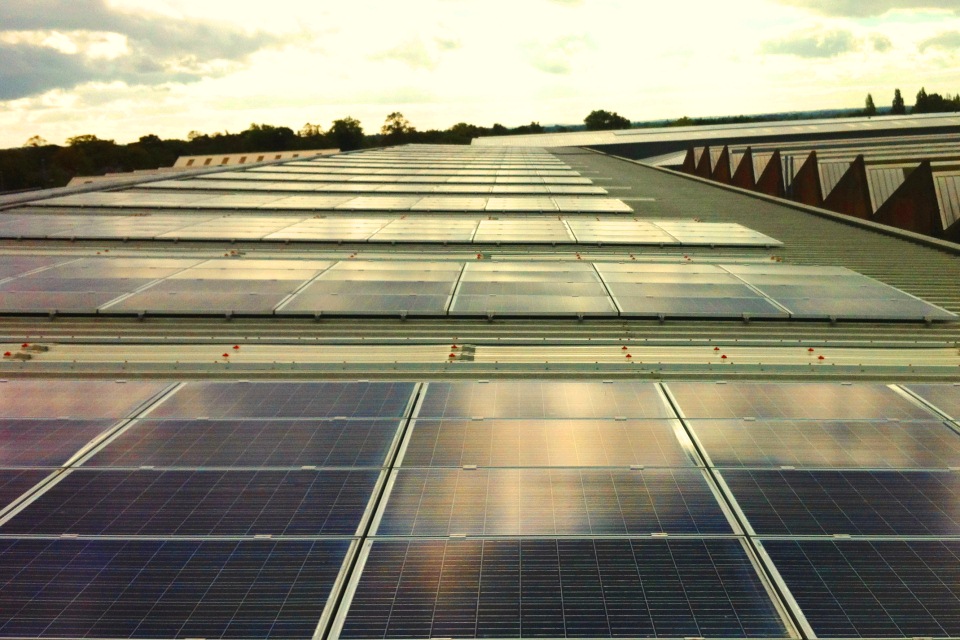 Over 20,000 solar PV panels have been installed generating enough electricity adequate to power over 1,200 households covering 3.45 hectares of roof space which would otherwise be un-utilised. Lightsource Renewable Energy entered into a power purchase agreement with Bentley Motors, making it possible for the electricity generated during working hours to be used directly by the factory and for the electricity generated at weekends and times of low demand, to be fed back into the National Grid. At peak generation times, the system will produce up to 40% of Bentley's energy requirements.
Of their solar success Michael Straughan, Bentley's Member of the Board for Manufacturing, said:
The solar panels have generated over 2,200,000 kWh's of energy since its installation in March, having a hugely positive impact on the efficiency and sustainability of our manufacturing operations. We're very proud of the project …
Minister Greg Barker visited the site following the launch of the UK first solar pv roadmap in October 2013.
Greg Barker talks about the Bentley Motors array and his ambition for solar pv
The installation on Bentley's factory demonstrates the potential for solar energy to be generated on commercial roof-tops in the UK and is a clear example of how businesses can gain greater pricing certainty for the future whilst reducing their carbon footprint. With the build only taking 16 weeks, it shows the speed at which installations of this size can be completed even when constructed in tandem with existing business activity.
Bentley Motors employs around 4,000 people in Crewe which is home to all its operations including design, R&D, engineering and production. The combination of fine craftsmanship, using skills that have been handed down through generations, alongside engineering expertise and cutting-edge technology is unique to UK luxury vehicle manufacturers such as Bentley. It is also an example of high-value British manufacturing.
Bentley exports over £1bn worth of goods in 2012. The company is the third largest R&D investor in the UK's automotive sector and the 18th largest nationally.
Published 10 October 2013