Case study
Being an armed forces reservist
Case studies on the benefits of being an armed forces reservist, for use in central or local government recruitment campaigns.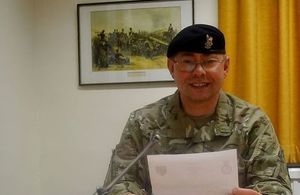 David Middleton, Colonel, Army Reserve
David is a Senior Employer Relationship Manager for the Department for Work and Pensions as well as a Colonel in the Army Reserve.
I wanted to have a broader outlook on life, and go out and see the world without sacrificing my career. I decided to join as a soldier but I soon applied to attend Sandhurst to train as an officer.

I've travelled to locations I would never have had the opportunity to visit, with deployments across the globe to the Arctic, the rain forests of Australia, the Middle East, Europe and North America.

I really enjoy sport and adventure and have had a go at lots of activities ranging from scuba diving in the Mediterranean and qualifying as a glider pilot to undertaking arctic survival and ski touring in Norway.

It's a brilliant way to build a dual career path where you could be doing one type of job in the week but doing something completely different at the weekend.

As an officer I arrange overseas training for my soldiers and this has helped me develop competencies in planning, problem solving, communications and team work.

One of my proudest moments was graduating from the Royal Military Academy at Sandhurst as an army officer. By the time you pass out from Sandhurst you are equipped with the skills to be a leader who people want to follow.
Tim Wates, Colour Sergeant, Army Reserve
Tim works on the Smart Meters Programme for the Department of Energy & Climate Change.
Just over 10 years ago I made the decision to do something positive with my spare time, and having an interest in most things military and being fiercely patriotic, I decided to join the London Regiment and London's only reserve infantry battalion.

When I first joined, my biggest worry was more about what I would have to give up, and how much it would infringe on my social life, but I soon realised that the requirement of a minimum 27 days training, plus attending an annual 2 week training period was not nearly as restrictive as I thought. You get paid for your time in uniform and receive an annual tax-free bonus.

The highlights were being mobilised to serve on a tour of duty in Iraq and 2 tours to Afghanistan. Another was taking part in the armed forces muster parade in Windsor to commemorate the Diamond Jubilee of HM The Queen. I've also taken part in 2 Remembrance Sunday parades. A sombre and thought provoking occasion, but one that I was honoured to take part in.

My time spent in the Army Reserve has really benefited my main career. It's given me different perspectives and other ways to look at situations. I have added confidence when speaking in front of large groups of people or in tackling challenging situations. Leading troops on operations in a war zone has definitely enhanced my leadership skills.

So my advice to anyone who wants to give up some of their spare time to do something exciting, to keep fit and to support the defence of the nation, I would say, do it.
Published 14 February 2014