Case study
Art Equity set up in UK with support from UK Trade & Investment
UK Trade & Investment (UKTI), its in-country teams and regional partners helped Art Equity to set up its London Headquarters.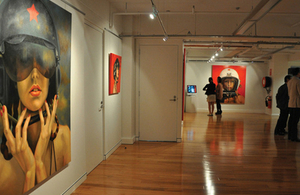 They are now supporting the Australian company's onward expansion to Singapore.
Art Equity was founded to bring the art world online, which was quite unheard of at the time,
says Al Bailey, Managing Director at Art Equity Advisory.
Over the last 15 years, art has been increasingly seen as way to diversify an investor's asset portfolio. We wanted to create opportunities for buyers to participate in the process of choosing art, and work with someone actually based in the city where the art is being shown. For us, it's not all about the investment potential.
A huge part of what we do is to educate our clients to engage with the art on a non-investment level too.
London-bound
In 2012 Art Equity entered into an informal partnership with independent art advisers, Seymours with whom they have worked on an ad-hoc basis since 2005. Based in the heart of Mayfair, London, Seymours' skill set and strong reputation in the UK market complemented the Australian company's private client advisory service.
This partnership would help Art Equity to serve its growing number of sophisticated art collectors and investors looking to diversify their portfolios into broader international markets, and also to promote, exhibit and sell their represented artists to much larger international markets.
UKTI was available to offer hands-on support especially during the early stages of Art Equity setting up in London. The Sydney team helped the company to develop its UK strategy, and introduced it to the Investment Services Team in London, the Australian Business Network and London & Partners (formerly Think London) for more on-the-ground support.
The Investment Services Team then helped Art Equity to build its brand and develop relationships with trusted financial advisers of private clients, inviting the company to networking events and alerting it to opportunities to grow its business in the UK. In April 2012, Art Equity Advisory was incorporated in the UK, and it started trading in June.
I've been really impressed with UKTI's support, especially as we work in a very niche area,
says Al.
They took the time to understand what we do, consider who would be the appropriate people to introduce us to, make relevant suggestions and deliver quality leads. In real terms, a direct introduction by UKTI is more effective than a cold call from me could ever be.
This undoubtedly sped up the process of me being able to get in front of people I needed to speak to, which is a huge benefit. It's a great thing to be able to call upon someone so pro-active, and they really went out of their way to help us as we got ourselves established in London.
Support in Singapore
Since setting up in the UK, Art Equity Advisory has gone on to use the support of UKTI's Trade team to expand into Singapore. The in-market UKTI team carried out market research on the company's behalf and has made introductions to companies and the curator team at the prestigious ArtScience Museum.
Singapore is an exciting place to be,
says Al.
It's becoming an enormous financial hub, with a vibrant and fastgrowing economy. Once again, our dealings with UKTI have been seamless.They have been pro-active in getting us in front of as many people as possible and their introductions have been very powerful. We are currently working towards a new project with the ArtScience Museum.
Setting up a new business is time-intensive, but UKTI's on-the-ground personnel have operated very effectively to help us move quickly and it's been very useful to speak to someone local as things progress. UKTI has given us a comprehensive service, so much so that we would now consider it to be part of our business strategy to get them on board when approaching new markets. It'd be foolish not to take advantage of their support.
About Art Equity
Set up in Sydney, Australia in June 2003, Art Equity provides art advisory services and innovative investment solutions to collectors and investors in Australia and abroad. The company offers a range of services: it helps clients in the rental and corporate sector to customise their art portfolio and generate income from it; it sources high quality art for clients; and it offers a private client advisory service, working with family offices and institutions to create opportunities for them to invest in art. This work is backed by a stable of Australian artists showing their works in Art Equity's physical gallery space in Sydney, as well as online.
Fast facts
| | |
| --- | --- |
| Company | Art Equity |
| Country | Australia |
| Industry | Business/Professional/Financial Services |
| Website | www.artequity.com.au |
Published 25 March 2014