Case study
Archive Service Accreditation: defining what an excellent service looks like
Archive Service Accreditation: developing and delivering a new management standard for UK archive services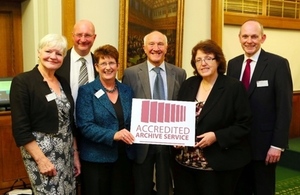 Context
Archive Service Accreditation is the UK-wide standard for archive services. It defines good practice, thereby encouraging and supporting development of an archive service. Accreditation reviews an archive service's ability to develop, care for, and provide access to its collections, and in those areas such as resources and planning which underpin delivery and ongoing improvement.
Archive services can apply to be externally validated against these measures: becoming Accredited Archive Services.
Developing Archive Service Accreditation
Archives for the 21st Century (2009) identified accreditation as a key need in the archives sector. This recognised the need for a new archives benchmarking framwork providing a structure for continuous improvement, reflecting the ways a modern archive service operates, and relevant to the wide range of archive services existing across the UK.
The development of Archive Service Accreditation 2010-13 was led by a partnership of:
Archives and Records Association (UK and Ireland)
Archives and Records Council Wales
National Records of Scotland
Public Record Office of Northern Ireland
Scottish Council on Archives
The National Archives
the Welsh government (through its Museums Archives and Libraries Division)
Arts Council England (bringing experience of museums accreditation)
This UK-wide partnership continues to support Archive Service Accreditation. Partners nominate members to the Archive Service Accreditation Committee, where they are joined by experienced archive professionals recruited through open competition. They are collectively responsible for overseeing the standard's development, ensuring that it continues to be owned by the whole archives sector.
Archive Service Accreditation was developed with reference to existing frameworks. It refers to other core archives standards rather than seeking to replicate their content. Writing the new framework was undertaken as a co-creation process with the archive sector and stakeholders. They could participate in workshops, webinars, online discussions and there was a pilot of the scheme by 20 archive services representing the wide range of services across the UK.
The result of this co-creation is a framework composed of 20 outcomes-focused requirements, supported by scaled guidance which reflects key differences in expectations according to the size and nature of archive services.
Delivering Archive Service Accreditation
The application process allows archive services to demonstrate how they measure up in organisational health, collections management and stakeholders and their experiences. Applicants are asked to demonstrate robust policy and planning throughout, as well as good delivery in practice.
Applications are made online and include submission of supporting evidence in formats created within the service. There was a recognition that setting out templates for policies and plans would be too rigid and would not recognise the variety of contexts in the sector. In many cases the assessment also includes an onsite validation visit, allowing discussion of the application and ensuring the assessment is accurate and useful to the applicants.
The co-creation process ensured that awareness of Archive Service Accreditation was high before it was published in July 2013. This was followed by a series of applicant workshops managed by the home nations partners and Archives and Records Association. It provided a detailed introduction to Archive Service Accreditation, the programme and its content. These workshops continue, and have been supplemented by specialist workshops for different elements of the archive sector, including guidance on developing policies, and application of the standard in museums, universities and business archives.
Assessment is undertaken by home nations assessor bodies: The National Archives, the Public Record Office Northern Ireland, the National Records of Scotland and Scottish Council on Archives, or the Welsh government through its Museums, Archives and Libraries Division. Assessors share training and reference materials to ensure a coherent approach across the devolved administrations. All assessments are submitted to formal awards panels, the membership is drawn from the governing Archive Service Accreditation Committee. The panels ensure consistency in assessment and identify any key policy points arising out of award decisions.
Archive services may be assessed as Accredited, provisionally Accredited, where there are key development areas to be addressed within a given time frame, or not meeting requirements at the present time. All applicants receive an assessment report detailing how they meet the requirements, together with a headline citation from the awarding panel, and actions for the future. This provides a suite of supporting information to enable advocacy and service improvement.
Accomplishments and lessons learnt
Archive Service Accreditation was launched in summer 2013 and so far over 50 archive services have been Accredited, representing a broad range of types of archive service. Applicant numbers continue to grow. Engaging with members of the archive sector at an early stage in the development of the accreditation scheme by co-creation allowed regular feedback to shape a meaningful and realistic set of requirements. It is applicable to a broad range of archive services that are equally eligible to apply.
Archive Service Accreditation borrows, builds on and refers to existing standards accepted widely within the heritage and cultural sectors. For example, the Archive Service Accreditation and Museums Accreditation schemes are broadly aligned at module level reflecting the common headline needs of heritage collections. The use of PAS 197 terminology ensures common terminology across libraries, museums and archives, recognising that archives are often within the setting of a wider heritage or information body.
Referencing detailed standards which are already widely in use within the archives sector ensures that although new, elements of Archive Service Accreditation were already familiar to archive services.
The first year or more of launching a new development framework will be more about communication and training than assessment against it. At a time of considerable institutional change nationwide, application timetables cannot be rigid: as services may find themselves facing transformative proposals which mean applications must be postponed until the future is clearer.
Archive Service Accreditation is not only an opportunity to review policies, plans and procedures and how an archive service operates, but also an opportunity for archive services to celebrate achievements and raise their profile.
Working with peer reviewers in the assessment teams in England has provided a new professional development experience for the archives sector. It further ensures assessment is grounded in current realities and practice. We know that Archive Service Accreditation is being used as an improvement tool by many archive services outside the application process, particularly those which are some years away from making an application. Capturing this early on would have helped evidence more accurately how the scheme is being used by archive services.
Future plans
Once awarded to an archive service, Accreditation is reviewed on a regular cycle, ensuring an accurate ongoing picture of Accredited Archive Services. Where services go through significant negative change, Accreditation may be withdrawn.
Since the launch of the standard, it has always been the intention to increase expectations for archive services surrounding born-digital records and to open up the scheme to digital-only repositories. We are now developing this element to reflect progress within archives sector around born-digital records and provide a framework for archive services to increase their capacity to preserve and make accessible these essential records. The change will be incremental, with the revised standard launched in summer 2018.
Further information
To find out more about Archive Service Accreditation see the National Archives and contact accreditation@nationalarchives.gsi.gov.uk.
Published 30 November 2016