Case study
Alexander Dennis: Maximum capacity
When Scottish firm Alexander Dennis won a major contract in Canada, UK Export Finance support helped free up the cash needed to power ahead.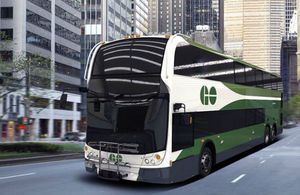 Our focus on expansion to international markets, including new countries and territories in Latin America, Europe and Asia Pacific, makes UKEF support vital. It is hugely important for us.
Robert Davey, Group Commercial Director at Alexander Dennis
Alexander Dennis Limited (ADL) is the UK's leading maker of buses and coaches. Headquartered in Larbert, Scotland it is a large business turning over more than £500m a year. International sales are vital to the firm's success and in 2014 the company won a major five-year contract to supply a fleet of buses to Metrolinx, the transport authority for the Greater Toronto area in Ontario, Canada.
To start work however, ADL needed to redesign and re-engineer the buses to cope with local infrastructure challenges in Toronto including low bridges; and the firm also committed to opening a small manufacturing facility in Ontario, bringing jobs to the local economy. To help cover these costs an advance payment was negotiated, with Metrolinx in turn requesting an advance payment bond and a performance bond guarantee from ADL's bank.
No red tape
ADL's bank was able to issue the bonds but normally these require a high level of cash cover from the firm to do so. This would have locked up funds for ADL, negating most of the value of the advance payment – a Catch-22 situation.
The company then contacted UK Export Finance (UKEF), whose bond support scheme offers guarantees to banks to help free up exporters' funds. After assessing the case, UKEF acted quickly to underwrite the bonds.
Robert Davey, Group Commercial Director at Alexander Dennis, said:
The UKEF guarantee allowed ADL to use the advance payment facility for our business needs. This was quite a complicated contract, denominated in Canadian dollars, but it was important for us to keep the negotiations moving at pace, to receive our advance payment. Principles were agreed quickly with the UKEF team, and we didn't have to cut through layers of red tape to get a decision.
Freeing up funds
The guarantee freed up a significant chunk of the advance payment for ADL to use, benefiting not only the work now beginning on the Metrolinx contract but also the company's ongoing work to seek out new export opportunities.
More information
New business enquiries
Our helpline is open from 9am to 5pm.
Published 22 September 2016