Case study
Aerospace: supply chain seeks alternatives to hazardous chemicals
Innovate UK-funded project involves SMEs in collaborative search for safer ways to protect aircraft components and systems from corrosion.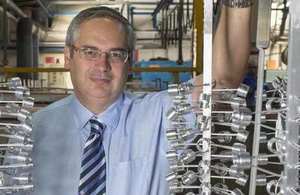 Applying chrome-based coatings has proved a very effective way of protecting aerospace systems and components from corrosion over the 40-year life of a typical aircraft.
Unfortunately, these 'hexavalent chrome' compounds also cause cancer and are prone to damage the respiratory system, kidneys, liver, skin and eyes.
Their use is being phased out from 2017 under European REACH legislation.
That poses particular problems for smaller companies who lack the resources and scientific knowledge to research and develop alternatives – and it's often their employees who need protecting most.
So 3 years ago Innovate UK offered up to £2 million funding for companies throughout the aerospace supply chain to get together to address the issues. The EPSRC was a co-funder of the project, which involved 17 partners, including 3 universities.
The project aimed to:
establish new, common test methodologies for surface protective coatings
identify and demonstrate hexavalent chrome-free surface protection systems
improve science-based understanding of the coatings, surfaces and how to optimise them
set up a knowledge management and dissemination system
Rolls-Royce led the successful consortium exploring chemical processes that might offer alternative and viable ways to provide similar anti-corrosion properties.
In-depth scientific research
Among the participants was Birmingham-based SME Ashton & Moore, who started in the aerospace industry through applying coatings to fighter aircraft components during World War II. Dr Keith Tucker, managing director, said:
Hexavalent chrome is in about 80% of things that we do. We hold approvals for 27 different prime contractors. If they don't want their supply base to be drastically reduced, we must coordinate our efforts to find a common solution.
As a relatively small company with 100 people and a turnover of £3-4 million we don't have the budget to do this kind of in-depth scientific research.
The project was really good because it kept us up to date with everything the primes were looking at. The sooner we know which way they are going to go, the more time we have to react.
Everyone appreciated that if they could point the way to new protective treatments and design practices, the UK would be in a strong position to influence international standards – and win global business.
As hoped, with companies of all sizes supported by high-calibre academic thinking, some are collaborating on allied topics.
The aerospace industry has to apply very stringent safety considerations to any new or substitute technology. Brian Norton, managing director of Indestructible Paint at Sparkhill in Birmingham, outlined the problem:
There are 8,000 parts in a car, but 3 million in an aircraft. It doesn't matter too much if a car rusts. But if you get a rusty plane … well, there are no lay-bys at 35,000 feet.
To change a design concept is very difficult. And aircraft are built from such things as an aluminium body, a magnesium gearbox on an engine, steel and alloy turbine parts that spin. Each of those uses a different chromate.
Achieved major milestones
If you see a new Airbus before being painted, it's green. That's strontium chromate. The project has dealt with strontium chromate paints and primers – and hard chrome plating on axles too.
Bryan Allcock, of Monitor Coatings, based in North Shields, Tyne and Wear, said the project had achieved all its major milestones:
As a business, we are more enlightened than we were before – on the legislation and the available alternatives.
Without Innovate UK, it definitely wouldn't have happened in the same way and it would have taken a lot longer. We are unpacking a piece of legislation, trying to find a technical solution, and you need to be incredibly focused and co-ordinated.
The consortium partners were: Rolls-Royce plc, AgustaWestland, Ashton & Moore, BAE Systems (Operations) Ltd, Short Brothers plc, GE Aviation Systems, Goodrich Actuation Systems Ltd, Granta Design Ltd, Indestructible Paint Ltd, Meggitt Aerospace Ltd, Messier Dowty Ltd, Monitor Coatings Ltd, Poeton Industries Ltd, Aero Engine Controls. The academic partners were the universities of Loughborough, Manchester and Southampton.
Published 20 October 2015