Case study
£5,000 grant helps RypeOffice get low-carbon furniture to market
RBS, Imperial College and CarbonNeutral head growing queue of customers for London firm's remanufactured office furniture.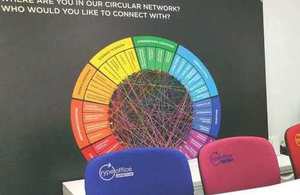 £5,000 grant helps RypeOffice get low-carbon furniture to market
A London-based company that used Innovate UK funding in 2014 to develop a business plan for eco-friendly, remanufactured furniture has already landed blue chip customers.
Consulting firm Lavery/Pennell identified the commercial potential of remanufacturing to produce quality office furniture at a lower cost and with less environmental impact.
The fledgling furniture business, named RypeOffice, had an early breakthrough with a Royal Bank of Scotland (RBS) Innovation Gateway award – and that immediately paid dividends, as co-founder Greg Lavery explained:
RBS is now one of our customers. Imperial College London has also purchased our furniture and we've done an installation for CarbonNeutral.
Enormous opportunities
The company is in discussions with other organisations, large and small, as potential clients.
We've been delighted with the response of the market. It seems as though we got our timing just right with increasing interest in the 'circular economy' and sustainability more generally.
There's an enormous opportunity to remanufacture in society, taking away a waste stream, avoiding landfill, and reusing it as a new product.
Lavery/Pennell did not have an R&D budget for product-based initiatives so they turned to Innovate UK who offered a £5,000 grant. Greg added:
That meant we could engage a design firm who were brilliant with furniture. They were able to fill in the gaps in our knowledge and develop a business case that showed there was a real opportunity.
Rather than set up a factory, RypeOffice assembled a network of partners including specialists in powder coating, polishing and reupholstering.
Reduces environmental footprint by 80%
Long-life components in furniture, including steel and aluminium, have the greatest environmental footprint because they have been taken from the earth and refined and processed a number of times. These are also the most expensive because they are transported around the world through long supply chains.
But because they last a long time, they can be reused as the structure for a remanufactured piece of furniture, with new elements added around them to create a finished product indistinguishable from new.
Research has shown that remanufacturing reduces the footprint of an item in terms of greenhouse gas, water use and biodiversity damage, by around 80% compared to a product that has been made with virgin resources.
Published 9 December 2015