Case study
2-DTech: taking graphene out of the laboratory into big business
A university spin-out is scaling up its production of the high-strength material graphene to commercial levels with support from Innovate UK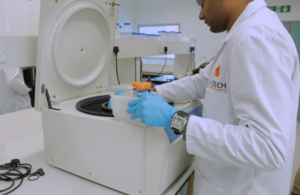 Graphene specialists 2-DTech are set to take graphene production out of the laboratory and into commercial scale production.
The business was set up by the University of Manchester about 3 years ago mainly to make graphene samples for researchers in Manchester and elsewhere. It has been limited to production of a few grams of graphene a week using laboratory processes.
Graphene is a new material that is extremely thin and extremely strong. It has many potential applications, but progress on applying it commercially has generally been slow.
Since its acquisition by rapidly growing materials business Versarien a year ago, 2-DTech has focused on scaling up from sample production to making graphene at a commercial level for bigger industrial applications.
2-DTech believes it has refined the technology for scaling up production and is now investing in the equipment that will allow it to produce graphene at a commercial level.
2-DTech: unlocking graphene's potential
Managing director Dr Nigel Salter said:
I'd like to think that from about a year on we will be talking about hundreds of kilograms of product if not tonnes of product a year, as opposed to a few grams a week.
We have three Innovate UK projects. They provide the underpinnings that allow us to get started, to get the technology working, to get people engaged and to find applications.
Two of the projects have end users – in energy generation and storage and in using graphene to reinforce and strengthen thermoplastics.
See how Versarien became a rapidly-growing materials business with support from Innovate UK
Published 31 August 2015