Case study
17 customers save over £2.7 million on mobile voice and data services
The Crown Commercial Service has helped 17 customers save an average 61% on mobile voice and data services through an aggregated further competition.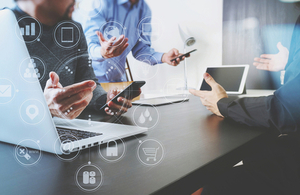 Background
By bringing together customers with similar mobile voice and data service requirements, we are able to run aggregated further competitions to help them achieve more competitive pricing, improved terms and an increased level of savings, compared to direct award or customers conducting individual further competitions.
The solution
The Crown Commercial Service (CCS) aggregation team regularly runs further competitions for multiple customers based on standard specifications for common goods and services. Combined volumes help attract more interest from suppliers and, therefore, achieve better value and savings for customers.
The competitions are managed by CCS at no charge to the customer. Customers just need to express their interest, provide details of their requirements before we go to market and we manage the procurement from start to finish.
Customers were provided with an "indicative savings analysis template" to assess the minimum savings they could achieve, by comparing an "indicative tariff" (set as the ceiling price) against their current rates. This meant customers were able to quickly assess the benefits of joining the aggregation and present them as part of their business case.
The further competition was conducted using lot 6 for mobile voice and data services of the Network Services framework. The most economically advantageous offer in the market was obtained by taking into consideration both price and non-price factors, such as quality. The further competition was concluded with sealed bids.
Innovative contract terms were also used so that customers would be able to move their phone connections, as and when existing contracts expire, throughout the first 2 years of the 3 year contract. Customers taking part also have the option to extend the term on a plus 1 year, plus 1 year basis.
The results
The project brought together the common mobile voice and data requirements of 17 customers – totalling over 21,000 connections.
It resulted in an average indicative saving of 61% compared to the prices customers were paying. This is the equivalent of a saving of £2.7 million over 2 years for the customers who took part.
These results clearly demonstrate that by combining volumes and using a standard specification for a commodity product or service significant cost savings can quickly be realised.
7 members of the Association of Greater Manchester Authorities (AGMA) took part and Paul Maynard, AGMA Procurement Manager commented:
"The AGMA Procurement Hub would strongly recommend organisations work with CCS on their mobile and voice data requirements.
By aggregating volumes and treating mobile and voice data as a 'common commodity requirement' 7 AGMA members will be able to save in the region of £1.24 million. In addition to cashable savings, the group will also benefit from a more flexible solution and improved terms, including an increased choice of tariff rates that can scaled up and down as required every 30 days, shared data bundles and 4G by default.
Achieving these outcomes took less than 3 months. Collaborative working between the hub, CCS and key stakeholders enabled this to happen. The CCS team was very professional throughout, making the process efficient and effective for all involved".
Get involved
View our current opportunities including our next aggregation for mobile voice and data services.
To learn more about how our free to use aggregation services can help you make savings or to discuss any of the current opportunities please fill in our online enquiry form.
If you are interested in joining our upcoming mobile voice and data services aggregation, simply tick the box to express your interest and quote NFC81.
We will get in touch to discuss your requirements and recommend the best solution(s) to meet your needs.
Published 27 September 2017