Safety warning about drivers remaining in vehicle cabs while ferries are at sea
Urgent safety lessons issued after shift and toppling of freight vehicles on board a ro-ro passenger ferry in heavy weather.
Safety Bulletin 1/2019
MAIB safety bulletin 1-2019: European Causeway
A full report will be published when the investigation is complete.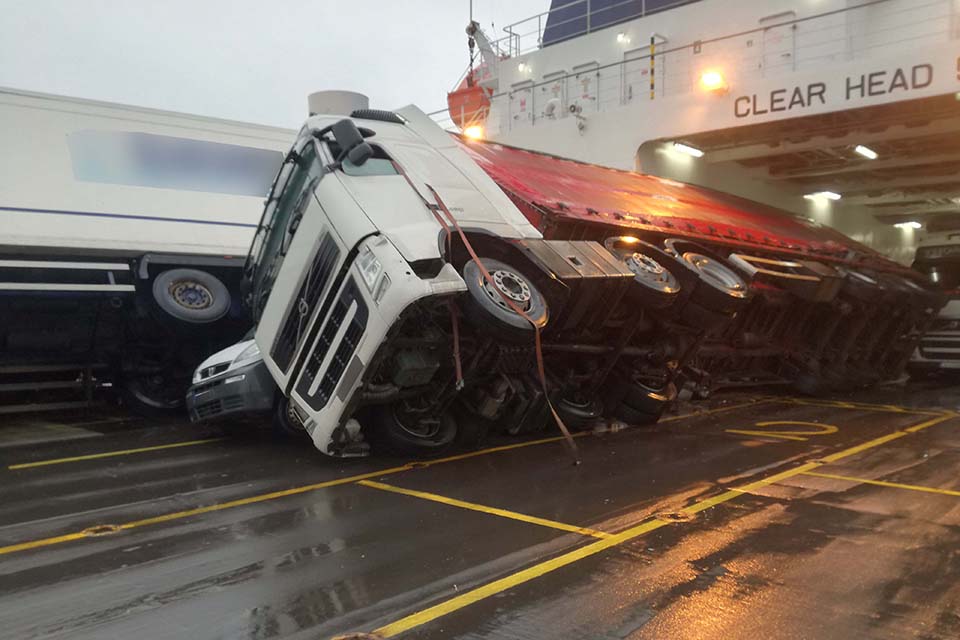 Safety Issues
while a ferry is at sea, the ro-ro decks should be occupied by only trained professional seafarers who are required to undertake safety and security patrols

drivers who remain on the vehicle deck of ro-ro passenger ferries pose a danger to themselves and can cause delay in emergency response

drivers who remain in their vehicle cabs could be in danger of asphyxiation by fire, or as a result of the fire suppression systems that may be released by ship's staff
Recommendation
A recommendation (S2019/106) has been made to The Road Haulage Association Ltd to distribute this Safety Bulletin to its members and encourage them to take robust action to improve and assure driver safety by helping ferry operators eliminate the issue of drivers remaining in the cabs of freight vehicles on ro-ro decks.