Grounding of bulk carrier Kuzma Minin
Location: Falmouth Bay, England.
Accident Investigation Report 11/2019
Investigation report into marine accident including what happened, safety lessons learned and recommendations made:
MAIB investigation report 11-2019: Kuzma Minin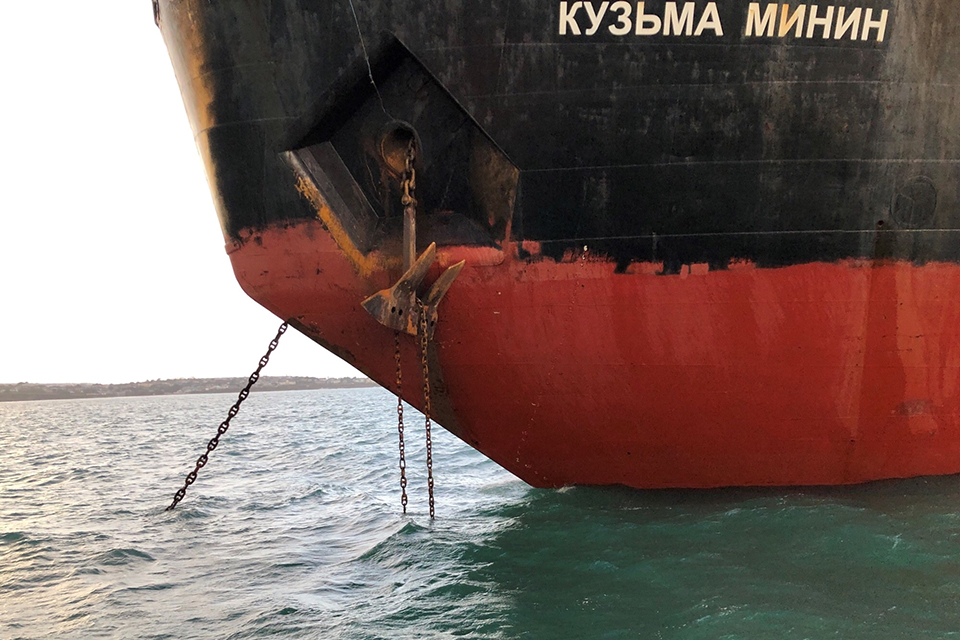 Summary
Kuzma Minin grounded after dragging its anchor in Falmouth Bay, England and was successfully refloated on the next high water. Damage included shell plate deformation and breached tanks. The vessel dragged its anchor in strong winds. Although the movement towards the shore was quickly detected by the bridge watchkeeper, the actions taken to proceed to sea were interrupted by the anchor becoming fouled by a discarded length of anchor chain. As focus was turned to clearing the anchor, Kuzma Minin was blown towards the shore at a speed of over 2 knots.
Falmouth's harbourmaster used local resources to refloat the vessel, but concerns over Kuzma Minin's lack of P&I insurance cover, and its owner's lack of co-operation in appointing a salvor, caused unexpected pressures.
Safety lessons
the financial situation of the Murmansk Shipping Company meant that Kuzma Minin's master was unable to replenish bunkers and lube oil which influenced his decision to remain at anchor on a lee shore when strong winds were forecast

Kuzma Minin's lack of P&I insurance led to concerns over responsibility for salvage payment which hindered the appointment of experts and the ability to secure the services of an additional tug that was on passage nearby
Recommendation
JSC Murmansk Shipping Company is recommended (2019/117) to take steps to ensure that its vessels are adequately resourced to operate safely and in accordance with international conventions, taking into account the potential consequences of vessels having insufficient fuel and oils, and the statutory requirement to maintain P&I insurance.