Grounding and flooding of scallop dredger St Apollo
Location: Inninmore Bay, Sound of Mull, Scotland.
Accident Investigation Report 14/2016
Investigation report into marine accident including what happened and safety lessons learned:
MAIB investigation report 14-2016: St Apollo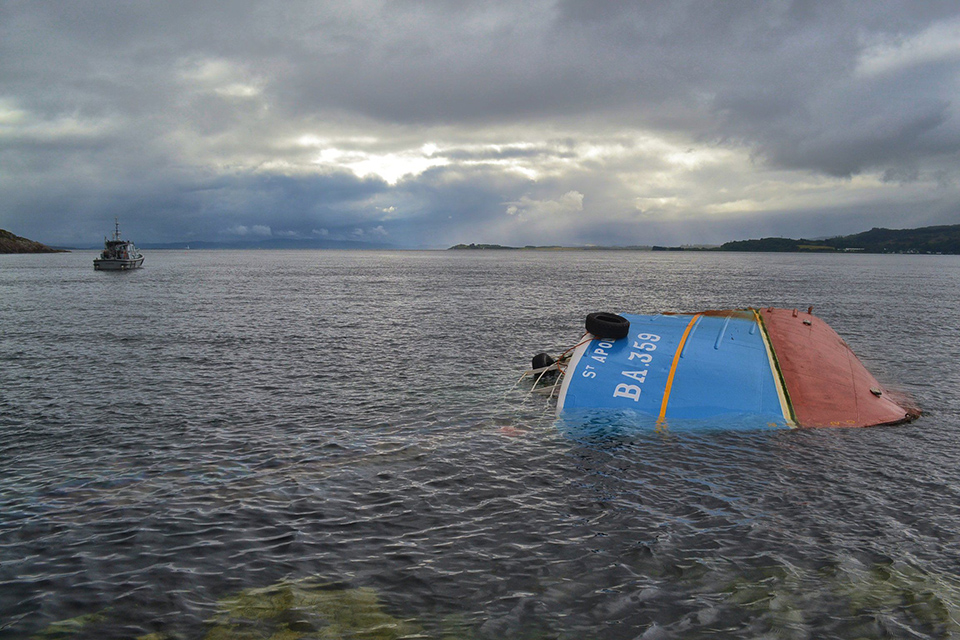 St Apollo partially submerged, photograph courtesy of MCA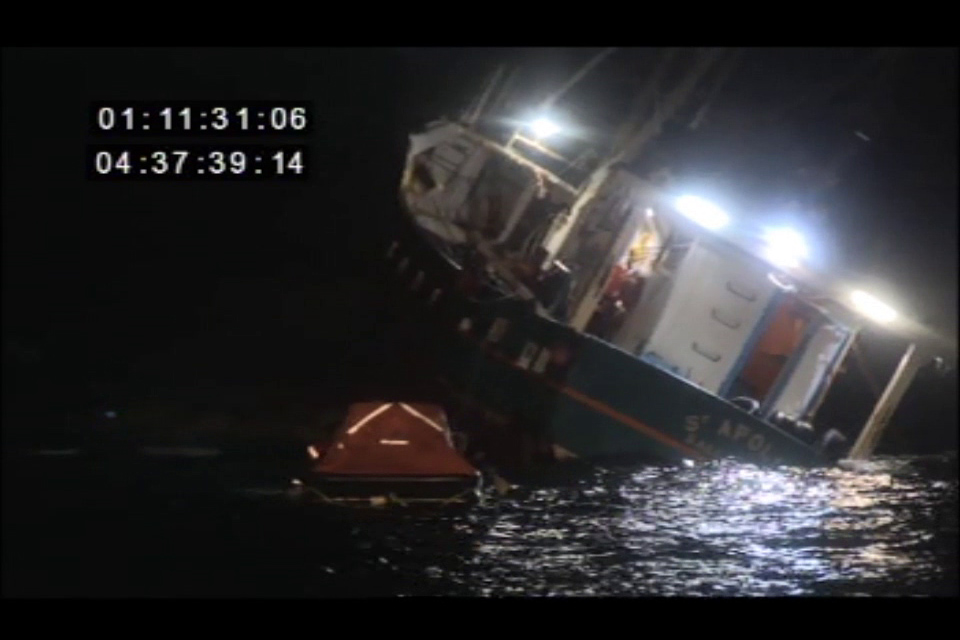 St Apollo crew abandoning the vessel, image courtesy of Blast Productions
Summary
While on passage to fishing grounds, the 17m scallop dredger St Apollo grounded on a small island at the south-east entrance to the Sound of Mull. The vessel was on passage with the automatic steering engaged when it reportedly turned unexpectedly to starboard towards navigational dangers. The watchkeeper alerted the skipper but St Apollo grounded before the skipper arrived in the wheelhouse.
Attempts to re-float St Apollo were unsuccessful and, as the tide fell, the vessel started to list to starboard. The crew abandoned into a liferaft and shortly after St Apollo toppled onto its starboard side. The vessel remained partially submerged in shallow water and, although subsequently salvaged, it was beyond economic repair.
Safety lessons
it is likely that St Apollo had already deviated from its planned route when the unexpected swing to starboard was noticed

the reactions of the wheelhouse watchkeeper were impaired by insufficient situational awareness, a lack of equipment knowledge and a low state of arousal

the wheelhouse watchkeeper was unable to meet the challenges he faced alone and at night in confined waters
Recommendations
St Apollo's owner/skipper is recommended (2016/129) to enhance the safety of any vessel he may own in the future by applying the best practice guidance promoted in MGN 313 (F) and complying with the requirement to operate AIS.
Related publications
A safety flyer highlighting a number of the safety issues was produced for this report.