Contact made by oil product/chemical tanker Apollo with quayside
Location: Northfleet Hope Container Terminal, Tilburyness, River Thames, England.
Accident Investigation Report 15/2014
Investigation report into marine accident including what happened, safety lessons and recommendations made:
Apollo.pdf (4,686.85 kb)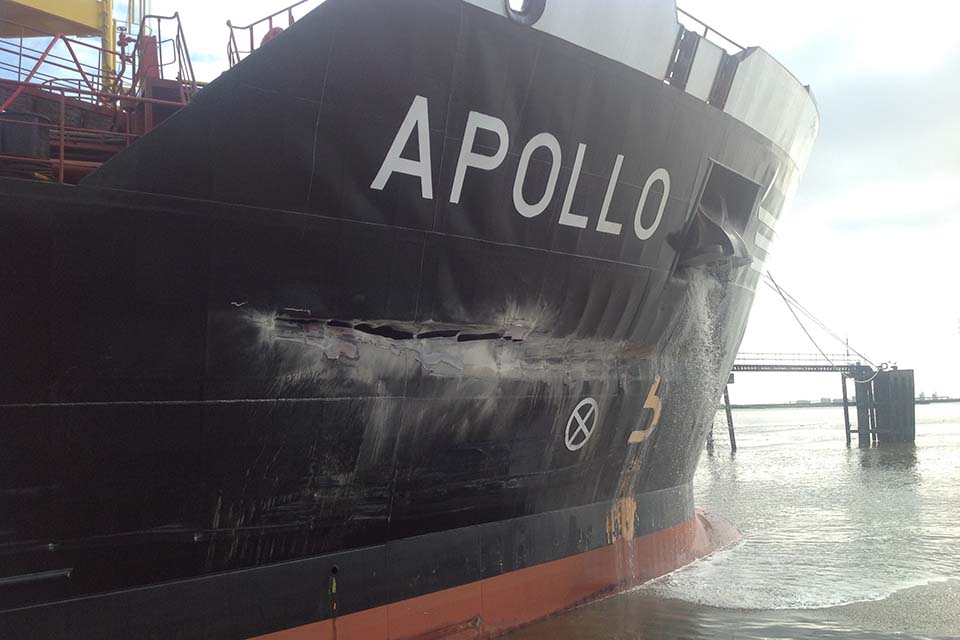 Summary
At 0219 on 25 July 2013, the tanker Apollo was rounding Tilburyness on the River Thames, England, in a strong tidal flow when it left its intended track and made contact with the quayside at the Northfleet Hope Container Terminal. The vessel and the quayside both sustained significant damage as a result of the accident.
The vessel's manager has taken action to prevent a recurrence.
Safety lessons
Tilburyness is an area with strong and complex tidal streams and there have been 4 accidents in this area since 2007
he information regarding the vessel's propulsion system was not readily available to the pilots, either through the port's information data system or the vessel's pilot card
the examination was not conducted in a commentary style, compromising the ability of the bridge team to communicate effectively
the size of the vessel was inappropriate for the examination as it was larger than the size for which the pilot was being examined
Recommendations
Recommendations (2014/124 and 2014/125) have been made to the Port of London Authority to review their procedures and also to clarify the wording of General Direction 18/2011 relating to 'Members of the crew capable of taking charge of a vessel'.
A recommendation (2014/126) has also been made to the UK Marine Pilots Association and the Port Marine Safety Code Steering Group to develop best practice guidelines for the conduct of practical pilotage examinations.
Published: 12 June 2014
Published 23 January 2015