Collision between tug Christos XXII and its tow, former fisheries protection vessel Emsstrom which later sank
Location: Off Hope's Nose, Tor Bay, England.
Accident Investigation Report 10/2014
Investigation report into marine accident including what happened, safety lessons and recommendations made:
ChristosXXII.pdf (467.75 kb)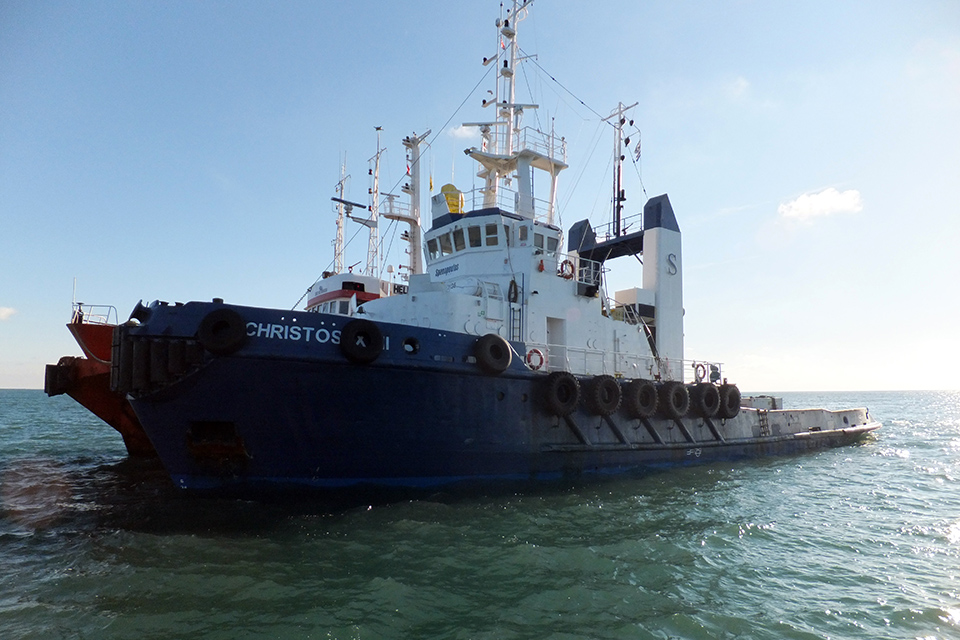 Summary
On 13 January 2013, the tug Christos XXII was struck by its tow, the former fisheries protection vessel Emsstrom, while anchoring off Hope's Nose, Tor Bay, England. Christos XXII's master had anchored to investigate why Emsstrom had developed a list while under tow. Unfamiliar with the tidal waters and not taking the conditions into account, the skipper anchored Christos XXII downtide of Emsstrom. Emstrom was carried by the tide into the stationary Christos XXII.
Christos XXII was holed and required significant assistance to control subsequent flooding. Emsstrom sank the following day.
Safety lessons
the master's inexperience in anchoring in tidal waters, coupled with his focus on establishing the cause of the list of Emsstrom, led to a lack of appreciation of the dangers resulting from tidal effects on the tow when anchoring

it is likely that a plan developed in conjunction with senior, experienced staff from the company would have taken the tidal conditions into account
Recommendations
Christos XXII Spanopoulos Tugs is recommended (2014/112) to develop a crisis response management cell and associated procedures to provide support to ships' staff in crisis situations.
Published: 10 April 2014
Published 23 January 2015