Collision between Formula 4 powerboats resulting in 1 person injured
Location: Stewartby Lake, Bedfordshire, England.
Accident Investigation Report 6/2018
Investigation report into marine accident including what happened, safety lessons learned and recommendations:
MAIB investigation report 6-2018: Formula 4 powerboats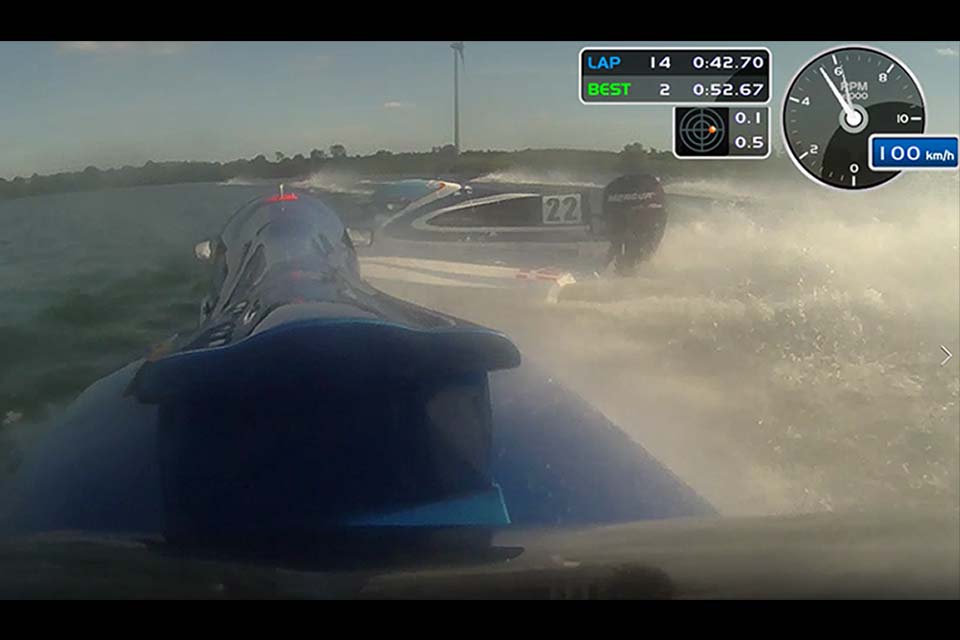 Summary
On Sunday 2 July 2017 during an international powerboat racing event at Stewartby Lake, Bedfordshire, two Formula 4 powerboats collided while rounding a buoy. One of the drivers was quickly extracted by rescue teams unhurt. The other, injured by the collision and unable to release his cockpit canopy and harness, lost consciousness and almost drowned when his emergency air supply ran out. He was extracted and resuscitated by the rescue teams at the scene. Four days later he was discharged from hospital and suffered no apparent long-term effects.
The collision occurred because one of the boats veered uncontrollably into the path of the other due to the drag caused following the detachment of a hull panel.
Safety lessons
access to the injured driver was delayed by the use of the incorrect and tight-fitting canopy hinge pin
the injured driver did not follow the escape protocol taught during his immersion training
the injured driver almost drowned because his emergency air supply was insufficient to survive the rescue
the injured driver survived the accident because of the swift, well drilled response of the afloat rescue teams
Recommendations
During the early stages of the investigation, the Chief Inspector of Marine Accidents wrote to the Royal Yachting Association (RYA) and issued a recommendation (2017/138) aimed at improving driver safety. In response, the RYA submitted a number of proposed rule changes to the Union Internationale Motonautique (UIM), which were accepted.
A recommendation (2018/113) has been made to the RYA to review the escape protocols taught by its approved driver immersion test centres in light of the safety lessons identified in this report.