Collapse of crane on workboat Carol Anne with loss of 1 life
Location: Loch Spelve, Isle of Mull, Scotland.
Accident Investigation Report 11/2016
Investigation report into marine accident including what happened, safety lessons learned and recommendations: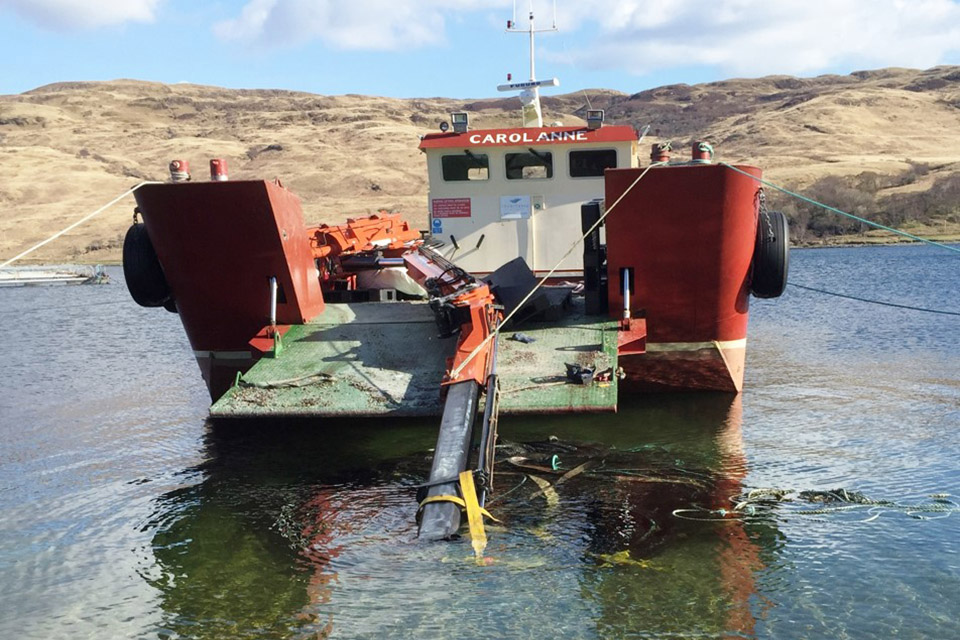 Summary
On 30 April 2015, an Atlas lorry loader crane fitted on the workboat Carol Anne collapsed while being used to offload a net at a fish farm at Balure on Loch Spelve, Scotland. The crane fell onto the workboat's skipper, who was declared deceased at the scene. The crane had been in operation since its installation 6½ weeks earlier. It was not overloaded when it failed
Safety Issues:
No installation guidance was provided with the crane
The crane was installed with smaller and fewer tie bolts than intended by its manufacturer
The lock nuts were of a lower grade material strength than indicated by their markings
The statutory thorough examination and test of the crane following its installation did not identify the inadequacy of the mounting arrangement
Recommendations
In July 2015, a recommendation (2015/142) was made to Atlas (UK), the crane's supplier, to ensure the integrity of Atlas cranes installed on other workboats. In addition, in October 2015, West Yorkshire Trading Standards was informed of the misleading markings on the lock nuts.
Recommendation (2016/122) to Atlas Maschinen GmbH, the crane's manufacturer, is aimed at ensuring that installation information is provided with all Atlas cranes fitted in the UK.
Recommendation (2016/123) to the Association of Lorry Loader Manufacturers and Importers is intended to improve the effectiveness of thorough examinations and testing of shipborne lorry loader cranes.
Recommendations (2016/124 and 2016/125) to the Maritime and Coastguard Agency and Inverlussa Marine Services, Carol Anne's manager, are intended to improve adherence to, and the effectiveness of, established codes of practice with regard to the installation or replacement of shipborne cranes on workboats.