Capsize and flooding of berthed scallop dredger Fredwood resulting in loss of the vessel
Location: Maryport, Cumbria, England.
Accident Investigation Report 25/2016
Investigation report into marine accident including what happened and safety lessons learned:
MAIB investigation report 25-2016: Fredwood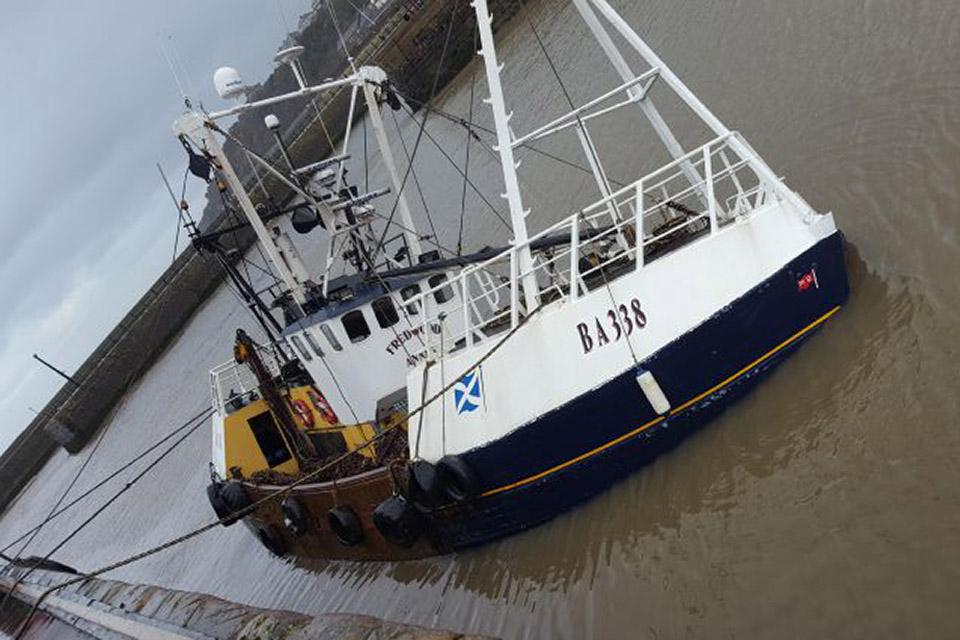 Photograph courtesy of News & Star
Summary
On 6 April 2016, the UK registered fishing vessel Fredwood flooded and sank in Maryport, Cumbria, England. Fredwood listed away from the quay wall as it took the ground on a drying berth and then toppled onto its port side as the tide went out. Fredwood's hull planking was damaged when the weight of the vessel came to rest on a sonar tube that protruded from the bottom of the hull. The tube was pushed upwards damaging the hull planking around it which allowed water to flood in as the tide rose later that morning. Fredwood sank alongside the berth and was declared a constructive total loss.
Safety lessons
the crew did not tend the mooring lines or take action to ensure the vessel leaned onto the quay as the tide went out
the crew response to the vessel listing heavily away from the quay and its subsequent flooding was inadequate
the port authority was underfunded and lacked commercial maritime experience
Recommendations
A safety recommendation (2016/153) has been made to Maryport Harbour Authority intended to help improve the safety management within the port of Maryport. This recommendation has been fully accepted.
Related publications
A safety flyer highlighting a number of the safety issues was produced for this report.
Published 17 November 2016