Accident on the twin rig prawn trawler Sea Harvester with 1 person seriously injured
Location:Firth of Clyde, Scotland.
Accident Investigation Report 15/2017
Investigation report into marine accident including what happened and safety lessons learned:
MAIB investigation report 15-2017: Sea Harvester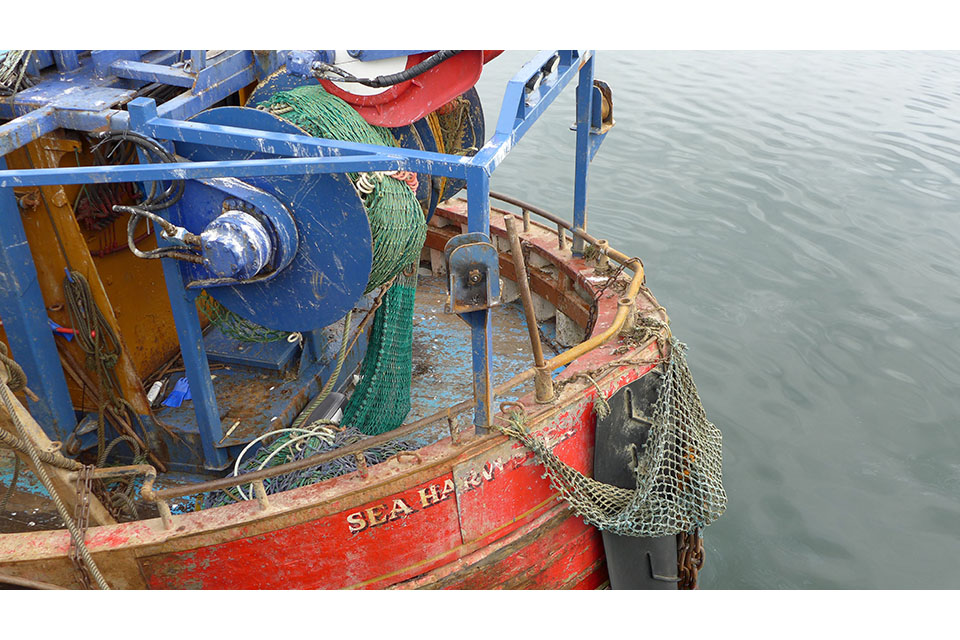 Summary
On 3 August 2016, a deckhand on board the twin rig prawn trawler Sea Harvester (N822) was seriously injured after being struck on the head by a steel pole during the recovery of fishing gear that had become caught on an underwater obstruction in the Firth of Clyde, Scotland. He suffered serious, life-changing injuries.
Our investigation identified, among other things, that:
the deckhand was struck by a guide-pole that had been propelled from its socket by the force exerted from fishing gear fastened to the seabed
the guide-pole arrangement was not constructed to be weight bearing
the injured deckhand was standing in a dangerous position and his head was not protected by a safety helmet
Safety lessons
guiding-on poles are designed to ensure that trawls are evenly recovered onto the net drum and usually do not have the same strength as fairleads or blocks
the forces involved and the energy released when deck equipment fails can be phenomenal
safety helmets are not routinely worn by fishermen, even when shooting or hauling. However, the risks of head injuries from wires or ropes under tension and overhead loads are no less than in other industries in which safety helmets must be worn
Recommendations
A recommendation (2017/129) has been made to Sea Harvester's owners aimed at ensuring the vessel's future safe operation.
Related Publications
A safety flyer to the small commercial vessel industry highlighting a number of the safety lessons was produced for this report.