Parole Board member recruitment 2019
2019 Campaign
The Parole Board is pleased to announce that it will be recruiting new members in 2019. One of the key aims of this recruitment campaign is to start to redress the shortage of black and minority ethnic members.
The member recruitment campaign for 2019 will be open to three membership types – independent, psychologist, and retired judicial - and the campaign for independent members will be regional, focused in the North of England.
| Member Type | Who is it open to? | Which regions? |
| --- | --- | --- |
| Independent | People from all backgrounds | North-East, North-West, Yorkshire & the Humber |
| Judicial | Retired High Court & Circuit Judges | All regions in England & Wales |
| Psychologist | All registered Psychologists | All regions in England & Wales |
Contact us at workwithus@paroleboard.gov.uk to register your interest in becoming a Parole Board member and to ask questions about the recruitment campaigns.
This page will be regularly updated with the latest news relating to Parole Board member recruitment.
Equality & Diversity commitment
It is important for an organisation to reflect the community it serves, and the Parole Board is determined to increase the diversity of its membership.
Caroline Corby, Chair of the Parole Board has publicly spoken about the Parole Board's commitment to increasing BAME representation amongst its membership.
While the Board has a good balance in terms of gender, with over 50% of the current membership of around 240 being women, only 5% identify as BAME and there is presently no representation from the black community.
Over the next three years, we have committed to an ongoing programme of outreach and recruitment to address this issue. In order to make this as effective as possible, we will be running targeted recruitment campaigns in specific regions of England and Wales. The 2019 campaign will be the first of these campaigns and will be followed by campaigns in the Midlands and South East over the next two years.
In the meantime, please email us if there is anything you'd like to know about before applying - workwithus@paroleboard.gov.uk.
What does the Parole Board do?
The Parole Board works to protect the public by risk assessing prisoners to decide whether they can safely be released into the community. It works as a court and makes risk assessments which are rigorous, fair and timely, based on information supplied by expert witnesses.
Parole Board decisions are solely focused on whether a prisoner would represent a significant risk to the public after release. The risk assessment is based on detailed evidence found in the dossier (a collection of documents relating to the prisoner) and evidence provided at the oral hearing.
What is parole?
The Parole Board is responsible for considering parole reviews for prisoners serving indeterminate sentences – sometimes called 'life' sentences – where the sentence has no end date.
It also considers certain types of determinate sentence cases - where there is an end to the sentence – and some prisoners who have been sent back, or 'recalled', to prison.
To be eligible for parole, a prisoner will have served the minimum 'tariff', or punishment part of their sentence, set by the courts. Prisoners eligible for parole are only released into the community if the Parole Board decides it is safe to do so.
An offender released on a parole licence continues to serve the rest of their sentence in the community while being supervised by the Probation Service. This is known as 'release on licence' or parole.
What the work involves
Paper hearings
Every parole review is first considered by a Parole Board member looking at a file of information and reports that provide evidence about the offender, known as a 'dossier'. This is done at home by members who are trained in the role and have experience of oral hearings. The member can either make a final decision based on the information provided in the dossier, or decide that the case must be considered at a face-to-face oral hearing at a prison.
Oral hearings
Oral hearings normally take place in prison, although some are heard via video-link. The Parole Board 'panel' sitting at the oral hearing will be chaired by a Parole Board member who is trained and accredited in the role. The chair may sit alone or be accompanied by up to two further members, sometimes including a psychiatrist or psychologist. Members prepare by reading the details of the case laid out in the dossier and then hear evidence from the prisoner and a variety of professional witnesses before making their decision.
Radio 4 documentary on parole
If you want to hear what an oral hearing is really like, listen to 'Parole: A Calculated Risk' on BBC Radio 4. It covers three prisoner's oral hearings and includes audio from the hearings, as well as interviews with panel members and recordings of their discussions before and after the hearings.
Why should I apply?
You will be protecting the community by making important decisions on the future of people who have served the punishment part of their sentence. These decisions are vital in ensuring justice, fairness and the protection of the public.

The work is very flexible, and you can organise it to fit around other commitments at work and at home.

You will work with other members with a wealth of different experiences and will learn a lot in the process.

You will be supported and trained throughout your time at the Parole Board by mentors, fellow members, and the office staff.

The work is varied, interesting, and there is great scope for broadening your role. For example, we expect most members will eventually train to chair oral hearings.
Can I apply to be an independent member?
Independent members come from a variety of professional backgrounds, you do not need to have experience in the criminal justice system to apply. We value transferable skills such as evidence-based decision making, independence of mind and judgement, interpersonal and communication skills. If you have these skills then we want you to apply, regardless of your background.
Job description and essential criteria
Regions for the independent member campaign
Our vacancies for independent members are currently in the North of England. Therefore, to apply you will need to live in one of the three regions shown on the map below - North-East, North-West, and Yorkshire & the Humber.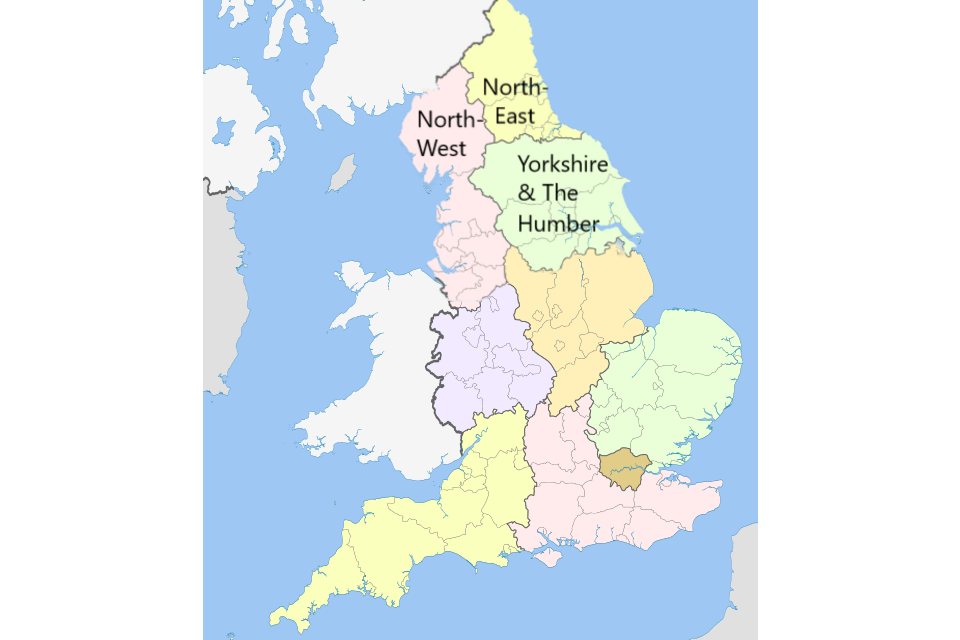 Here is a list of counties included in these regions:
Cheshire
Merseyside
South Yorkshire
West Yorkshire
East Riding of Yorkshire
North Yorkshire
Greater Manchester
Lincolnshire* (only in the areas of North and North-East Lincolnshire)
Lancashire
Cumbria
Tyne & Wear
Northumberland
County Durham
We are planning other regional campaigns for the future. If you are not eligible for the 2019 campaign because you live in another region but wish to record your interest for a future campaign, please get in touch at workwithus@paroleboard.gov.uk.
Can I apply to be a judicial member?
Judicial members must be: 1) A retired High Court Judge; or
2) A Circuit Judge who retired within three years of the application closing date, or who is currently serving and will be retired by July this year.
If you sit as a part-time judge, tribunal judge, magistrate, or any other judicial role that isn't mentioned above, you can apply to be an independent member.
Job description and essential criteria
Can I apply to be a psychologist member?
Applicants must be registered as a practitioner psychologist with the Health Care Professions Council (HCPC).
Job description and essential criteria for psychologist members.
Terms of appointment
Public appointments
Parole Board members are 'public appointees' and are independent of the authorities, in the same way a judge is in court.
When thinking about applying for a public appointment, the 'Nolan Principles' apply – these were drawn up by the Committee on Standards in Public Life.
Selflessness
Integrity
Objectivity
Accountability
Openness
Honesty
Leadership
Tenure
Members are appointed by Secretary of State for Justice for a five-year term, with the possibility of re-appointment at the discretion of Ministers. Any re-appointment is subject to satisfactory performance appraisal. If re-appointed, the total time served in post will not exceed 10 years.
How to apply
All applications to be a Parole Board member need to be submitted through the Cabinet Office website.
We are committed to dealing with your application fairly, making selection decisions that are based on merit and the evidence that you meet the candidate specification. We will continue to update this page and will also be hosting some Q&A sessions to provide more information to help interested candidates.
The campaign is not open yet, but please email us if there's anything you would like to know before applying - workwithus@paroleboard.gov.uk.
Work-life balance
Flexible working
The work is part-time, flexible and can fit around other commitments. You will be asked for your availability three months in advance and can choose which days you work. For example, you could choose only to sit on specific days of the week, or could opt to take the school holidays off.
Minimum annual commitment
| Member type | Minimum annual time commitment |
| --- | --- |
| Independent members | 115 days |
| Psychologist members | 35 days |
| Retired Judicial members | 65 days |
This time commitment includes oral hearings held at prisons (or via video-link), as well as paper hearings and preparation work, which can be carried out at home using secure laptops that we provide.
Members may be able to work more than the minimum commitment if there is work available. However, there is no guarantee of work.
Pay
Oral Hearings
The daily rate varies depending on member type (i.e. specialist or non-specialist, panel chair or non-chair) and the nature of the work undertaken.
Members can usually expect to attend two to three hearings per prison visit. You will be paid an additional fee for preparation of each case, which can be done at home to fit in with your other commitments.
| Member type | Day rate for oral hearing | preparation fee (per case) |
| --- | --- | --- |
| Independent | 320 | 60 |
| Judicial | 320 | 60 |
| Psychologist | 345 | 65 |
Paper Hearings
Below is the day rate for members completing paper hearings, based on eight hours work.
| Member Type | Day rate for paper hearings |
| --- | --- |
| Independent | 320 |
| Judicial | 320 |
| Psychologist | 320 |
Expenses
Although Parole Board members are home-based, there is a requirement to travel to attend hearings and for other Parole Board business. You will be reimbursed for travel and subsistence expenses in line with the limits set out in the Parole Board member guidance.
Want to know more?
Ask us
If you want to know more about the recruitment campaigns, you can contact the Parole Board by emailing workwithus@paroleboard.gov.uk.
Twitter
Regular updates will be posted on our Twitter page: @parole_board.
Get email alerts
Sign up for alerts here to be notified of the latest updates.
Published 19 December 2018