Guidance
Pyeongchang 2018 Winter Olympics and Paralympics
Guidance and tips for fans travelling to the 2018 Winter Olympics and Paralympics in Pyeongchang.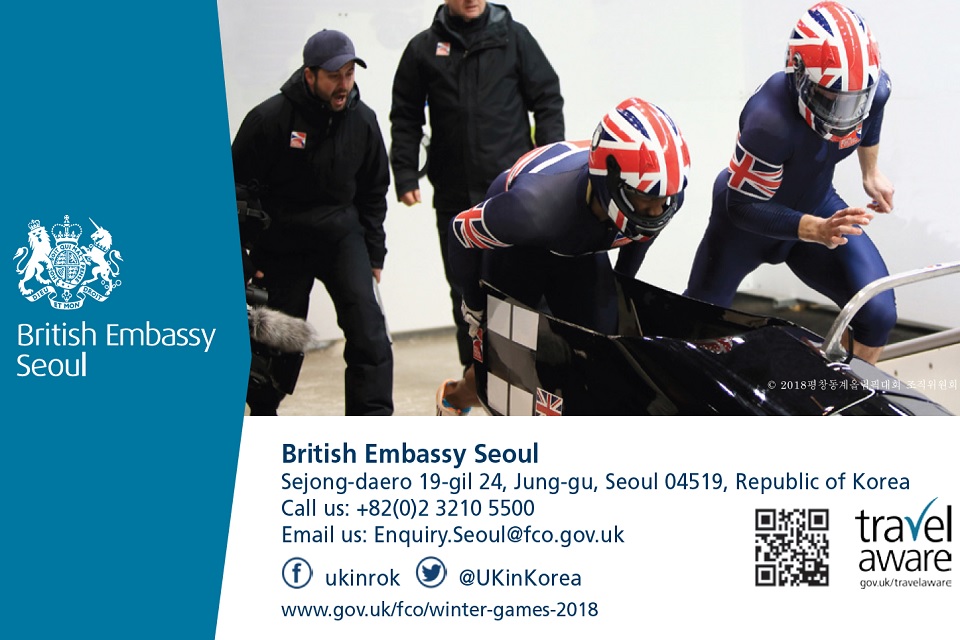 There will be large numbers of spectators and fans travelling to South Korea in February for the 2018 Winter Olympics in Pyeongchang. If you are planning to travel to the Games we advise that you organise your trip early. Accommodation in the Pyeongchang area will be limited - there will be much more accommodation available in Seoul but there will also be high demand around Games time. There will be various ways of getting in and around the Pyeongchang area during the Games but transportation access to the facilities will be strictly controlled.
To avoid disappointment we advise that you plan and book your visit as early as possible in advance of your arrival in South Korea.
Before you go
With a British passport, you can enter South Korea as a tourist for up to 90 days without a visa, but you must also have an onward or return ticket
If you have a different type of British nationality you should check visa requirements with the Embassy of the Republic of Korea, London
Your passport should be valid for a minimum period of 3 months from the date of entry into South Korea
Carry some form of identification at all times and make sure your next-of-kin details have been entered into the back of your passport.
Penalties for possession, use and trafficking of illegal drugs can result in long jail sentences and heavy fines. This applies even to personal use of small amounts of marijuana. British nationals have been detained solely on the basis of drug tests.
Tensions in the Korean peninsula
The level of tension on the Korean peninsula remains high due to a series of nuclear and missile tests by North Korea. There remains a threat of further missile or nuclear tests, which could lead to further instability in the region. The level of tension and the security situation can change with little notice. In the past, heightened tensions haven't affected daily life.
Health & medical insurance
Before travelling make sure you have suitable medical insurance and make sure your policy covers you for any activities you plan to do.
The winter in South Korea is predominantly cold with dry north-westerly winds. Warm clothes, down jacket, gloves and hats are advised. Temperatures can reach as low as -20°C in February.
Travel to Pyeongchang
Pyeongchang is a county in Gangwon province of South Korea. It is approximately 180km east of Seoul, the capital of South Korea. There are a limited number of cash machines in the Pyeongchang area and not all establishments accept international credit or debit cards.
Useful websites and links
Get all information about the 2018 Pyeongchang Winter Olympics and Paralympics

The Korean Government has established a Pyeongchang Olympic Call Centre hotline to help visitors with: accommodation, food, transportation, cultural events, sporting event information and tourist information. Callers within Korea should dial: 1330 / Callers from abroad: +82 (0) 2 1330

The official homepage of the British Embassy in Seoul
British Embassy in Seoul contact details
British Embassy Seoul
Sejong-daero 19-gil 24,
Jung-gu, Seoul 04519,
Republic of Korea
Hotline: + 82 (0)2 3210 5500
Email: Enquiry.Seoul@fco.gov.uk

Published 30 October 2017