International delegation
UK and the OSCE
Statement delivered by Ambassador Sian MacLeod, Head of the UK Delegation to the OSCE on 8 December 2016, Hamburg, Germany.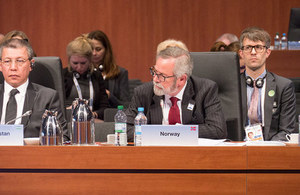 Delievered to the 23rd OSCE Ministerial Council by Ambassador Steffen Kongstad of Norway, 9 December 2016, Hamburg.
Our mission
The UK Delegation (UKDEL) protects the UK's people and values through an efficient OSCE, which delivers a comprehensive approach to security in the Euro-Atlantic and Eurasian area and a strengthened rules-based international system across issues from democracy and human rights, to arms control and conflict resolution, and emerging challenges such as cyber-security.
Documents
Organisations
Foreign & Commonwealth Office
The UK Delegation to the Organization for Security and Co-operation in Europe (OSCE) seeks to work with and through the OSCE and its 57 participating States to protect the UK's interests, people and values. The OSCE has a uniquely comprehensive approach to security, which covers a broad range of issues across the Euro-Atlantic and Eurasian region, "from Vancouver to Vladivostok".
United Kingdom Delegation to the Organization for Security and Co-operation in Europe