Artículo
LSE visitará Quito, Guayaquil y Cuenca en Febrero
La Embajada Británica invita a las charlas informativas de The London School of Economics and Political Science (LSE) del 17 al 19 de Febrero. Información e inscripciones en este artículo.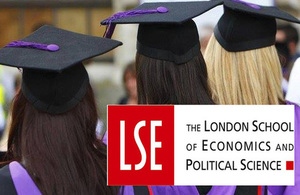 James Brown, Oficial de Admisiones ( Student Recruitment Officer) de LSE visitará Ecuador para dar charlas sobre la extensa oferta académica que esta institución de educación de excelencia ofrece.
Senescyt estará también presente para compartir información sobre los esquemas de becas para estudiantes ecuatorianos. Las fechas para las presentaciones son:
Quito
Lunes 17 de febrero, Hotel Sheraton, Salón Los Nevados, 18h30, Av. República de El Salvador y Naciones Unidas.
Guayaquil
Martes 18 de febrero, Campus UEES (Universidad de Especialidades Espíritu Santo), Sala Galo García Feraud,18h00, Km. 2.5 vía La Puntilla, Samborondón.
Cuenca
Miércoles 19 de febrero, Campus Universidad de Cuenca, 17h00, Avenida 12 de Abril y Agustín Cueva.
INSCRIPCIONES:
Una Universidad de excelencia mundial:
London School of Economics and Political Science (LSE) es la institución líder en temas de ciencias sociales. Esta organización fundada en 1895, es reconocida a nivel mundial por su excelencia académica. LSE ofrece 36 programas de pre-grado (Bachelor) y 142 programas de post-grado (Master). A esta universidad se le conoce como un "laboratorio de ciencias sociales," ya que ofrece una gran variedad de disciplinas académicas, así como contabilidad, economía, leyes, administración, antropología, desarrollo, estudios de género y otros temas como urbanización.
Un total de 16 alumnos o colaboradores de LSE han sido galardonados un premio Nobel. Oradores como Bill Gates, el Dalail Lama, David Cameron, Bill Clinton y Rafael Correa han intervenido en esta universidad. Alrededor del 67% de los estudiantes de LSE son ciudadanos de países fuera del Reino Unido. LSE ha tenido un significante incremento en la cantidad de estudiantes ecuatorianos, con 6 veces más aplicaciones recibidas en el 2014, que en el mismo periodo del año 2013.
No te pierdas de las últimas noticias y fotos en nuestras cuentas de Twitter o Facebook.
Published 23 enero 2014