"With this new Embassy, Britain becomes one of only three European countries to be represented in all ten states of ASEAN"
Foreign Secretary William Hague spoke at the opening of Britain's new Embassy in Laos.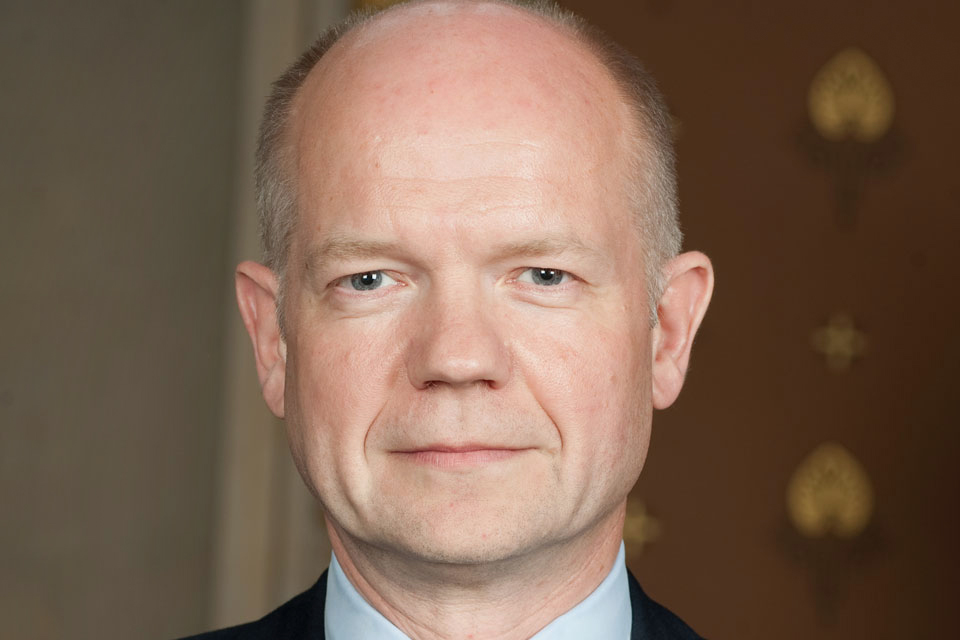 Minister Soulivong Daravong, thank you for joining us on this historic and very happy occasion. Today we are reopening the British Embassy in Laos, after an absence of 27 years.
In that time you have begun to transform your country and your role in the region: You have liberalised your economy which is growing faster than that of any other nation in ASEAN, itself one of the world's most dynamic areas. You have halved the number of your people who live below the poverty line, and you are on the cusp of joining the World Trade Organisation. Two million tourists visit your beautiful and fascinating country each year, including as many as 35,000 Britons.
As a sign of your growing regional role you have just hosted the Asia-Europe Parliamentary Forum and the Asia-Europe's People Forum; and this week the leaders of Europe and Asia are gathered here for the 9th ASEM Summit.
So I warmly congratulate you on behalf of the British Government for what you have achieved, and for the huge opportunities to advance the security and prosperity of your country that lie ahead of you.
Every country has challenges it must face, and so does yours, in the areas of economic, social and political development and in confronting the legacy of past conflict, including cluster munitions.
But like you, we are very optimistic about the future of Laos. Our new Embassy is an expression of confidence in your country's future and of our desire to work more closely with you than ever before. Across Asia we are intensifying our bilateral relationships: opening new Embassies, sending more diplomats to the region, championing Free Trade Agreements with the European Union, and investing in our ties for the long term. We have the same high hopes for our relationship with Laos.
With this new Embassy, Britain becomes one of only three European countries to be represented in all ten states of ASEAN, at a pivotal moment in the organisation's history, as it works towards becoming the 4th largest single market in the world.
We will now be able to have constant discussions about foreign policy and security issues in your region, and on global issues such as climate change.
We will use our new Embassy to increase trade and investment between our economies. Last year our exports here grew by 142%, from a very low base, showing the huge potential there is on both sides. Our diplomats will provide advice to British companies interested in investing here, create contacts with the Lao authorities and business, strengthen the UK-ASEAN Business Council and help your companies to access British expertise in sustainable growth, infrastructure, mining and hydropower.
And our Ambassador and his team will promote deeper contact and understanding between our two peoples. We will shortly announce the start of the recruitment process for the Chevening scholarship programme for 2013/2014, investing in your future leaders.
Your Government has identified English language capability as a key skill for the development of Laos internationally and within ASEAN, where the common language is English, or in trade and tourism. And so I am delighted to say that a British company providing English-language teaching services will shortly open in Laos, and I hope that will be the first of many such opportunities that are available to the Lao people as a result of our renewed diplomatic presence here.
I am grateful to the Lao Government for so enthusiastically greeting Britain's return.
I can assure you that we would be equally enthusiastic about seeing a new Lao Embassy in the United Kingdom, and I hope you will take up our warm invitation to re-open your mission in London.
I would also like to thank our allies the Government of Australia, whose former Embassy building we will soon occupy, for their consular assistance to British citizens here over many years; Mr Minh Pham, the UN's Resident Co-ordinator in Laos, for generously providing office space for our Embassy team; and the US Embassy for their invaluable practical support.
So I am delighted by this new beginning in diplomatic relations between our countries.
This visit is not only my first to the Lao People's Democratic Republic; it is the first by any British Foreign Secretary.
But it is I am confident the first of many by British Ministers, and along with our new British Embassy, the start of a new era in diplomatic relations between the United Kingdom and the Lao People's Democratic Republic.
Published 5 November 2012