Speech
Welsh Secretary delivers major New Year economic speech
Secretary of State for Wales Stephen Crabb's speech to business leaders in Cardiff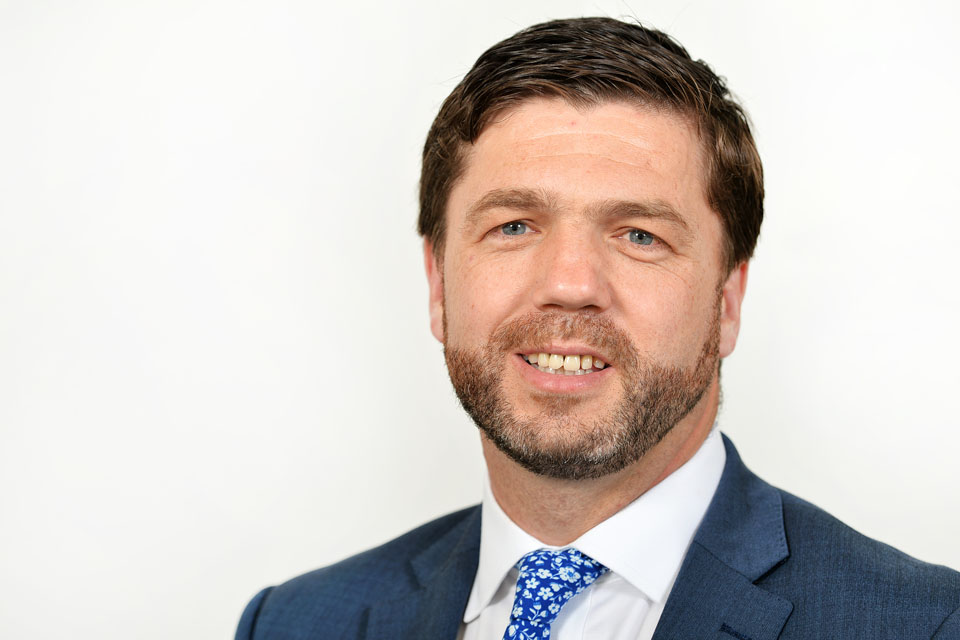 SPEECH AS DELIVERED:
Ladies and gentlemen, Bore da. Blwyddyn newydd dda.
Let me start by wishing you all a happy new year, and by thanking you for coming this morning.
I am very pleased to be standing here right in the heart of our capital city Cardiff – a city with a remarkable economic heritage as one of the cradles of the industrial revolution – a powerful engine of economic growth for Britain from the 1800s right through to the present day…
..a dynamic city with, I believe, even better days still to come.
It was from this city that South Wales coal powered not just the British industrial revolution but was exported throughout the world. A century ago the docks here in Cardiff were handling more coal than any other port in the world.
In fact the international price of coal was struck here in Cardiff – in the Coal Exchange building - where of course the world's first £1 million pound cheque was signed.
I don't want this heritage to ever be forgotten. But I want people to see and understand the exciting things happening right now.
How many people know, for example, that the wafer semiconductor technology for more than half the world's smart phones is manufactured just a few miles down the road in what is becoming a hub of hi-tech excellence and innovation?
Cardiff and South Wales helping to power another global economic revolution.
We could say something similar about North Wales – where the state-of-the-art Airbus factory at Broughton now manufactures wings for half the world's commercial aircraft.
These days, whilst the products and values of deals might have changed – the role of Wales in helping to power the UK economy hasn't – and as we enter 2015, I don't think there could be a more important time for me to set out my economic vision for Wales
So let me tell you how I believe the economic landscape is looking for Wales as we start 2015, the nature of the long term challenge facing us, and what are some of the key risks that lie ahead.
Since devolution in 1998, some have seen the role of Secretary of State for Wales as a purely constitutional one
– a useful go-between for Westminster and the National Assembly – operating in that narrow niche that runs along the boundary of the devolution settlement, smoothing the wrinkles and supporting the operation of devolved government.
And as I set out at the Institute of Welsh Affairs back in November, I am determined that we achieve a stronger, more balanced constitutional settlement – and with as much cross-party consensus as possible. And that is an important body of work which we are taking forward.
But the constitution is not the defining issue in Welsh politics.
When people make their judgements about the Government in Westminster in 2015 or the Welsh Government in 2016, they won't be thinking about whether Wales needs a reserved power model or not
– they will be thinking about the prospects for them and their families.
"Are things picking up?"
"Are there more jobs opportunities, are businesses flourishing?"
"Are we making progress – or are we going backwards?"
And when it comes to the quality of public services – which people in Wales care passionately about – well the foundation for strong public services is a strong underlying economy.
The economy is the issue on which any Government is ultimately judged.
At the very heart of this Coalition Government there is an economic mission – a mission to address head-on the crisis we faced in 2010, to stabilise our national finances, get the economy back off its knees and set on a course for more balanced growth.
When I was asked to take on this role last July, the Prime Minister left me in no doubt as to what was expected.
"Be a champion for economic recovery in Wales", he said.
And I am making this a core mission of my Department. It is why I have established a new Wales Economic Advisory Board to feed into the discussions that I and my team have in London and Cardiff to ensure a stronger Welsh business voice at the heart of government.
It is why today – as we begin this serious and important year for Wales – I want to set out the economic challenge that lies ahead for our nation.
Let's just remind ourselves what 2014 meant for Wales.
It was a year of recovery and renewal, when the Welsh economy showed consistent improvement across a range of indicators.
It was also a year of ambition, for Wales to look outwards and upwards – and recover a sense of self-belief.
2014 was the best year for Wales since the devolution era began.
It was the year of the Newport NATO Summit – a stunning success which brought the world to Wales.
The scale of that event cannot be overstated – it was simply the largest gathering of international leaders ever to come to the UK. And Wales' global profile could not have been higher.
We then hosted the UK Investment Summit in November where over 150 global investors came to Wales to see first-hand why Wales is such a great place to invest.
On show to a global audience were some of the most technologically advanced innovations available anywhere in the world. Innovations that were conceived in Wales, developed in Wales and manufactured in Wales.
At both summits the UK government and the Welsh government stood shoulder-to-shoulder to champion Wales and the Welsh economy.
And that is what Wales needs – both governments working together.
And the deal that I and my team at the Wales Office were able to broker between the Welsh Government and the Department for Transport in November on electrification of the mainline to Swansea and of the Valleys lines was another demonstration of what can be achieved with this approach.
This investment will have a transformative economic and social impact for many years to come, enabling communities in the south Wales valleys to better access the centres of job creation in Cardiff, Newport and Swansea.
In all these things we were able to demonstrate that Wales's two governments – in Westminster and Cardiff – can work together effectively in the best interests of Wales.
And this is a personal priority of mine:
We are a small nation and I believe we pack a much bigger punch when there is collaboration and effective joint working between the UK and Welsh administrations.
Welsh people like it, business demands it, and Wales needs it.
2014 was also the year when so many of the economic fundamentals strengthened significantly for our country.
The UK economy grew faster than any other major advanced economy.
We saw a record number of people going out to work.
And business investment is now above the pre-recession peak with investment up more than 5% over the last year.
In Wales there was a bigger increase in the number of new businesses starting up than anywhere else in the UK. We now have 26,000 more new businesses than in 2010.
Last year Wales attracted its highest number of inward investment projects for nearly a quarter of a century.
And the number the number of people claiming unemployment benefits is at a six year low, with the private sector creating 100,000 extra jobs in Wales over the last four years.
Back in 2010 the economy of Wales was being compared to eastern European countries like Romania and Bulgaria.
Now Wales is the fastest growing nation in the UK – growing faster than England, Scotland and Northern Ireland, and one of the fastest growing countries in the EU – growing faster than France and Germany.
2014 was also a year of reaching for the stars, when three Welsh companies saw the results of their collaboration in the European Rosetta project which landed a probe on a comet travelling at 36,000 miles per hour 300 million miles from earth.
Inspirational stuff which demonstrates the extent of the innovation and potential we now have in Wales.
2014 was indeed a very good year for Wales. We have come a long way since 2010. It has been a difficult path. But it is one that is now bearing real fruit for Wales.
But let's be clear, being positive about the Welsh recovery does not blind us to the serious challenges and weaknesses that remain.
2014 was also the year of the Murco oil refinery in Milford Haven closing which produced an economic shock that will take years for that important corner of Wales to recover from. A reminder that the recovery is fragile and Wales remains exposed to certain risks and potential shocks.
Being positive about the Welsh economy does mean, however, that we stand up and challenge the persistent negative messages from some about what is happening inside the Welsh economy right now.
Those who like to paint a Dickensian picture of low pay, of unstable and short-term work, of repressive and irresponsible bosses running abusive workplaces…
… we are hearing this week in, week out from those who deny there is a real recovery that is taking place.
It's a charge directed squarely at the business community.
And it is coming from exactly the same people in Wales who, back in 2010/11, argued against every single step we sought to take to restore stability to our national finances and tackle the millstone of debt around the neck of our economy.
Well, they were wrong when they argued that Wales and the UK needed more borrowing and more debt as a cure for the crisis back in 2010;
they were wrong when they argued that the private sector in Wales was too weak for the rebalancing of the economy to work here;
and they are wrong about the nature of the economic recovery happening right now.
Here are the facts…
The majority of new jobs created in Wales have been full time. And permanent.
Over the last four years the growth in earnings in Wales was the second highest out of all the regions of England and devolved nations.
The increase in the national minimum wage will mean the lowest paid workers in Wales will enjoy the biggest cash increase in their take home pay since 2008.
And we have taken decisive action to ban exclusivity in zero hours contracts to help protect the rights of Welsh workers
At a time when business in Wales is straining every sinew to create and safeguard quality jobs, to win new orders, inject wealth into the economy for the benefit of the whole of our society –
we will not allow their efforts to be talked down by those who smell political advantage in peddling a gross caricature of the Welsh economy.
And I will be calling them out on this in the weeks and months ahead.
But it is right that we ask the question "what kind of economic recovery are we talking about for Wales?"
Because the challenge as I see it is not to just get Wales back to its position in 2007/08 just before the crash. But rather to set in place the conditions for long-term stable growth that closes the wealth gap between Wales and other parts of the UK.
In short, we need a plan for long-term economic growth – where growth comes from productive activity across the full range of sectors and is happening in all corners of our country.
The truth is that the course we were on in 2007/08 was disastrous for Wales.
Between 1997 and 2008 we lived under the illusion of growth and economic success. We now know just how flimsy and vapid were the underpinnings of the headline growth figures at that time.
It was of course the era in which a senior minister talked of being "intensely relaxed about people becoming filthy rich". It was the era of the bonus culture – which helped to incentivise the kind of behaviours that gave us the disasters at RBS, Northern Rock…
It was the era when many of Wales's brightest engineering and science graduates were lured away from industry into the City of London, and the status of vocational skills was devalued.
It was the era of unlimited immigration which cut away at job opportunities and removed the pressure on government and business to upskill our own young people and get them into work.
And it was the era when digital communications transformed global business and created a new economic revolution, which should have heralded a golden era in terms of social mobility and wealth creation.
But it was actually the period when Wales became poorer, fell to the bottom of the economic league tables; when inward investment dried up; the era when the hugely successful Welsh Development Agency was abolished; an era which saw the erosion of the Welsh manufacturing base, de-skilling of parts of our workforce, and a disastrous growth in welfare dependency in Wales.
Make no mistake, Wales was one of the biggest victims of the last government's economic illusion. The economics of those early years of the 2000's were bad news for Wales.
So, for us, recovery is not about getting back to the path we were on eight years ago.
We want a fundamental realignment of our economic course – in short, a rebalancing of the economy.
This economic recovery has to involve a long term plan – not a sticking plaster; a lasting legacy we drive through.
And I believe this represents a generational challenge.
But the plan is Wales's best hope – our best hope – of getting off the bottom of the economic league table.
That long term economic plan for Wales starts with dealing with the deficit.
Restoring discipline to our national finances has meant taking some really difficult and unattractive decisions. No-one goes into politics to do this kind of thing. But similar decisions will need to be made in the next Parliament if we are to get back to living within our means and being in a position to pay down debt.
Everywhere that taxpayers money is being spent will need to be examined for potential savings.
There are some who have argued that Wales should be immune from any spending cuts. And just yesterday I heard one of my predecessors as Secretary of State calling for an extra £60 billion of unfunded spending UK-wide. These have tended to be the same people who have exaggerated the extent to which Wales has been affected by cuts in the last four years.
The truth is that – during this very challenging period since 2010 – this Government's record on spending in Wales has actually been a positive one.
Wales has been insulated against the deepest cuts that other major departments have had to shoulder… At a time when difficult choices need to be made, our continued commitments to increase funding to the NHS and education in Westminster has helped to insulate Wales and provided the Welsh Government with additional funding for public services in Wales.
Whichever party wants to win the election in May will need to show they are responsible and have a credible plan for our finances. If they choose not to stick to the financial course that we have set out, then they will need to come clean on whether they plan to raise taxes or borrow more instead.
There are no easy answers and business in Wales should demand clarity on the parties' intentions.
I believe we have a track record of taking difficult decisions and setting a course, but in a responsible and moderate way that protects and promotes Wales. We have that credible plan.
But the plan is not just about tightening our belts, but about backing business – helping the private sector flourish even in a time of constrained finances and economic risk.
It's about putting in place a framework for future economic growth and success. That means creating a more competitive tax and regulatory environment for Welsh business to share in… a key benefit of being part of a strong United Kingdom.
And that is why this year we will see the headline rate of Corporation Tax fall to the lowest in the G20.
That is why National Insurance Contributions have been cut for businesses that want to take on more staff and grow.
And why our Employment Allowance has meant 35,000 businesses in Wales getting cash back on job creation of up to £2,000 each.
And we are chopping through the red tape that impedes growth, particularly for small businesses. By scrapping or amending over three thousand regulations we are saving businesses over eight hundred and fifty million pounds a year.
And the plan isn't just about letting business get on with it. The job of achieving a more geographically balanced economy requires important government intervention – so it's not just London and the South East that will continue to reap the benefits of growth and economic renewal.
The truth is that under previous Governments Britain suffered from a dangerously lop-sided economy dominated by London and the South East – a region which became one of the most productive and dynamic globally, but one that sucked in talent and investment at the expense of elsewhere.
But we are determined to rebalance the economy. We took the G8 Summit to Northern Ireland, we had the NATO and investment summits in Wales and our investment in HS2 will better connect the whole of the United Kingdom to bring growth to all areas.
And it was this Chancellor who conceived the vision of a Northern Powerhouse – a revival of the economic and civic importance of England's great Northern cities - a vision comprising science, investment, infrastructure, devolution away from London and the South East.
The Northern Powerhouse we speak about is not exclusive - not restricted to England.
It's about linking the Northern regions, including North Wales, to trade, grow, attract private investment and the best people.
And a modern, integrated transport system is at the heart of this – world class roads and rail.
So the Wales Office is holding a transport summit in North Wales later this month to explore all the opportunities available – opportunities to make sure this region benefits from the growth we are seeing across the rest of the country and to explore how Wales can benefit from northern investment including HS2.
Making North Wales our own Northern Powerhouse for the Welsh economy.
There is a danger that Wales – where we are still working to a twentieth century idea of devolution – slips behind as devolution and decentralisation to the city level acts as a motor for economic growth and civic renewal.
So we need to have successful city regions in Wales so that Swansea, Cardiff and Newport and their surrounding areas can compete with the thriving cities of Bristol, Birmingham and Manchester.
Rebalancing should also mean that we are not over-reliant on one sector of the economy or another – but have a wide economic base.
Over the term of the last Government over 80,000 jobs were lost in the manufacturing sector.
Over the last four years we have seen over 20,000 new manufacturing jobs created.
New manufacturing jobs at Raytheon in north Wales at their new aerospace research and development facility, which I saw recently for example. And new jobs at Meritor in Cwmbran manufacturing parts for the UKs growing automotive sector.
To support this rebalancing of economic activity, we are also determined to bring about a transformation in both the quality and perceived status of vocational education. We have seen two million more apprenticeships since 2010 – but higher quality apprenticeships too.
The famous target of sending 50% of young people off to do a university degree was a disaster for many Welsh young people – and contributed to the de-skilling of some of our communities.
Three months ago I was asked to speak at the graduation ceremony for a group of apprentices at one of Wales's largest engineering plants – a global company delivering a world class training. Talking to the apprentices afterwards I was struck by the fact that at least two of them were in their late 20's. They told me they had gone away to university at 18, graduated with a degree which they felt equipped them for nothing, and found themselves back home living with Mam & Dad and unemployed. Later on they had a second chance to start out, by doing a 4 year apprenticeship at this company… which has transformed their skill levels, confidence, earning potential and future prospects.
For me this sums up everything that was wrong with how previous governments devalued the vocational and how right we are to relentlessly seek to promote and elevate the vocational path.
I want it to be the case that the Welsh business leaders of the future will be as likely to come from the factory floor as from a university lecture theatre.
But I fear there's a lost generation of people who do not possess the world class technical, engineering and other vocational skills we need. And it is maybe because of this lost generation that so many business leaders in Wales raise with me the issue of skills shortages affecting their companies.
Business leaders also talk to me about infrastructure. And I believe that Wales needs a long term vision for world class infrastructure investment – transport, energy, digital infrastructure too. A vision which should not rely for its delivery on which particular party is in power in Westminster or Cardiff.
Just as I am seeking to remove much of the party politics from devolution, I believe we have the potential to see a long term united vision for what infrastructure Wales needs – and for politicians, business and other groups to unite around this vision.
But it is business in Wales, I believe, that should be the owner and the champion of this long term vision. The ones to hold governments' feet to the fire to deliver on the vision and make it happen.
I think about the Crossrail Project which, along with electrification, will – in the near future – link Cardiff to Canary Wharf in just 2 hours. Back in the late 90s when I worked at London Chamber of Commerce, business was the only group pressing for this strategic investment. And we were pushing uphill. But that project is only being delivered now because business kept a flame burning for it. And we need that approach in Wales.
But long term shouldn't mean talking about the same project for decades (I could mention a certain South Wales road project) but setting about an ambitious and deliverable plan. Our deals on the M4, on electrifcation, Wylfa and Wrexham Prison to name just a few, demonstrate that we are a government that understands infrastructure and wants Wales to get its fair share.
But I am determined that we go further. Because success in the 21st century belongs to those economies that can harness technology and innovation. That reach for the stars and have confidence in their own ability.
During those remarkable few days in November when the Philae space probe was landed on the comet I was transfixed watching those incredible images beamed to our TV screens – and hoping that thousands of kids up and down Wales were watching too, being inspired by the wonders and achievements of science and innovation…
…and inspired to believe that they too can achieve anything.
Because what's our mission here?
None of this – GDP growth, levels of investment, productivity – is an end itself.
An economic vision for Wales has to be about more than these things.
Economic renewal, for me, is also about social renewal and cohesion.
Here in Wales we understand the strong ties of family and community that enrich and strengthen our social fabric and give Wales its unique social capital.
I believe a defining characteristic of Welsh society is a strong sense of social justice, of what is fair, of what is right and wrong.
In Wales economic issues are bound up tightly with strong questions about values, morality and rights and wrongs.
So for me, economic health is the path to social renewal. It is the essential underpinning of community cohesion.
Economic stagnation hollows out communities, and worklessness creates a vicious cycle of dependency that impacts not just on one generation, but on future generations too.
We have seen this first hand in Wales in too many of our towns.
Communities where we have seen more than one third of adults out of work and dependent on benefits.
So what does economic recovery mean for communities in Wales?
It means tens of thousands more children in Wales growing up seeing a mum or a dad go out to work for the first time.
We now have 39,000 more children seeing their Mum or Dad going out to work for the first time since 2010.
I know just how important it is for a child growing up at home where things are tough seeing a parent going out to work bring home a regular wage, providing inspiration, a role model, someone who shows you can smash down barriers that hold back social mobility,
So I say there is nothing caring or compassionate about ducking the challenge of economic renewal, of welfare reform and getting Wales back to work.
Our economic vision means re-creating a sense of civic pride as communities that have been hit hard find new economic bases around which to flourish.
And it means making the moral and ethical choice to deal with debt that we as a United Kingdom have built up together – not foisting it on future generations to deal with.
Our sense of fairness also means that we regard it as unacceptable for some large businesses to walk away from their responsibility to pay tax on the earnings they generate in the UK. So we are closing those loopholes that previous governments failed to close.
Our sense of fairness also means putting pressure on the oil and energy companies, as we are again this week, to bring down their prices to customers as the price of crude oil on world markets slides to half of what it was just a short time ago.
Here in Wales there are around 250,000 households relying on heating oil and other off-grid fuels to keep their homes warm. So right now – in the middle of winter – is the time for the energy companies to pass on the fall in world energy prices.
In 2008, in St Clears Carmarthenshire, a sculpture by the artist Simon Hedger was unveiled.
Hewn from welsh wood, it depicts three figures bearing axes smashing down a gate.
It commemorates the Rebecca Riots of 1839 when parts of the Welsh rural community rose up against extortionate toll gates – which taxed their trade and the free movement of people between villages and markets.
The sculpture bears the inscription: "Cyfiawnder A Charwyr, Cyfiawnder Ydym Nioll"
"Justice and Lovers of Justice are we all".
The 'Merched Becca' [Rebecca's Daughters] were a manifestation of the strong sense of economic and social justice that is hard-wired into the Welsh psyche.
This flame of economic and social justice is a Welsh flame and it burns in me too.
And it defines how I am trying to carry out the role of Secretary of State for Wales.
Ladies and gentlemen there is a lot of work to be done if the kind of vision for the Welsh economy I have outlined today is to be achieved.
But the work has started. And it's bearing fruit for Wales.
It is a vision backed up with a deliverable long-term plan.
A course has been set. And I believe it is the right course for Wales. One that gives Wales its best possible chance to close the economic gap and get ourselves off the bottom of the league table.
And so there is a simple, but crucial, choice for Wales in 2015.
A choice either to stick to this long-term plan which is
helping more people earn a wage and provide for their families

inspiring young people from all backgrounds to reach for the stars

a plan that is putting Wales on the global stage as a centre of excellence and investment
.. or we choose to abandon the plan for something else – something undefined, that upsets the carefully worked out plan for deficit reduction and increases financial risks.
The economic risks already out there for Wales and the UK are multiple - stagnation in the Eurozone, geopolitical tensions, global energy price volatility, I could go on.
The very last thing I believe Wales needs is an injection of new political and economic risk and further financial instability. This is the danger I see in some of the rhetoric and pledges already being made as we begin this important election year.
Sticking to the long-term plan is the right thing for Wales.
So I believe the choice that Wales will be presented with a few short months from now is a very clear choice. It is a not a moment for ideological, tribal, sentimental or protest choices.
It is a moment for a serious clear-sighted decision – in the Welsh national interest – to carry on the work we have started
…to mend our economy,
…secure more balanced growth,
…and help create the strong, confident, successful, outward-looking that I believe nation Wales is destined to be.
Published 7 January 2015