UK Relations with the GCC Region: A Broadening Partnership
Foreign Office Minister Lord Howell spoke about the United Kingdom's relations with the countries of the Gulf Co-operation Council at the GCC and the City Conference on 20 June.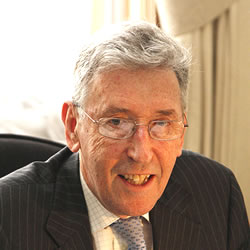 Ladies and Gentlemen,
I am delighted to be here this morning at the GCC and the City Conference to address such a distinguished range of guests. I would like to thank the Middle East Association and MEED Events for the invitation to take part.
The Gulf has changed dramatically in recent years. Its economies are developing rapidly, creating exciting opportunities for investment in both directions. And while the energy sector remains an essential component, this is also a region that is diversifying. Working to unlock these opportunities, and exploring the broader challenges the region faces going forward, will be the focus of my remarks today.
But I also believe we need to think bigger. So I will share too some thoughts on how and why we in the United Kingdom should broaden our partnership with the Gulf. The region is growing in confidence on the international stage; becoming a network with an increasingly influential voice. America is learning that it no longer calls all the shots. We should take advantage of this growing confidence and work with the GCC region - through government; business; civil society; through all channels - to respect and support its development; and by extension, our own prosperity and security.
Stronger commercial links
Let me first put these issues into context. The impressive growth in the Gulf's economy in recent years has made it one of the most prosperous regions in the world; with a combined GDP now of around US$1.4 trillion. While many Western nations were struggling with the global slowdown exacerbated by the crisis in the Eurozone last year, growth in the GCC region reached 8% of GDP, spurred by high oil prices. This year GDP growth is projected to remain impressively strong, averaging almost 5%.
With this solid economic backdrop, governments across the region are embarking on ambitious investment programmes. They are seeking to diversify their economies, and to meet the growing aspirations of their people. In infrastructure alone there are plans to invest an estimated $2 trillion over the next decade.
Here in Britain we are striving to be the Gulf's commercial partner of choice. We exported around £10 billion worth of goods last year, which is more than we exported to Latin America and the Caribbean combined. More than to China, three times what we sell to India, it also represented an increase of 10% over the year before.
This is a trend that we want to see continue, indeed intensify. But we will only be able to achieve this if we work harder and think more creatively. We are facing unprecedented competition from the emerging economies, particularly in Asia.
So we as a Government have sought to put growth and prosperity back at the heart of our foreign policy. Our overseas network is working tirelessly to support UK business in the region - as our staff in Muscat did recently, supporting HSBC as it merged its Omani operations with Oman International Bank to become the second-largest bank in the country.
We have also established a network of bilateral trade agreements with the Gulf states to identify and raise awareness of commercial opportunities, and to tackle barriers to business. We are being ambitious, targeting, for instance, a 60% increase in trade with the UAE over just six years, to £12 billion by 2015. And alongside this, we are continuing our work with the Gulf states to address problems that ultimately stifle growth, including corruption.
But this isn't just about what the Government can do for British companies. The business community also needs to better respond to what the countries in the region want. It is simply not enough in this time of global competition for us to knock on the door, sell our wares and move on. Gulf countries want long-term partnerships, training and high quality after-sales service. So it is pleasing to see that more and more British investors are taking this approach; building enduring relationships to support our mutual prosperity.
Sovereign Wealth Funds
Nor is it, by any means, just a one-way street: inward investment from the Gulf totalled around $2.25 billion last year. One need look no further than the London skyline to see the impact this is having on Britain. The Shard, to be officially opened next month after significant Qatari investment and little more than three years of construction, is a truly towering example of what can be achieved when we work together.
The Shard is just the tip - albeit a tall one - of a very large iceberg, as GCC countries invest the large surpluses they have accumulated in recent years.
A significant proportion is being channelled into financial assets, with the Gulf emerging as a major supplier of global capital. It is home to some of the world's largest Sovereign Wealth Funds, with an estimated US$1-1.5 trillion in assets under sovereign management. The City of London already plays an absolutely key role within these capital markets. But I believe we can do even more to strengthen Britain's position as the key business hub in and beyond Europe.
In Government, we are reaching out to the Sovereign Wealth Funds across the Gulf to forge stronger, more strategic relationships. At a time of global financial turmoil, the world clearly see Britain as a relative safe haven. The queue of international customers buying up London residences bears testament to that! We have taken action to reduce our budget deficit and rebuild our economy, which has secured stability; and we have a robust, reliable legal system. So we are working more closely with the Sovereign Funds; helping them to identify opportunities for investment here. And in doing so, we are also seeking to better understand their needs and investment criteria.
Infrastructure is a particularly promising area. The Chancellor, George Osborne, published the UK's National Infrastructure Plan last autumn, which outlines our vision for the future of infrastructure in Britain. This vision includes smart, sustainable infrastructure that will enable and ultimately underpin growth and prosperity. It outlines £250 billion worth of investment across all sectors to deliver this plan - including energy, transport, utilities and communications.
The GCC states are in a unique position globally to make these investments, given the impact that current market turbulence is having on the traditional sources of capital for infrastructure. A better position than already squeezed UK consumers. And while this is, I know, often a new asset class for many investors, we believe that the plan offers a once-in-a-generation opportunity to invest in the UK's future, to help drive sustainable, long-term and mutually beneficial growth.
Shifting energy patterns
A crucial element of our relationship with the GCC region is, clearly, our co-operation on energy - an issue that forms part of my Ministerial portfolio.
On the demand side the emergence and rapid growth of new energy markets is driving global demand. The IEA predict that, if unchecked, energy demand in non-OECD Asia will more than double over the next 25 years. That would make it consume almost four and a half times as much as the European Union currently consumes. Meanwhile, demand in Europe and the West is reaching a plateau. As we impose more stringent constraints on our carbon emissions, we will need to invest in improving energy efficiency. This is a good thing, but will have consequences for where energy producers in the Gulf look to find secure markets, and on how our global relationships develop.
On the supply side, new technologies and new discoveries are also driving change. The unconventional gas and now oil revolution in the US has demonstrated the availability of plentiful and relatively cheap energy sources. Unconventional developments in Australia and China, and conventional discoveries in West Africa, will create new production hubs that may soon challenge the traditional hydrocarbon supply markets.
And the Gulf also faces challenges closer to home. Growing domestic energy demand, driven by demographic change, is reducing the export capacity of key GCC producers. This is not only adding pressure to an already tight global energy market; it will also have a severe effect on government spending in the region, up to 80% of which is dependent on oil revenues. And this comes at a time when the response of many Gulf States to regional tensions has been to increase public sector spending.
So what do these developments mean for the GCC region; and how should they - and we in Britain - react?
First and foremost, the GCC's oil producing countries have to make strategic decisions about their long-term interests. As the global energy picture moves progressively eastward, they will be looking increasingly to China and the other emerging economies for secure energy demand. This will doubtless affect how their relationships develop with traditional allies in Europe and the West.
And our trade will need to change. As new technologies develop in the West and we move towards much greater energy efficiency, new unconventional gas sources, nuclear energy and to renewable - hopefully commercial - we will become less dependent on Middle Eastern crude imports. But that does not mean trade should cease. Our relationship must mature further, moving away from the one-way supply of oil to more open economic co-operation, focussed on trade and technological exchanges.
A key area for potential collaboration is energy efficiency. It seems odd to think of the Gulf as facing a domestic energy crisis, but unless GCC countries tackle their growing energy consumption, the consequences for exports could be devastating. Subsidy reform is essential, but remains unlikely while regional governments continue to increase spending. The UK is leading the way in energy efficiency investment, so we should share these experiences with our partners in the Gulf.
The development of new energy sources will also be key. Nuclear power can provide affordable and reliable energy across the region. The UK has a global reputation in operation, safety and efficient regulation, and British companies are ideally placed to capitalise on the region's emerging nuclear sector. Renewable energy sources are also developing rapidly in the Gulf, especially photovoltaic and other solar energies. The UK boasts market-leading expertise in such technologies, although the Chinese challenge is formidable, and I hear regularly about British business successes in these, and other growing renewable energy sectors.
And let us not forget traditional hydrocarbons. New opportunities continue to emerge in the region, be they unconventional extraction in Saudi Arabia, exciting Gas-to-Liquids programmes in Qatar, or petrochemical and distribution deals in Oman. UK businesses are at the forefront of these developments.
The GCC's presence on the international stage
As the region develops and prospers, so it grows in confidence on the international stage.
The GCC countries are becoming a network with an increasingly influential voice. This has been particularly clear in Libya, where the GCC was a constructive and vocal supporter of the international action against the Gaddafi regime.
But Libya is certainly not the only example. The UAE is playing a leading role in the counter-piracy efforts in the region, and will host an important conference on the subject later this month. The Darfur peace agreement was signed in Doha, with Qatar providing vital support for the process. In Yemen, the GCC initiative was key to the process of transition, with Saudi Arabia providing leadership as a co-chair of the Friends of Yemen group. And we are also seeing continued action on Syria - taken on a co-ordinated basis among GCC states - including the important political signal sent in March of closing the GCC Embassies in Damascus.
So it is clear too that the GCC countries have a growing role to play in shaping the region's wider political as well as economic future. As the Arab turmoil has shown us, lasting stability will depend on anticipating the hopes and goals of citizens; giving them a greater stake in the success of their country. We therefore welcome, for instance, the King of Bahrain's commitment to transparency and reform by commissioning and agreeing to implement the recommendations of the Bahrain Independent Commission of Inquiry, following the unrest last year. We will continue to support Bahrain's efforts where it is taking incremental reform steps to deliver a safe and prosperous future for their people. And we will support and welcome the same commitment to steady reform throughout the Gulf region.
Indeed, it is in our national interest for this Government to step up its engagement with these Gulf countries - both on regional and wider international issues. We are delighted that the Foreign and Commonwealth Secretary will meet his GCC counterparts tomorrow for their summer meeting of Foreign Ministers, which is being held in London.
And one of the networks we in Britain value most, the Commonwealth, also has a role here. GCC countries share a growing interest in the Commonwealth connection. They are understandably keen to partner with this expanding web of emerging economies, which is something we should continue to encourage.
A broader partnership
It is this growing determination among the GCC that underlines the importance of broadening our partnership with countries in the Gulf in all senses. We recognise this need, which is why the Government launched the Gulf Initiative two years ago. The Initiative aims to increase the strength, breadth and depth of our relationship with the Gulf, and it is delivering: there have been more than 20 British Ministerial visits to the region in the last quarter alone.
Among these was the Minister for Further Education, John Hayes, who visited Saudi Arabia and the UAE last month. I mention this because I see education and training as a particularly promising area for growth. Our links are already strong, with tens of thousands of students from GCC countries coming to the UK each year. They choose to study here because of our reputation for excellence in education, training and research; because the UK has some of the best, most enduring educational brands in the world.
We should nurture and build on this, which is why it is so satisfying to see British institutions establishing themselves in the region. Our universities are reinforcing our reputation and supporting the development of the region by opening campuses - including University College London, which last year became the first British university to open a campus in Qatar. Nor is it just universities, with top British schools such as Repton and Sherborne also rapidly establishing themselves as market leaders.
We are, then, working from a good base. But I believe there is real scope to strengthen our links further in this and in other areas, from increasing our co-operation on security to expanding our exchanges in the 'softer' areas of design, arts, sports and so on, in fact in all cultural areas.
And in doing so, we should not restrict our approach to our bilateral links alone. It is not just about us; it is about making the most of the networks we value. The European Union, for instance, could strengthen its links with the region - not least by concluding the EU-GCC Free Trade Agreement that has, unfortunately, been stalled for some time.
Ladies and Gentlemen,
It is clear, I think, that Britain's relationship with the Gulf - so important historically, and so important now - will remain absolutely key to our country's prosperity and security.
But we should accept too that it is an evolving relationship that has changed over time, and that will continue to change as the region develops and as global energy trends shift.
As I have made clear today, this poses both opportunities and challenges - for the region, and for Britain. I firmly believe that if we work together to sustain a broader relationship with the Gulf, Britain and the GCC will remain enduring partners, even in these most rapid of changing times.
Search the news archive
Published 20 June 2012