UK India Business Leaders Climate Group report launched
Foreign Secretary William Hague spoke at the launch of the report, offering support for the Group in "realising its vision of UK and Indian businesses collaborating on low carbon opportunities".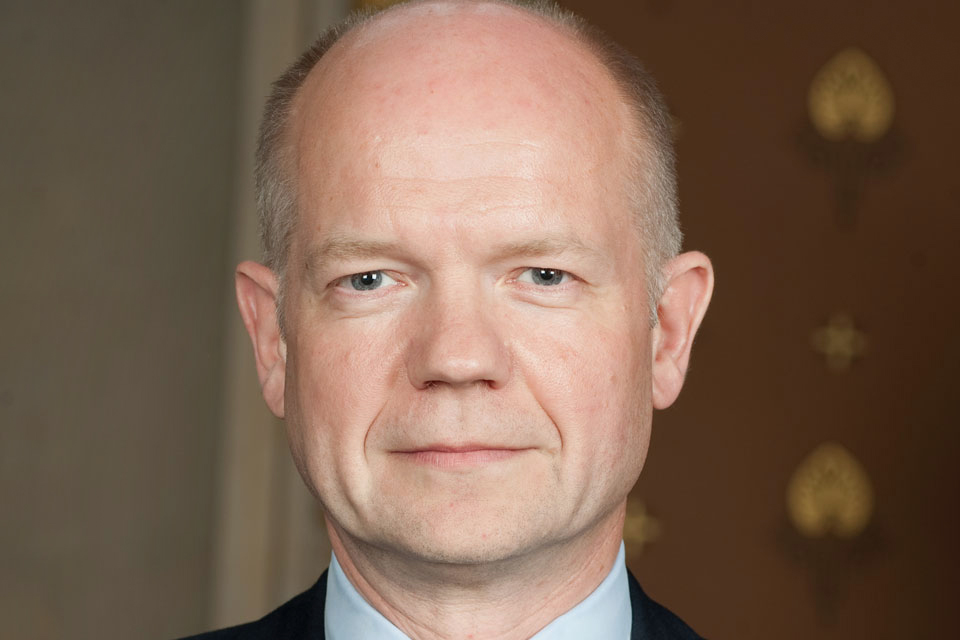 CHECK AGAINST DELIVERY
"I am delighted that the Foreign & Commonwealth Office is hosting the official launch of the UK India Business Leaders Climate Group report today.
The work of the Group is an essential strand of our commitment to build an enhanced partnership with India.
Our two countries are natural partners.
We share traditions of open democracy, liberal economics and a commitment to effective international institutions. India, the world's largest democracy, is a vibrant country and home to innovative, world class businesses. It is playing an increasingly important role in meeting today's global challenges: from restoring economic stability, to countering terrorist networks, tackling poverty and addressing climate change. You, the business leaders of today, are building the new India which is playing its role alongside the world's major economies.
The British Government is working in a targeted and systematic fashion to secure Britain's economic recovery, promote open markets and improved financial regulation. Britain is a partner of choice for any country seeking to invest and do business in Europe.
We face a challenge in building the recovery. That is not the false choice between low carbon growth and high carbon business as usual. Rather, the dilemma is how to structure our economies in a sustainable, low carbon, way so that our long-term growth and prosperity is assured.
Business plays a critical role in this. British and Indian governments need to involve you in our conversation about the sort of economy we wanted to build together.
That is why I am so excited about this report, prepared by the cream of British and Indian business. It constitutes a serious step forward for collaboration between the UK and India on the low carbon business opportunities that will drive our future economies and create the jobs of tomorrow.
I commend your excellent work and that of the co-chairs, Rajan Bharti Mittal and Sir Stuart Rose.
I am particularly encouraged by the Group's recommendations on joint demonstration projects, innovative financing instruments, joint research and development programmes, and skills exchange. And you have rightly emphasised the need for effective regulatory frameworks.
The British Government stands ready to support the Group in realising its vision of UK and Indian businesses collaborating on low carbon opportunities.
And I know that there is real appetite in India for movement on this issue too. India deserves the international acclaim it has received for its commitments to ambitious action on renewable energy and on energy efficiency. It has made the strategic choice to invest in solar power on an impressive scale. In this way, Indian companies are helping to set the global standards for the low carbon technologies of the future, thereby showing that the low carbon economy also brings prosperity.
When our two Prime Ministers met in July of this year, they agreed to explore initiatives that would create resources and incentives to help businesses deploy renewable energy, particularly for the poor. I invite the UK India Business Leaders Climate Group to help us address this challenge.
At the same time, to realise your wide ranging vision, I encourage the group to reach out to other progressive businesses in both the UK and India. You have the opportunity to do that through your proposed business to business implementation partnerships.
Finally, let me say how entirely fitting I feel it is that this event is being held here in the Foreign and Commonwealth Office. The threat of dangerous climate change is one of our age's greatest foreign policy challenges. It is impossible to have food, water, or energy security without climate security. They are interconnected and inseparable. They form four resource pillars on which global security, prosperity and equity stand. Each depends on the others. In short, we cannot guarantee our security or prosperity if we do not provide an effective response to that challenge.
A global climate change deal under the auspices of the UN will offer the most legitimate way of doing so, as well as providing the clearest framework for business. We are now just two weeks away from the sixteenth Conference of Parties on climate change in Cancun. We have a chance in Cancun to regain momentum and make progress. Cancun may not get us all the way to a full agreement. But it can put us back on track to one.
It is vital that that we build on what is agreed at Cancun and use foreign policy levers - and practical business to business collaboration across borders - to forge a global consensus for more concerted action.
That's why we need groups like the UK India Business Leaders Climate Group, with the vision to see and exploit the great economic opportunities of the low carbon revolution.
By so clearly setting out the business case behind a rapid shift to a low carbon economy, this report can have an impact beyond the UK-India context as well.
I congratulate the group on its vision and foresight. You are doing vital work and I know that with your track record in delivering results, you will realise the vision set out in the report and help create the sustainable, low carbon business that will drive our countries' economies in the future.
Thank you."
Published 15 November 2010