Transcript of the Foreign Secretary's question and answer session on Twitter
During his visit to India, Foreign Secretary William Hague answered questions on Twitter on the UK's relationship with India.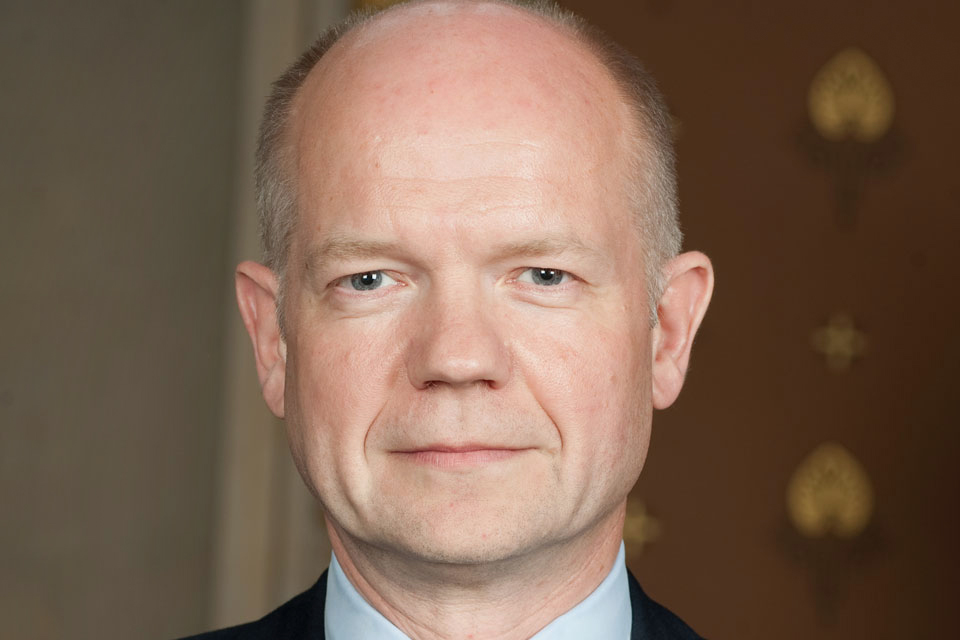 fsinIndia Thankyou for all the questions - now I will try to answer some of them!
.@reemsaied Q: Why can't we create an India -UK free trade act with 100% foreign invest. allowed by both countries? #fsinindia about
FSinIndia .@reemsaied We want a strong EU-India FTA
.@jangles Q: how can we help India make the $35 laptop a reality? #fsinindia
FSinIndia .@jangles Deepen our trade, science and research links.
.@sjw8169 Q: how do we ensure it is balanced relationship so British companies can operate in India as freely as they can here?
FSinIndia.@sjw8169 We are building a deep and strategic dialogue on trade issues, including key businesses.
.@AJTAGG Q: We are presently have and are exposing significant amounts of jobs and know how, without open access to their markets. Why?
FSinIndia .@AJTAGG Free Trade benefits all - Key message from Britain to the world.
.@DaveTaylorPhoto Q: will immigration caps hamper effos to improve trade links with India? #fsinindia
.@STEVECONTOUR Q: do you think the indian people will trust the interest in there country again by us#fsinindia
.@HamishSHunter Q: Will new the new UK immigration policy harm UK-Indian relations?
FSinIndia.@DaveTaylorPhoto.@STEVECONTOUR.@Hamish.We need effective immigration controls. We're consulting on how best to achieve them.
.@IndiaDeskCI #fsinindia Q: R U willing 2accept a cuailing of Indian influence in Afghan as pa of resolution to that war, as Pak demands?
FSinIndia .@IndiaDeskCI All Afghanistan's neighbours have a role in building a stable future.
.@hftaylor88 #fsinindia .@WilliamJHague Q:how much ODA do we need 2 give 2 now that India is surging ahead economically?
FSinIndia .@hftaylor88 We are reviewing aid around the world. No decisions on India yet.
.@KhurmArshad Q:Do you not think it's irresponsible of the UK to share nuclear tech in an unstable region? #PAK #IND
FSinIndia .@KhurmArshad No. We share technology for civil purposes.
.@ThinkStrat Q: What will be the 'hard power' aspect of UK-India relationship (military, security,etc.) #fsinindia
FSinIndia .@ThinkStrat Working for better defence relations including joint exercises. Liam Fox will visit this year.
.@KumaraGuru Q: Does your India travel bring you to Hyderabad? We would love to host you at .@ISBtweets #fsinindia
FSinIndia .@KumaraGuru I'd love to visit. May be next time.
.@chrisforbes1989 Q:is the new 'stronger relationship' with india sta of stronger ties to commonwealth? Lots of us want that #fsinindia
FSinIndia .@chrisforbes1989 We want it too. Commonwealth memberships should be a source strength and pride.
.@jRao_V Q: Mr FS, What is UK Govt doing to prevent fuher terrorist attacks emanating from Pakistan, on India ? #fsinindia
FSinIndia .@jRao_V All countries must work against all forms of terrorism.
.@SafdarKayani FS shouldnt we also be building relations with other countries like Brazil? Why India? #fsinindia
FSinIndia .@SafdarKayani We are. I have just been to China and Japan. And I want a better relationship with Brazil - and others.
Search the news archive
Published 29 July 2010