Trade and commerce with Iraq: A key strand of the bilateral relationship
Foreign Office Minister Lord Howell addressed Iraq-British Business Council on 24 May.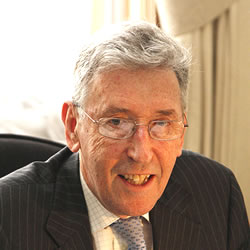 It is a pleasure to address you today here at the IBBC's Iraq Day Summit Conference. The IBBC's commitment to Iraq is much welcomed by this Government.
The UK Government continues to develop a strong and supportive bilateral relationship with Iraq and trade and commerce is a key strand of this.
The recent events across the Middle East and North Africa have shown the world that the peoples of this region no only want more democracy - in one form or another - but also now feel empowered to demand it. They want a voice and to be able to influence how they are governed. Since the fall of Saddam Hussein, Iraq is already walking that path and has taken many steps towards democracy. Iraq is also increasingly establishing its regional policies. Bilaterally we have seen Iraq establish strong and positive relations with Turkey, which has both improved Iraq's security and business environment. Iraq also holds the Presidency of the Arab League, showing how far Iraq has come in recent years. Internationally, the Government of Iraq has voiced strong support for the democratic movements across the region. Foreign Policy is rarely a smooth road, but it is important that Iraq plays an active and positive role shaping the region.
The investment environment is changing in Iraq. The country has seen improvements in the security situation, progress in political governance and knowledge that strengthening the economy will bring with it prosperity for her people. But there is still work to be done to ensure strong independent institutions are embedded that deliver transparent governance, basic services and increased employment opportunities for all Iraqis. International trade will play its part in helping Iraq to continue down the positive path of democracy and development, and to deliver prosperity for its citizens.
British business interest in Iraq is growing as new opportunities open up to foreign investment. But there are also challenges that need to be overcome in doing business in Iraq, such as high levels of bureaucracy, further improvement in the security situation and bolstering the central government capacity that assures the Rule of Law. But the FCO and UKTI stand ready to support British businesses in overcoming these challenges and will continue to work with the Iraqi government to continue to improve the investment environment.
So what are we are doing to support British Business?
UKTI and the FCO can help you and advise you and your business on entering the Iraqi market. We have dedicated UKTI teams at our Embassy in Baghdad, our Consulate in Erbil and our Consulate in Basra provides support to British oil companies already based there - and are ready to provide assistance across other sectors.
Despite a growing private sector, the size of Iraq's public sector is much greater in comparison, and is where most business opportunities exist. This is where government contacts are particularly important and an area where organisations such as IBBC, in conjunction with the Foreign and Commonwealth Office and UKTI, can play a vital role in supporting British businesses. In addition to Iraq's developing oil and gas sector, Iraq's large scale reconstruction effort brings with it huge commercial opportunities, including for UK supply chains.
As the security situation in Iraq has stabilised, the UK's business presence has increased.
In April 2009, UKTI organised the first official UK trade mission to Baghdad and Basra for over 20 years, with representatives from 23 major British companies.
In October 2010, the former CEO of UKTI, Sir Andrew Cahn, led a high-level delegation of 35 UK companies to the Erbil International Trade Fair.
In November last year, Mr Burt, the Foreign Office Minister responsible for the Middle East, carried out a five day tour of Iraq raising trade issues at the highest levels in Baghdad, Basra and Erbil.
This increased business activity has been mirrored by UK companies winning contracts in Iraq. Recent successes for British companies in Iraq include:
Serco winning a contract in December 2010 worth $65m to provide air traffic control services over two years at Baghdad International Airport (BIAP)
Copperchase securing a contract to build low cost housing units in Najaf Governorate, valued at over $160m.
G4S winning the aviation security contract at Baghdad International Airport (BIAP), valued at over £20m for two years.
Pell Frischmann winning a contract worth £30 million with the Ministry of Municipalities and Public Works to design and project manage the construction of three water plants in the centre and west of Iraq
BP and Shell winning contracts to develop super-giant oilfields in southern Iraq, worth $39billion.
These examples highlight the variety of opportunities and potential available in Iraq.
Oil & Gas
The scale of the BP and Shell contracts underline the importance of Iraq as an energy provider to the world. Iraq has the world's fourth largest proven oil reserves. It currently produces 2.7 million barrels per day and the Iraqi government has ambitious plans to increase production over the next decade. Iraq is the only country in the world with the potential for very significant increases in conventional oil production, and could become a major player in world oil markets if it is able to reach its potential. British companies are particularly well qualified to provide the expertise and resources to do just that, which will benefit the Iraq economy and its people, as well benefiting global energy security.
Iraq also has the 12th largest proven gas reserves in the world. But, despite this, it is currently experiencing major gas shortages due to insufficient infrastructure to capture, process and transport gas. Again, British expertise and resources can help to overcome these challenges.
None of these developments in Iraq's infrastructure and exploration of their natural resources will be possible without development of Iraq's service sector and their own technical capacity. British banks, insurers and universities have already established a presence in Iraq, but there is huge potential for growth in these sectors.
The small, but growing Iraqi private sector needs an expanded banking system. Both Standard Chartered and HSBC have established a footprint in Iraq. The British Council and the Department for International Development's DeLPHE project in Iraq, has been forging links between Iraqi and British universities. And both the government of Iraq and the Kurdistan Region of Iraq, run large scale scholarship programmes to send civil servants and talented students overseas for degree and post-graduate courses.
The UK government will continue to support and lobby the Iraqi government on improving the investment climate. More needs to be done to develop Iraq's regulatory and legislative framework to mitigate the risks for private investment. The passage of a Hydrocarbons Law and a Revenue Sharing Law will be key. These pieces of legislation will represent a further step in reducing tensions in Iraq by legally establishing the mechanism by which the Regions can negotiate contracts with international firms and what level of funding from central government they are entitled to. They will also allow UK firms to invest in oil and gas exploration and production across the whole country. This would greatly benefit the Iraqi economy.
There has been progress. The government of Iraq is working on such legislation and this year has also taken practical steps. The Ministry of Oil and the Kurdistan Regional government recently agreed a technical agreement permitting the exporting of oil from the Kurdistan Region of Iraq, with the revenues being received by the central government. The development of such technical agreements into full, transparent legislation will be a great step forward in the development of good governance in Iraq.
I would like to thank Baroness Nicholson and the IBBC for their unwavering commitment in pursuit of these shared goals for Iraq. I have no doubt that the IBBC Iraq Day Summit Conference will further develop the UK's bilateral trading relationship with Iraq.
Published 24 May 2011