The UK and Pakistan - Our rich cultural tapestry
Foreign Secretary William Hague spoke at the 2011 Jinnah Awards, a celebration of the achievements of British Pakistanis.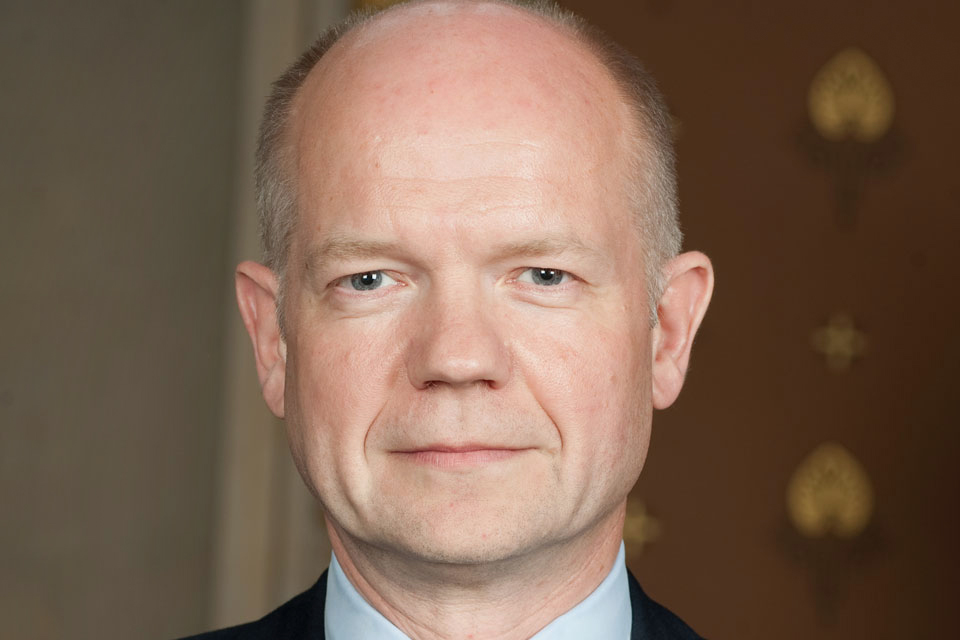 Ladies and Gentleman, it is a pleasure for the Foreign and Commonwealth Office to play host to tonight's event which celebrates the immense achievements of British Pakistanis. As I said in a speech to the British Pakistan Foundation in October, the Pakistani diaspora makes a huge contribution to our national life- to our parliament, our schools, our hospitals, our legal system and our universities; as tonight's awards demonstrate they also contribute vastly to the fields of media, business, sports and entertainment. In fact there is such an embarrassment of riches on the list of nominees and amongst tonight's guests that it would be impossible to single out any one person or group of people. What is abundantly clear is how much the British Pakistani community has to offer Britain's rich cultural tapestry.
This community is born of the special ties that have bound our two countries together; ties that are rooted in history, genuine in sentiment and dynamic in nature. Immigration from the region in the 1600s founded the bonds between our countries and each successive generation has renewed, deepened and diversified them. Whereas once soldiers from what is now Pakistan fought in the British army, today Pakistani soldiers give their lives in the pursuit of security at home, which, in this networked world, benefits those outside Pakistan's borders as well as those within. Whereas in the beginning it was in the textile industry that British Pakistanis played an integral role, today-with nearly one million British citizens claiming Pakistani heritage- it is in the very fabric of British society.
Our increasingly networked world affords opportunities for the dynamic development of our long established bonds. The reach of modern technology has meant that now, more than ever before, our two countries and societies are interwoven. Over £1 billion in trade flows between us every year, almost 10,000 Pakistanis currently study in Britain and there are 1.4 million journeys between Pakistan and Britain every year.
Text message appeals for victims of Pakistan's floods allowed six million British people to be reached in just 48 hours and over £300,000 was raised for UNICEF's relief efforts. This demonstrates the power of a networked world to bring our two societies closer together in times of trouble. In total the British public has contributed £69 million to the Disaster Emergency Committee's flood appeal so far; representing one of the largest public contributions of any country in the world; a huge fundraising effort in which the British Pakistani community naturally played an integral part. In the three months after the floods remittances to Pakistan also rose by over $100 million a month. Such actions provide a shining example of the power of society to act as a force for good, the central tenet of our Government's vision for a Big Society. As tonight's achievements demonstrate the British Pakistani community has and will continue to play a vital role in realising this vision.
I am delighted that tonight will raise further much needed funds for the victims of Pakistan's floods. It is right that we, in Britain, continue to focus attention on this issue, as a good friend of Pakistan. All too often, as camera crews leave and the media spotlight dims, the world's gaze shifts to new events but those affected by the floods, who have suffered so much, will need our support for a considerable time to come.
For this reason the British Government has committed £134 million to help people affected by the monsoon floods; we have provided safe drinking water for 2.5 million people, tents and shelter for 1.3 million and basic health care for around 2.3 million; we have also brought forward a £10 million bridge project; ten bridges we shipped from the UK are now in Khyber Pakhtunkwa.
We are committed to strengthening, still further, the bonds between Britain and our firm friend, Pakistan. That is why I visited Pakistan in June, keen to build relationships early in the life of this coalition government; and that is why the government works with Pakistan every day across a range of issues and we will continue to endeavour to find further ways to work more closely with one another.
As such Britain was at the forefront of securing October's agreement on the reduction of tariffs on Pakistani imports into the EU and the Deputy Prime Minister recently wrote to MEPs to ensure the EU makes good on its promises. The UK is a staunch advocate of free trade both in the EU and globally and we recognise that for countries such as Pakistan it will be trade and not aid that will provide the foundations of lasting prosperity.
Pakistan is one of the founding members of the Commonwealth and a valued partner to the UK within it. My colleague Sir Malcolm Rifkind works alongside one of Pakistan's leading human rights lawyers, Dr Asma Jahangir, in the Commonwealth's Eminent Person's Group and my parliamentary colleagues from the Commonwealth Parliamentary Association and the All Party Parliamentary Group on Pakistan completed a very successful visit to Pakistan last week.
Historic, family, commercial and philanthropic bonds, give Britain a distinctive role to play in supporting a prosperous, secure and democratic Pakistan. The UK is a founding and active member of the Friends of a Democratic Pakistan and the Department for International Development also provides significant assistance to help drive economic growth, improve governance, and support a more stable Pakistan. Constitutional reforms in Pakistan in April included provision for every citizen to have the right to freedom of information - influenced in part by a UK-funded project which promotes the value of freedom of information in support of better governance. This is part of a wider improvement in access to information in Pakistan in recent years with citizens now enjoying over 150 broadcast stations, developments which we welcome and are keen to do what we can to foster.
As you are all aware these awards are named after Pakistan's great founding father. When I visited the Jinnah Memorial last summer I was reminded of his famous words to the Constituent Assembly in 1947. 'You are free; you are free to go to your temples, you are free to go to your mosques or to any other place of worship in this State of Pakistan.' Poignant words following the tragic assassination of the Governor of Punjab, Salman Taseer, in January. At Lincoln's Inn, where Jinnah himself was called to the bar, I recently gave a speech setting out the place of values in Britain's foreign policy. In it I made clear that human rights are indivisible from our foreign policy objectives. We continue to urge the Government of Pakistan to fully guarantee the fundamental rights of all Pakistani citizens, particularly the most vulnerable.
The many threads that link Britain and Pakistan together are strong. I hope these will continue to become ever stronger as we explore further ways in which we can work side by side with Pakistan in the future. I thank the Jinnah Awards once again for the privileged opportunity to be part of this celebration and congratulate the nominees on their tremendous achievements.
Published 2 February 2011