Speech
The Association of Directors of Environment, Economy, Planning & Transport Annual Conference
Speech by Energy Minister Matthew Hancock to the ADEPT conference 2014.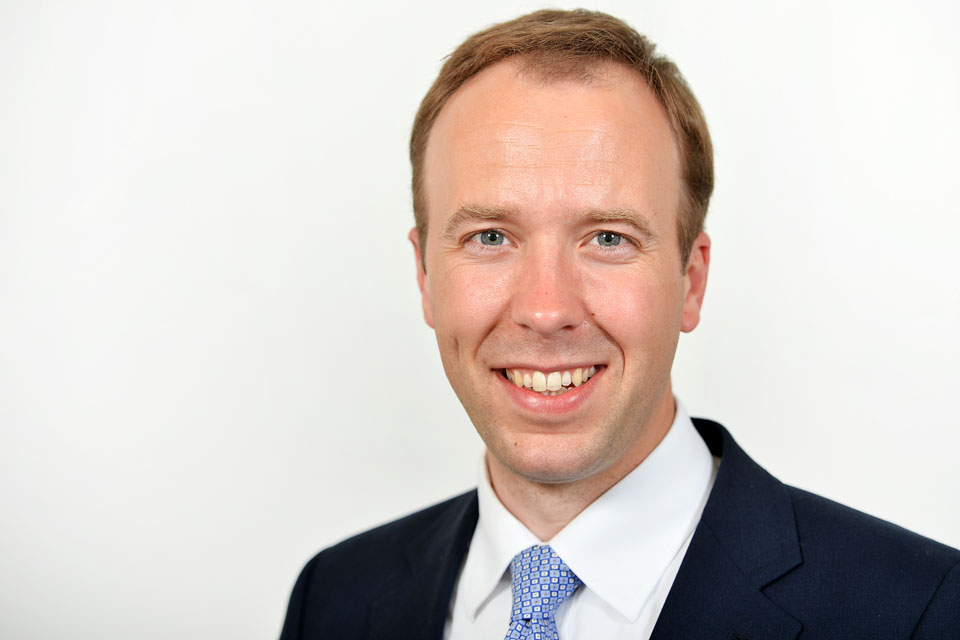 Check against delivery
I want to begin by taking you back to the early 60s.
Fifty years ago the UK had to import almost all its oil and gas, at great cost to our balance of payments. Manufacturing was shrinking. Our coal industry was in terminal decline.
Then in 1964 the Continental Shelf Act come into force, permitting commercial geological exploration of the North Sea for the first time.
It took ten years before oil production began.
Whole new technologies were invented to extract at sea in extreme weather conditions.
By 1980, the industry was spending more on that technology than it cost NASA to put a man on the moon.
But what if we'd let that oil and gas stay in the ground?
What if we'd said it was too difficult, too dangerous, too controversial?
The whole country would be poorer, finance would account for an even greater share of our economy; Aberdeen would be a seaside resort rather than a regional powerhouse.
Today we are faced with a similar choice. Do we commit to an onshore gas extraction industry?
Do we choose jobs, growth and energy security?
Or do we prevaricate in the hope that something else will turn up?
Energy security
The first duty of the Energy Department is to ensure the lights stay on.
And the facts are clear, if we continue without shale our energy supplies will become less secure.
North Sea production is falling, from 108 billion cubic metres in 2000, to 19 billion by 2030. Without shale, we will be importing 70 percent of our gas consumption by 2025.
Britain is connected to the European energy market which we expect to import 80 percent of its gas by 2030.
If nothing changes our import bill could rise to over £10 billion a year.
We also have to bear in mind that Europe's major gas supplier does not always have our best interests at heart.
When we started drilling for oil in the 1960s Russian troops were stationed in the Crimea. Today they're back.
So there's a compelling energy security case for UK shale.
Economic benefits
And the economic case is compelling too.
Home-grown energy production means that jobs, revenue and growth stay here in the UK, rather than migrating abroad as North Sea supplies dwindle.
Research by the Institute of Directors suggests UK investment in shale could reach £3.7bn a year.
A government-sponsored E&Y report found that the industry could support around 64,000 jobs in oil and gas, construction, engineering, and chemicals.
Shale can also be used as feedstock to keep our manufacturing competitive.
Climate change
These issues of growth and security would have been familiar to my forebears in government.
But the North Sea analogy is imperfect: fifty years ago we had not begun to confront climate change.
So it's vital that we also recognise the environmental case for shale.
Gas is the cleanest fossil fuel, and when used for electricity generation has half the carbon footprint of coal.
We are committed to reducing our emissions by 40 percent on their 1990 level by 2030.
Substituting shale gas for coal helps achieve that target in a cost effective way: cutting emissions and buying us time to develop new nuclear, more efficient renewables and carbon capture and storage.
We're committed to increasing renewable capacity, but we'll still need back-up power when the wind isn't blowing or the sun isn't shining.
Until we can store renewable power, those back-up generators will likely have to be gas.
So within a strong policy framework - including our rigorous system of carbon budgeting - shale gas has a major role to play in decarbonising the economy.
What we've done
Making shale a reality is in our national interest, but for this to happen three conditions need to be met.
Regulation
First, we need to get the regulation right. We are stewards of the earth, not masters of it, so shale has to be extracted carefully, cautiously, and with deep respect for the environment.
The first thing I did in this job was bring in stronger regulations to protect our national parks and areas of outstanding natural beauty.
We have set up a robust regulatory framework for shale exploration, set out in the Regulatory Roadmap we published in December.
Projects need environmental and health and safety permissions, they are subject to scrutiny through the planning system and consent from DECC is required before drilling or production can commence.
Operators must meet exacting standards, scrutinised by an independent examiner and monitored by the Health & Safety Executive on a weekly basis.
Attracting investment
Exploratory drilling will only go ahead if it's done carefully and safely.
Second, we must unlock the barriers to investment in shale.
Last year's Autumn Statement introduced the most competitive tax regime in Europe for shale gas and oil.
And we've announced £2m of public money to support UK companies looking to develop innovative techniques for shale exploration or production.
Regulation has to be robust, but also streamlined and clear. Those two things are not in conflict: clearer, simpler rules are easier to enforce.
So we've clarified the regulation of exploratory activity.
The Environment Agency has developed a single application form for permits. The average waiting time for environmental permits is now 8 to 9 weeks.
We will introduce standard rules environmental permits later this year, cutting times to 2-4 weeks for low risk activities.
Industry has also said that addressing underground access is critical to the success of shale in the UK.
So we're amending the Infrastructure Bill to simplify a procedure that is costly, time-consuming and disproportionate to new methods of drilling.
The new rules would provide a right of underground access below 300 meters for shale and deep geothermal companies, a community payment in return for access, and a notification system for the community.
Allowing underground access below 300 meters will not impact landowners. This is ten times the depth of the deepest tube platform and we expect extraction to be much deeper, over a mile down.
The licensing regime also has to keep up with technological advance.
We've learnt a lot from a century of experience in onshore oil and gas. Traditional petroleum license terms do not reflect newer techniques in low permeability rocks so we have taken steps to make our licenses fit for purpose. We have removed unnecessary barriers whilst maintaining safety as a priority.
We've removed inflexible rules on the retention of acreage and replaced them with a system of agreement between DECC and the licensee. This will reduce the cost to the licensee and introduce a new flexibility.
Industry welcomes this change and I am happy to say that I recently signed the Order that implements them.
Public Buy-In
The third condition is that it's vital that we take the public with us.
We want communities to see that shale is not only in our national interest but in their interest.
At exploration phase, industry has committed, as a minimum, to a community benefit package worth £100,000 per well site, and to 1 percent of revenue if the site goes into production.
Councils will retain 100 percent of the business rates they collect from productive shale gas and oil developments, doubling the previous 50 percent retention rate. This commitment could be worth up to £1.7 million a year for a typical 12 well site.
Early community engagement by industry is an essential to secure public support. Support for fracking tends to be higher when the public have access to the facts.
So we've worked to improve the transparency of companies' information about shale, and license holders are required to report back to us on their extraction activity.
We've reduced the confidentiality period on those reports to just six months, ensuring that early information is available to all interested parties.
We're also supporting public engagement by ensuring that facts on fracking booklets are easily accessible to the public.
We have also published a Regulatory Roadmap for operators and citizens to quickly see how the overall process applies in the different nations of the UK.
And we have supported local authorities as they discuss these issues with residents.
Staff from DECC, the Environment Agency and the Health and Safety Executive, regularly take part in events across the country to hear councillors, officials and residents' concerns and explain policy and regulation, bringing along expert scientists and regulators to answer questions.
But there is always more to be done and we will continue to engage with the public on an issue that is so vital to British prosperity and energy security.
Future plans
We are working hard to make shale happen, we're constantly improving our understanding of the geology. The next stage is for industry to start directly to explore this economic potential deep beneath the ground.
Companies are putting plans forward and this is bringing in big players;
Last year Cuadrilla welcomed Centrica as a 25% investment partner in the Lancashire Bowland license area;
In January, Total acquired a 40% stake in two exploration sites;
GDF Suez have a 25% share in 13 UK licenses held by Dart Energy.
There is still a lot of work to do to get this gas out off the ground.
But exploration is happening and we should remember what that means for the UK.
We're not just drilling for gas, but for prosperity, energy security and a low carbon future.
To ignore this opportunity would be an abdication of our duty to future generations.
Thank you.
Published 7 November 2014