Speech
Supporting business and fighting anti-Semitism
Sajid Javid talks about the work of the Community Security Trust and the government's support for business.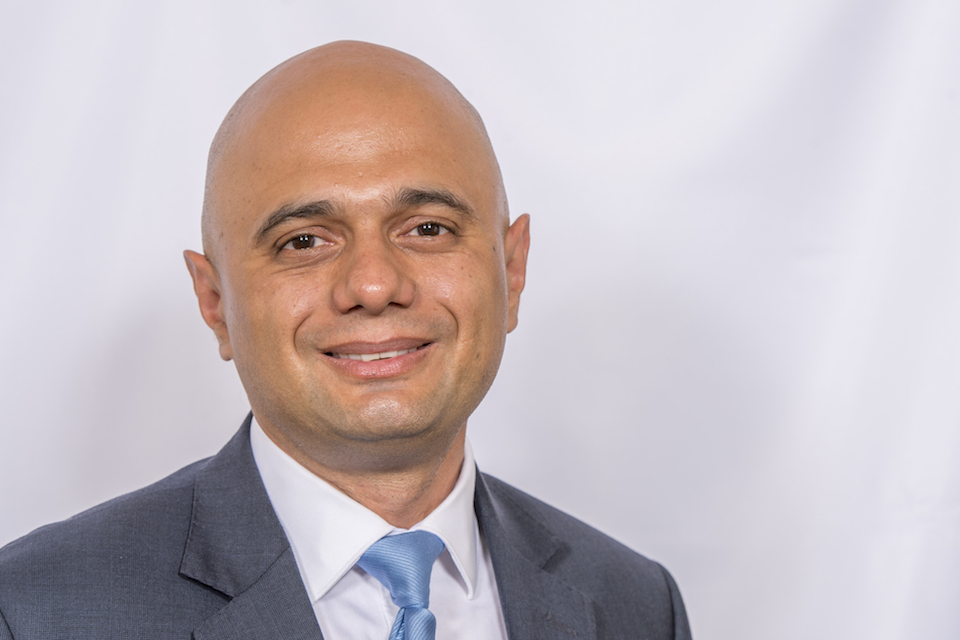 At events like this, guest speakers traditionally kick things off by saying how delighted they are to have been invited, how it's a real pleasure to be here and so on.
But I'm not sure I can do that today.
In fact I'd go so far as to say I don't want to be here at all.
Not because I don't like the company – Gerald Ronson and Lord Young make great table-mates!
And it's not because I don't like the catering.
In fact it's great to be invited to a formal lunch and be 100% sure that the menu won't include pork!
No, the reason I don't want to be here is because the very fact that this fundraiser is taking place proves the Community Security Trust (CST) is still necessary.
That violent hatred towards Jews is still a very real problem.
That members of one of our oldest and most established religious minorities simply don't feel safe walking the streets of 21st century Britain.
I don't know about you, but I find that both absolutely outrageous and extremely depressing.
The first duty of any state is to protect its citizens, and if you don't feel you can go about your business without being at risk of attack, then successive governments have, quite simply, failed you.
It's high time that change, which is why, in March, the Prime Minister promised more than £10 million to improve security at synagogues and Jewish schools across the country.
And I was very pleased to see him pledge a further £1.5 million towards the cost of enhancing security at community buildings.
This includes new digital CCTV systems that will feed directly into the CST's state-of-the-art control room, enhancing their ability to respond quickly to threats.
But increased security can only do so much.
Fences and cameras and guards and patrols can help prevent violence and intimidation. And they can make it easier to identify, apprehend and punish the perpetrators.
But, like I said, this shouldn't be necessary. In 2015, Britain's Jews shouldn't have to hide away behind high walls in order to feel safe. That they do, comes down to a problem that no amount of physical security can tackle.
The fact that anti-Semitism has been allowed to become an established part of modern British life.
Now, I'm no stranger to prejudice. I grew up in the 1970s, when looking like I do and having a name like Sajid pretty much guaranteed a certain level of abuse.
I've encountered racists throughout my working life, both in business and in politics. And if you have a look online you'll find no shortage of people saying that because my parents were born in Pakistan, I must be some kind of Homeland-style Al-Qaeda sleeper agent!
Of course, a similar number of people are just as convinced that I'm an "Uncle Tom" Zionist lapdog and a traitor to Islam!
I take some solace from the fact that one side must be wrong!
So I know how it feels to be on the receiving end of hatred.
But there's one big difference between what I've experienced in the past, and what British and European Jews are facing today. Acceptability.
Last month I spoke at the Holocaust Educational Trust's annual dinner, some of you may have been there. I talked about how, in modern Britain, anti-Semitism has many faces. Some explicit, like hate preachers and far-right groups. Some more oblique, like the Holocaust deniers or those who glibly equate modern politicians with the Nazis.
And then there was the third group, the "dinner party anti-Semites". The nice, respectable middle-class liberals who say they abhor prejudice of any kind, but are more than happy to tolerate, ignore or even indulge in anti-Jewish behaviour.
I found the reaction to the speech quite interesting. Because on the night quite a few people popped up on the internet to say "don't be silly Sajid, of course that's not a thing. I go to lots of dinner parties and nobody ever abuses Jewish people."
But then, in the days that followed, came a second wave of comment, from Britain's Jews. And it was almost unanimous in saying "finally, someone's put a name to what I've been experiencing for years".
Which rather proves my point. When I talk about dinner party anti-Semites, I'm talking about people who would never dream of telling a Muslim that Islamophobia wasn't real. Who would be horrified if a man told a woman that sexism no longer existed. Who would, quite rightly, cry foul if a straight politician claimed that homophobia had been eradicated from society.
But they don't just indulge in anti-Semitism, they deny that it's a problem. It's become such a normalised, accepted part of life that they've become blind to its existence.
The people I'm talking about aren't going to be going around daubing "Jews Out" on bus stops across London. They're not going to be smashing headstones in Jewish cemeteries, or slashing tyres in a synagogue car park.
But in many ways they're just as responsible as the criminals who do. Because they create the climate in which such behaviour becomes the norm. In which people find it easy to look the other way.
In which the kind of bile recorded in the CST's Anti-Semitic Discourse Report is dismissed as the complaints of over-sensitive, moaning Jews.
It's not acceptable, yet somehow it has become accepted.
That's why I spoke out against anti-Semitism last month. That's why I'm speaking out against it today (15 October 2015). And that's why I'll continue to speak out against anti-Semitism until Britain wakes up to this noxious weed that has taken root.
I applaud the work of the CST, but I don't want it to be necessary. I don't want to have to talk about funding for fences and cameras and security guards.
I'm the Secretary of State for Business – I want to be able to stand up in front of an audience of Jewish business leaders and talk about business. So that's exactly what I'm going to turn to now.
About the contribution that you make to the economy, and what the government is doing to support you. And, make no mistake, you have this government's support.
Because, whether it's a multi-national corporation based in Canary Wharf, or a one-man start-up based at the kitchen table, business is a force for good.
From providing the dignity of work and the security of a wage, to creating the prosperity that allows our nation to grow, nothing raises standards of living like free enterprise and competitive markets.
From the family shop in Bristol to the trading floors of Singapore, I've lived my whole life in, around, even above businesses of all shapes and sizes.
I know all too well how the family mood can change with a day's takings. I've seen for myself how companies need finance to realise their potential. I know how hard it can be to set up and to succeed in business. But I know that all of society benefits when someone take the courageous decision to strike out and start their own business.
That's why I'm unashamedly pro-business, and that's why I want to make Britain the best place in the world to start and grow a company.
Not by picking winners or dictating strategy to private industries. But by listening to business leaders and giving them the support they need.
With an Enterprise Bill that makes it easier to do business. With a bonfire of the red tape that stifles expansion. With a relentless focus on boosting productivity. And with international trade agreements that allow British companies of all sizes to export to markets near and far.
This room is filled with seriously successful businessmen and women. I worked in banking long enough to know that if you've reached the top of finance or real estate in London, you've reached the top full stop!
You know what it takes to be the best. You know how many obstacles you have to overcome. And you know the scale of the challenge that British businesses faced just over 5 years ago.
The worst recession in almost a century. The biggest budget deficit since the Second World War. The world's largest bank bailout. A nation saddled with debt and an economy struggling to grow.
When we came to power, we knew that Britain couldn't have a sustainable recovery without a thriving private sector. And that's why we've been working tirelessly to support business leaders like you.
We've cut red tape and regulation, giving you the flexibility and freedom to run your companies the way you want to run them. We've cut corporation tax, so you can invest more of your profits in continued success. We've introduced a new employer National Insurance Contribution (NIC) allowance, lifting 450,000 employers out of NICs altogether. And we've created a £1.2 billion package to put a 2% cap on increases in your business rates.
British Business Bank programmes are already supporting £2.3 billion of finance to 40,000 smaller businesses. The Start-Up Loans programme has provided entrepreneurs with more than 30,000 loans worth well over £155 million. And UK Trade and Investment (UKTI) is helping you access new markets overseas.
The results? Employment is up, to record levels. Inflation is down. And the British economy is growing faster than any of our major rivals.
But we're not about to put up our feet and say "job done".
I know that times are still challenging that uncertainty and unpredictability still plague businesses of all shapes and sizes. There's still plenty more we can do as a government.
So from next April (2016) we're abolishing employer national insurance contributions on apprentices under the age of 25. In January (2016) we'll permanently increase the Annual Investment Allowance. Not just doubling it, or event trebling it, but raising it by massive 700%, so you can spend more on the equipment you need to expand. We're rolling out Growth Hubs across the country, helping you access support where and when you need it most.
And then there's the Enterprise Bill, which started its passage through Parliament last month. It will make further cuts to red tape, reform business rates, make it easier for small businesses to resolve disputes, and it will reward entrepreneurship, offering people opportunity at every stage of their lives.
In short, this is a government that stands behind you, not in your way. There are some politicians who look at finance and real estate and see a problem to be tackled. Who look at business leaders at the top of their game and think "they must have done something wrong".
You may not be surprised to hear that I'm not one of those politicians!
If you start from nothing and build something that provides employment and security for tens, hundreds, thousands of people you should be applauded, not condemned.
If you create jobs, if you create wealth, you're not a class traitor or a parasite or an enemy of the people. You're a force for good.
Simply by being successful in business you're already making a positive contribution to society. And by supporting the Community Security Trust you're taking that contribution to the next level, setting an example for business leaders across the country.
So let me say thank you. Thank you for doing so much to drive the economic recovery. Thank you for creating jobs, taking on apprentices, delivering the growth that benefits us all. And above all, thank you for supporting the CST.
I know for a fact that, as long as the Trust's work is necessary, it will have generous friends in the world of business. And let me be very clear that, as long as the fight against anti-Semitism continues, you will also have a friend in me.
Thank you.
Published 16 October 2015